Pepper Post is supplying technical consultancy and post-production services for an extraordinary new BBC and National Geographic documentary that will feature a man freefalling from the edge of space.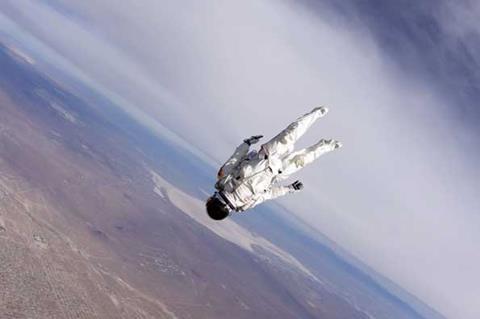 Space Dive will see base jumper Felix Baumgartner freefall from 125,000 feet, a journey that would qualify him as the first person to ever break the sound barrier in freefall.
The doc will follow Baumgartner's first solo travel to the edge of space with the aid of just a balloon, and his attempt to freefall back to Earth.
Record shattering speeds of over 690mph (Mach 1) will be reached in just 35 seconds.
A team of scientists, engineers and medics whose experience has been garnered through work with NASA and the US Air force are collaborating on the technical aspects and logistics of the dive.
Cameras will be affixed to Baumgartner's balloon and helmet, providing unrestricted access to every aspect of his quest and revealing a unique view of Space and Earth during his freefall.
Producer director Colin Barr said: "Space Dive is one of the biggest technical and creative challenges I've ever faced. How do you film a man falling through space at supersonic speeds without using any CGI?"
The project will result in the delivery huge volumes of multi-camera, multi-format material that will be handled by Pepper Post.
The Soho post company has already been providing consultation on workflow, design and finishing.
It has also been contracted to provide:
Full offline with transcode/native file and tape shot ingest – including dealing with archive.
Data and Tape Conform
Full design and graphics
Grade
Full audio
Titles
TX deliverables and reversions.
Joint managing director Shane Warden said: "The creative and technical hurdles will set a new standard for multi-format post production. The other challenge is what the state of the images will be after the dive. Remember no one really knows what the performance of the cameras will be that high up – or travelling at those speeds whilst strapped to [Felix]."
Space Dive, a 90 min BBC/National Geographic Channel co-production, is executive produced by Gary Hunter. It is slated to premiere on National Geographic Channel later this year.