How news crews went mobile to cover the floods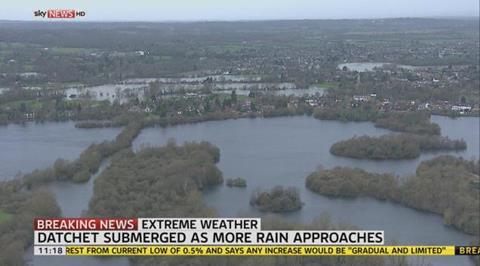 Earlier this month, Sky News reporter Joe Tidy found himself in the middle of the floods in Marlow with a story to tell - but without a camera crew.
He was forced to improvise and attached his iPhone to a Gorillapod, which he then fastened to a tree before firing up the Dejero Live+ app to broadcast live on the rolling-news channel.
The self-confessed technology geek told his Twitter followers it was an experiment for him, but he was doing what other Sky reporters have already done in turning to their mobile phones when more traditional broadcast technology has not been available.
Sky News Asia correspondent Mark Stone used his iPhone for a live report from China and to capture footage of the 2011 London riots.
His colleague Nick Martin has used his to report from the floods and, in December, for a live two-way from Lima in Peru, when poor satellite bandwidth threatened to scupper the broadcast.
While the concept of mobile journalism isn't new, the devices - cameras, storage, processing power and batteries - and connectivity have improved significantly since 2007, when Reuters equipped some of its journalists with Nokia N95s, portable keyboards, mics and tripods.
The recent adverse weather and the scale of the floods that followed, leaving parts of the UK under water for weeks on end, has led more reporters to reach for their mobiles.
Sky News executive editor John McAndrew says the use of tools such as Skype and Dejero has been a "key feature" of its flood coverage.
Signal failure
"Some positions rely on traditional satellite transmitters, but there are a finite number of those and they can have their own problems in bad weather as the signal can fall over, and when it's really windy the sat trucks can't put the dishes up for safety reasons," McAndrew explains.
Critics might say that a reporter relying on an iPhone is evidence of poor planning, and that using an app like Dejero is simply an excuse for not having the right people - and kit - in the right place.
For Sky, the technology provides additional agility, says McAndrew.
"It means we can be first to screen, and for a breaking story with so many disparate elements, it means we can cover places we might not if we were to rely on traditional means.
"We're unlikely to deploy a correspondent on a lead story with only an iPhone, but if they are out gathering information and they stumble across a great story or come up against a technical challenge, [mobile kit] allows them to get a story back to us.
"It is rough and ready but with a story about the weather, viewers can be quite forgiving. It is also less pushy. Many people have had their homes destroyed and watched their lives float down the garden path, so it is important we are not too intrusive."
The Dejero mobile app, which bonds wi-fi and cellular connections and promises 1.5 seconds of latency, allows reporters to deliver live footage to Sky's Osterley base, which can then be put straight on air or recorded.
The floods have resulted in the most consistent use of Dejero to date by Sky News, which has rolled out the app to around 100 reporters, including Nick Martin, who used it along with a Manfrotto Klyp case and an IK Multimedia iRig Pre audio adapter to broadcast live from a replacement bus service and a boat.
Like other news organisations, Sky has taken advantage of the rollout of 4G to broadcast via a mobile network, using AviWest's 3G/4G uplink system, which slots onto the back of an ENG camera, and AviWest Snipe transmitter cars to create a wi-fi 'bubble' for increased connec tivity.
And it's not just Sky - ITN reporters including North of England correspondent Damon Green have also filed to the newsroom via 4G when a satellite has not been available.
Before his live report from Marlow, Tidy used his iPhone 5S to shoot and edit two packages for TV and online.
One of them was a 14-shot, 90-second piece about a 200-hundred year-old willow farm that could face "financial ruin" as a result of the flood.
He shot a similar-length package about overnight work on flood defences by Environment Agency workers and local residents, again using only his iPhone and its onboard light, with a sock over the mic to shield it from the wind. Both were edited using the Splice app.
Travelling light
BBC Radio 5 Live North of England reporter Nicholas Garnett estimates that he uses his iPhone for around 90% of his live radio broadcasts.
Like Tidy, he too has used the device to file video packages from the floods.
"These storms have been the perfect opportunity to work in a mobile way," he says. For radio, Garnett uses the Luci Live app to broadcast over 3G, 4G and wi-fi .
Along with Adobe Audition, an iPad with a sim for a different network to his mobile, his essential broadcast kit fits inside a rucksack.
Garnett is used to adopting a make-do-and-mend approach in trying circumstances. When floods struck the north-east of England 18 months ago and a satellite truck was unable to reach him, he had to hastily assemble his own broadcast kit.
Although he already had the Dejero mobile app, he lacked some essential items so took a trip to the shops for a pay-as-you-go phone to provide talkback, a tripod, and a beer tray to shield the phone from the elements.
"It was some real Heath Robinson stuff but sometimes that is the way it has to be," he says.
Garnett describes two video packages about the floods that he filed for the 5 Live website as "pen pictures for online".
He says: "They were useful because there wasn't a camera crew nearby - if there had been, I'd have used them. We have camera people trained to get the right shot - all I can do is cinéma vérité."
That was the approach Garnett used to capture footage of a family escaping the floods, when there was only space for the mother and child - and Garnett - in their boat.
"That is where it works really well," he says. "The real strength is the intimacy that you can only get with one person. It's something I have noticed: when I record interviews with an iPhone instead of a mic with a 5 Live cube attached to it, there is less of a barrier."
A more clandestine approach can also be helpful in hostile situations.
During the riots of 2011, Garnett was standing next to a BBC Manchester radio car when it was set alight, but he was able to continue broadcasting under the noses of rioters by talking into his iPhone.
Garnett's flood films don't have a 'talking head' because they were primarily recorded as audio interviews.
"I then thought 'added value'," he says. "If I'd tried to shoot them as video interviews they'd have been off-mic and I'd have compromised everything because I would have been framing it for pictures, not sound."
Irish PSB RTÉ is another broadcaster that has used mobile phones for live coverage of the extreme weather of the past couple of months, but it is its work on prerecorded packages that shows what can be achieved with a mobile and a few essential items of kit.
RTÉ innovation lead Glen Mulcahy has been examining different approaches to newsgathering for the past five years.
In that time, he has trained video journalists to shoot and edit, and investigated the use of DSLRs. Most recently, he has been working on the development and implementation of a mobile journalism strategy for the broadcaster's news department.
He says that while earlier smartphones were capable of supporting mobile radio journalists, it was the launch of the iPhone 4 that made mobile video journalism a truly viable prospect.
Some 130 RTÉ staff have now attended a one-day course covering shooting, editing and sending content using an iPhone equipped with apps such as Filmic Pro.
"The next phase is developing MoJo [mobile journalism] champions to push the boundaries and create specific content for online, and to share their knowledge," says Mulcahy.
Packing the essentials
RTÉ has assembled 15 'grab bags' of essential items (listed, below) for its mobile journalists.
Audio can make or break a package so a decent mic is essential, along with an adapter to allow the XLR output to connect with the mobile device.
But the "fundamental thing", says Mulcahy, is a battery pack.
"With an iPhone, you can shoot around an hour and a half of HD video, but that drops to around 45 minutes in cold weather because the battery performs less well," he says.
The bag also includes a tripod that doesn't have a fluid head - a deliberate move to stop journalists panning. "It's to encourage a photo grapher-like approach," says Mulcahy.
"The iPhone 5s is a bit more forgiving and Filmic Pro has a stabilisation option, but one of the weaknesses of the iPhone 4 is the jelly-like effect that can occur with handheld shots."
Insisting on a locked-off shot has drawn some criticism, but Mulcahy says he adopted the same approach with video journalists. "It's about keeping it simple and learning how to construct a package." The results can be impressive.
Last month, RTÉ video journalist Philip Bromwell shot a 1 minute 40 second piece called Viking House in 1080p with an iPhone 5S, which he edited using Avid Media Composer on a MacBook Pro.
Another report, Dublin Dockers, was shot with the same device.
The edit was transcoded from full HD 1920 x 1080p to 720 x 576 SD and converted from progressive broadcast system.
Mulcahy says that shooting for broadcast can be problematic, as iPhones natively shoot at 30fps, whereas European broadcasters tend to transmit at 25fps.
While apps such as Filmic Pro and Voddio can shoot or render at 25fps, others, like iMovie, render at 30fps.
Despite RTÉ staff being "blown away" by the content produced by graduates of the course, there is some scepticism, particularly from those with an engineering background, who are used to purpose-built kit being used by broadcasters.
"They are happy for run-and-gun, 30-second breaking news to be shot with mobiles but two-minute packages can be a step too far for some," says Mulcahy.
"I am pragmatic and see room for everything. News has changed a great deal over the past few years, and there is a huge opportunity to create and solicit more news for our audiences.
"I am trying to gather more content from journalists rather than displace other methodologies. If there isn't a satellite truck or crew, it no longer means you can't tell the story.
"There might be some nervousness from broadcasters because they have invested in professional equipment," he continues.
"But newspapers and magazines are chomping at the bit [to use mobile technology]. If news organisations don't get rid of the tendency to sit on stories until a scheduled broadcast time, they could be trumped by websites."
Why iPhone rules
Among the mobile journalism evangelists Broadcast TECH spoke to there was an overriding preference for the iPhone, in part because Apple has control over both the hardware and the operating system.
Some devices from the likes of HTC, Samsung and Nokia are regarded as having better cameras, but the lack of consistent Android hardware means there are fewer high-end apps available.
And while the ubiquity of the iPhone might be one of the factors that deters broadcast technology purists, advocates of mobile journalism consider it an advantage: if an iPhone breaks or is stolen, a replacement can be easily found for a relatively low cost.
RTÉ kit
Contents of each bag
Rollei Fotopro tripod
Mophie Juice Pack Pro Powerstation
Metz Mecalight LED
IK Multimedia iRig Pre
AKG C417 PP Lavalier mic
Bayer Dynamic M58 reporter mic
Vodafone MiFi
Phocus Accent 3 lens system
This article is taken from the January/February issue of Broadcast TECH.