The privatisation of Channel 4 appears to be a live issue after a photo emerged of official government documents on the subject.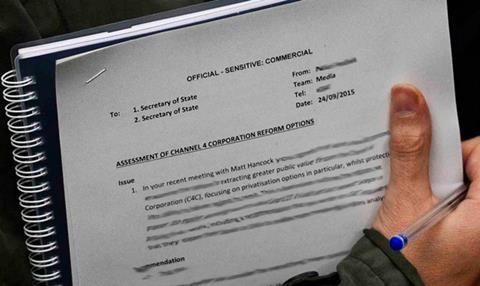 The Political Pics Twitter account, run by Steve Back, posted an image of an unidentified figure carrying a document titled 'Assessment of Channel 4 Corporation Reform Options'.
The photographer said the documents, which were addressed to two un-named secretaries of state, were being carried into Downing Street.
The documents cited a previous meeting with Matt Hancock, who is minister for the Cabinet Office and Paymaster General.
Much of the text is blurred out but snippets are visible, including "extracting greater value from Channel 4 Corporation" and "focusing on privatisation in particular, whilst protecting…"
A DCMS spokesman said: "The government has made no decisions regarding reform of Channel 4. Channel 4 has an important remit and we are looking at a range of options as to how to continue to deliver this, including options put forward by Channel 4."
The latter part of this statement indicates C4 has been involved in discussion about its future in some form.
Earlier in the summer, The Guardian reported that its chairman Lord Burns, was investigating options for ways Channel 4 could continue to fulfil its remit in the event of a full or partial sell-off.
C4 is understood to be putting significant emphasis on retaining its not-for-profit status.
Culture secretary John Whittingdale has repeatedly suggested that C4's PSB remit is paramount, and that he is relaxed about its ownership if the remit fulfilled.
A C4 spokesperson said: "Channel 4's not-for-profit model enables it to deliver significant public value to viewers and the UK economy with a unique remit focussed on innovation, diversity and new talent."

Picture credit: @PoliticalPics