Huge swathes of Soho's post community were evacuated on Friday as firefighters fought to contain a blaze in offices on Dean Street.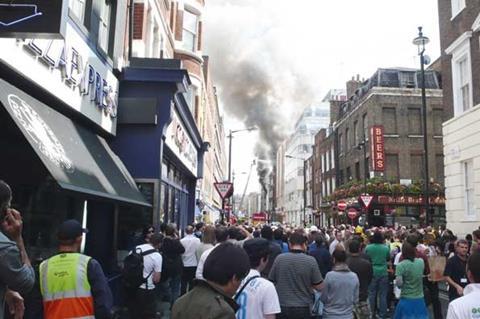 The London Fire Brigade was called to number 76, a five-storey building used by finance firm Future Capital Partners, at 2pm.
Twenty fire engines and about 100 firefighters tackled the blaze, while adjacent and nearby post houses were cleared of staff and clients, forcing editing and finishing work to be either put on hold or moved to other facilities.
Two adjacent buildings in which The Farm Group has its Shed and Home facilities were evacuated.
They were cleared of 75 staff and clients, with some work moved to other The Farm Group locations.
"Both facilities were full," said managing director Nicky Sargent. "Urgent work had to be squeezed into The Farm or Uncle but other clients obviously understood the situation and waited until Monday to re-start their work."
Audio post house De Lane Lea, situated next door to Future, was evacuated and was still within the cordoned-off zone on Monday morning.
Prime Focus London, The Facility and Concrete on Dean Street were also emptied.
The impact was also felt further afield. Christiane Terrone from design company and motion graphics studio The Creative Partnership, based on Bateman Street, said: "We were definitely affected, from the unbearable smoke that seeped into every floor to the ashes and soot on our roof terrace."
The third floor and most of the second floor of number 76 were damaged in the blaze, which also caused the roof to collapse.
London Fire Brigade said a "substantial part of the five-storey building was damaged by the fire and partial collapse, but fire crews had worked hard in difficult conditions to prevent the fire from spreading to adjacent properties".
Firefighters took roughly seven hours to put out the blaze. There were no reported injuries to members of the public.
Tim Levy, the chief executive of Future Capital Partners, said: "Though the fire has devastated the building, we are pleased to report that everyone was evacuated swiftly and safely and we are already working towards being fully operational."
The cause of the fire was still being investigated as Broadcast went to press.