Syco TV's ITV1 gameshow Red or Black has made first use of outside broadcast-equipped custom-built Volkswagen Crafter vans from Procam Television.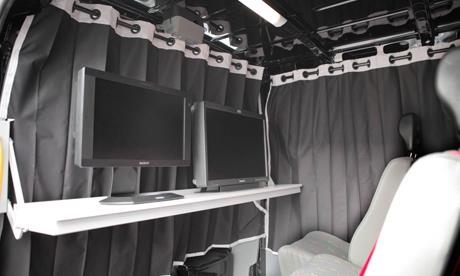 The show, which will have its latter stages broadcast live in the autumn, features recorded sections of thousands of initial contestants filmed at Wembley Arena.
Procam has two custom-built vans to rent to producers as a more cost effective alternative to an outside broadcast truck. The specially modified £20,000 vehicles contain four "armour plated military grade" fibre-optic systems, plus dedicated monitoring and viewing facilities.
"The aim of commissioning these custom vans is to provide a cost effective solution for productions working in locations where space is at a premium and heavy cable runs are not possible," said Procam managing director John Brennan.
"The Procam vans will allow productions to run 500m of fibre cable without any image degradation," he added.
"It will include a dedicated talkback system making this a great live environment tool. Essential facilities such as viewing and talkback can often be problematic when working outdoors - now it's all onboard at the touch of a button."tec