Senior figures from the worlds of production, restoration and archive research gathered at Dolby's Soho HQ for Broadcast's Restoration and Archive Forum.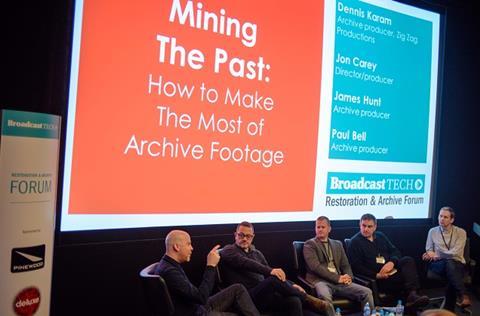 The content owner's nightmare? Maintaining an effective archive in a file-based world
Steve Wynne Head of TV, Pretzel Films
Nick Metcalfe Executive producer, Arrow Media
Although broadcasters' preferred delivery method has been file rather than tape for more than a year now, the issue of how best to manage a file-based production archive has yet to be resolved.
"Once upon a time, we had a Digibeta or DV tape sitting on a shelf and that was our archive - tapes would be paid for as part of the budget and then just sit on the shelf," said Pretzel Films head of TV Steve Wynne.
"When I shot with Digibeta, we never had anyone say 'have you backed that up? And that was with Digibeta, which occasionally snapped or corrupted. It feels as though we have gone backwards, and that things are less robust than they once were."
For Wynne, one of the main issues of managing a file-based archive is the additional costs incurred by production firms.
"There is no archive person who you can magic out of a budget line. Our focus is to get the programme to air. It would be great to tag everything and know that you can quickly find a particular shot, but there isn't the time or resource to do it."
Wynne's production company uses Linear Tape Open (LTO) - "which is robust, but is also a nightmare because it's hard to retrieve" - along with an internally managed Raid system, and relies on the archive of finished shows managed by playout firm Ericsson.
Effective storage
Fellow panellist Nick Metcalfe, an executive producer at Arrow Media, said his company is still grappling with how best to store finished programmes and rushes.
"I don't think we have yet cracked how to store material most effectively, and I don't know how to because it is a matter of resources. We can keep rushes safe, but we just don't necessarily know where everything is at all times."
Arrow Media, which has its own in-house post facility, uses a combination of LTO, which it manages internally, along with drives and Aframe's cloud-based storage and collaboration platform.
While Wynne was unable to point to any significant advantage said the use of proxy files managed by Aframe during production of Arrow Media's National Geographic series Ultimate Airport Dubai had allowed the production team in the UK to work on the edit while material was still being shot.
Wynne and Metcalfe conceded that maintaining an archive of rushes isn't always necessary, particularly for production companies not involved in clip sales and where the content is owned by the commissioning broadcaster.
However, both pointed to the need for easy access to some rushes, such as general views, for ongoing or returning series.
Metcalfe said: "We have now completed three series of Ultimate Airport, and we know we have a lot of material we might want to recycle for future series even though it might not belong to us."
The art of restoration
Kieron Webb Film conservation manager, BFI
Darren Woolfson Group director of technology, Pinewood Studios Group
Paul Collard Vice-president, film and digital services, Deluxe
The art of restoration is one of balance, says Paul Collard, vicepresident, film and digital services at Deluxe.
"The skill level of restorers is akin to driving a Formula 1 car - the software is incredibly powerful. They can enhance and turn any image into almost anything, so it's all about judgement - how much and which tools you apply.
"What's important is the subtlety of the correction and retaining the original character."
Collard showed delegates Deluxe's restoration of Beatles pop promos and 'undiscovered' videos. The material used by Deluxe ranged from 35mm original film to copies from quad video tapes and tele recordings.
The availability of source material has a big impact on the approach of restoration teams and their ability to achieve consistency across a project, said BFI film conservation manager Kieron Webb, who showed a restored version of 1927 film Shooting Stars.
"One of the clearest ways of understanding restoration is knowing how a film exists. It is a search for elements often internationally and then making decisions about the ones that are to be used."
Artistic vision
After discovering pulsing on a scan of the combined internegative of 1948 film Scott Of The Antarctic, Pinewood's restoration team visited the BFI to see what other elements of the film existed.
Pinewood group director of technology Darren Woolfson said: "The three strip (yellow, cyan and magenta) was there so we decided to see what we could do with that. It was quite time-consuming because it effectively involved three times the scanning - in the end we had to scan 480,000 frames."
Although Collard spoke of the need for subtlety and restraint, involving one of the original crew can provide insight into the artistic intentions of the production team which allows the restoration team to push beyond the boundaries of the original.
Collard recalled the restoration of The Long Good Friday, in which director of photography Phil Méheux sat in on the post-restoration grade.
"There was a shot of Bob Hoskins with Tower Bridge in the background.
"On the day of filming, the sky turned dark but they had to carry on. Phil said he always wanted to get that shot, so the colourist put a shape around Hoskins and gradually brought up the lightness of Tower Bridge, and Phil got the shot he wanted."
Mining the past: how to make the most of archive footage
Denis Karam Archive producer, Zig Zag Productions
Jon Carey Director/producer
James Hunt Archive producer
Paul Bell Archive producer
Despite varying budgets and timescales ranging from days to years, the aims and objectives of finding illuminating and, ideally, rare footage were common to all of the panellists in Broadcast's final session.
Archive producer James Hunt has spent the past three years periodically working on an epic feature documentary for Simon Fuller's XIX Entertainment about London in the 1960s.
During that time, he has amassed 1,500 hours of footage. "With a big budget and timescale, you can find things that I term 'little old men with sheds of film'.
"After emptying out the well-known archives, which gives you the basis for the production, I went to a lot of interviews to get a better understanding of the film, but it also gave me the chance to ask about any rushes they may have shot.
"One person passed me on to the next and the result is footage that should blow people's socks off. But it takes an extended time period to get there."
For Jon Carey, director and archive producer of An Ordinary Hero: The Mike Hailwood Story for BT Sport, it was a loft rather than a shed that contained a treasure trove of archive.
"We had almost finished with the interviews and there was one person who was one of Mike's best friends and so had access to him at certain times of his life.
"We discovered he had made a film of Mike, which he reckoned had been seen by about eight people. He had even converted his loft into a Super 8 cinema."
Mission impossible
Time is a luxury not afforded to Denis Karam, archive producer at Zig Zag Productions.
"Instead of three years, we may have three months. The shortest ever was seven working days, which was almost mission impossible."
Karam's approach is to make sure that first and foremost any gaps that need to be filled with archive footage are accounted for.
He said: "You give producers enough to make the story, and then search for more."
But the interview stage can be a nervewracking time for an archive producer.
"If a talking head mentions something obscure, you have to find footage which relates to their comments," said Karam.
Director Asif Kapadia set the approach towards archive-only production on Senna.
Kapadia was new to documentary film-making and not overly keen on shooting lots of talking heads.
Archive producer Paul Bell said: "The only person he really wanted to interview was Senna, but of course we couldn't. We realised we didn't need to interview Alain Prost now, because we had him talking at the time.
"When you do put someone on camera they might tell you something you want to hear. We found visceral, immediate reactions in the archive."