A Behind-The-Scenes special, with exclusive insights from Wimbledon, the Formula 1 British Grand Prix, The Open golf and Henley Royal Regatta; also includes analysis on the rise of women's football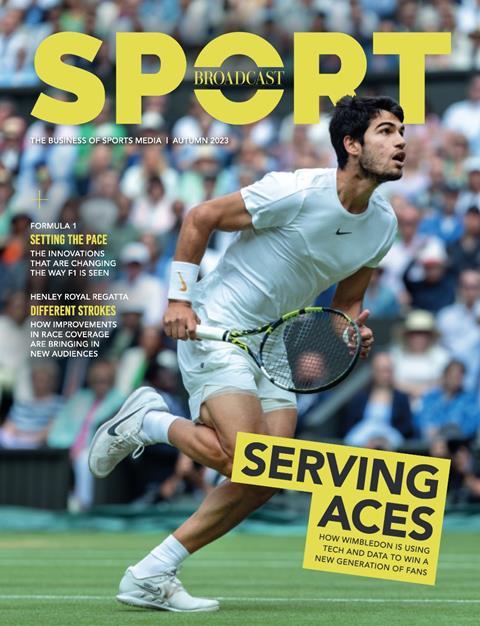 The Autumn 2023 issue of Broadcast Sport magazine is included in a big bundle of magazines landing on the doorstep of Broadcast subscribers this week. Print issues will also be available at IBC 2023 in Amsterdam in September, and at Sportel in Monaco in October. A digital issue is available to read in full by clicking on the image above.
This issue goes behind the scenes at more sports events than any other issue. We take you to the courts of Wimbledon (p16-20), where we spend a day with Wimbledon Broadcast Services to talk about how it is blurring the lines between linear and digital. Next, we take you to the Formula 1 British Grand Prix at Silverstone (p30-32), where we speak to the team behind F1 TV about how taking production in-house has enabled them to elevate the sports' remotely produced live coverage and data-driven insights.
We then head to Henley Royal Regatta (p36-38) to find out how rower Matthew Pinsent and Sunset+Vine's Andrew Preece first got together eight years ago to create the template for producing the six-day event for live streaming on YouTube. Finally, we take a bird's eye view over Royal Liverpool Golf Club Hoylake (p42-44) to marvel at the scale of production and broadcast operations required to bring all the action from The Open to golf fans around the world.
Elsewhere in this issue, we chart the rise of women's football and look at what can be done to capitalise on the growing enthusiasm for the game (p22-25). We also hear from Little Dot Sport's Robbie Spargo (p28-29) about how social media is increasing female viewership. And we catch up with Scott Young at the UK's newest sports broadcaster, TNT Sports (p6-8), to find out his plans for innovation in linear and streaming coverage.