Whisper's Jemma Archer and Carys Owens on how a complete sea change in producing women's sport content has helped fuel its growth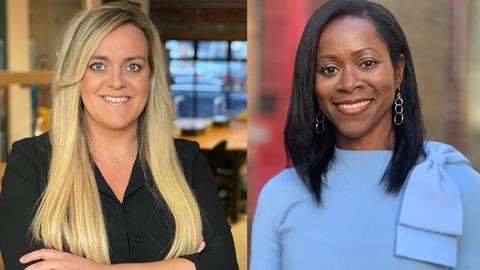 This year, Whisper is producing top-level International football, cricket and rugby for mainstream UK TV and global audiences, fusing sport with entertainment while promoting the games and participating players.
So what, you might think. Whisper is a leading sports production company. So far, so normal.
However, what makes this worthy of a column, is that these games, shown live on BBC and BT Sport, are international Women's games, pulling in hundreds of thousands of viewers in the UK and many more across the world.
Just 20 years ago, the UK faced a very different landscape. Women contesting traditionally 'male' sports didn't feature as primetime viewing. And for many girls, rugby, football and cricket were hidden as an option.
Fast forward to 2021 and, across a period of five weeks, our daughters can watch Tamsin Beaumont average 231 in a one day series (BT Sport), see Lucy Bronze in action for the Lionesses against Canada (BBC Four) and watch Emily Scarrett attempt to win the Women's Six Nations for the Red Roses (BBC Two).
Two Whisper employees, Jemma Archer (pictured, above right), senior producer for women's football and Carys Owens (pictured, above left), managing director of Whisper Cymru, are involved in these Whisper productions. They spoke more about where we are today.
Jemma: "A big reason for the growth of women's sport has been a greater social awareness of the need to promote women's sport and give it equal weight to men's, which hadn't happened historically.
"There's also been far greater investment in women's football over the past 10 years. The FA has pumped money into the Women's Super League, creating two top leagues, and the quality of women's football has improved as a result.
"The game's progressed from non-professional to professional, providing better structure, better training facilities and improved infrastructure at most of the clubs, the result of which is seen on the pitch. This is shown by the recent TV deal with Sky and BBC, who have played a big role in showcasing the women's game.
"When a sport is given the chance to improve, it generates a better product and becomes a more attractive proposition to broadcasters and viewers."
Carys: "Exposure is everything. Our recent promo for International Women's Day led with the saying, 'If you can't see it, you can't be it', which is so true. Girls have to see sports for them to grow.
"The fact that England's final game in the Women's Six Nations Final will be shown on free-to-air TV, on BBC 2, on a Saturday afternoon later this month is great for women's rugby and women's sport in the UK."
"At Whisper, we produce Women's Six Nations, Women's Super League, The Women's Football Show for BBC, Women's Cricket and W Series, the all-women open-seater racing series. We have an ambitious approach to our productions and focus on making slick coverage that's exciting, inclusive and makes people want to get involved.
Jemma: "We've continued to back women's sport and invested time in ensuring the product is up there with any men's match. Only a few years ago, others used to settle for a score graphic at half-time for 15 minutes in a women's game. We've changed that and ensured there's highlights, features and analysis. It doesn't cost much more, it's all about mind set.
"We've worked with the FA through the growth of the Women's Super League and helped launch the FA Player, which has shown how the women's game can be pioneers in the OTT space.
Carys: "We also include females in our presentation teams, with many as lead. That includes Isa Guha (BBC Cricket), Lee McKenzie (W Series and F1), Reshmin Chowdry and Eilidh Barbour for WSL, Cori Yarckin for NFL, Lauren Jenkins (Super Rugby) plus more. The current Six Nations also features commentary from Sara Orchard and Natasha Hunt."
However, while women's sport grows on the field, it appears the number of women working behind the camera, is increasing, but at a slower rate.
Carys: "It's with great pleasure that I now see more females working in off-screen roles in rugby. 10 years ago, when I was an editor, I only knew two other female sports editors in the entire industry but thankfully, that's beginning to change."
"There's greater social acceptance now (for women in sports production). I remember in 2012 being referred to as a 'token gesture' ahead of a European Final that I was working on.
"It was regular for my ability to be questioned by new clients. Those experiences have driven me to help make changes for females in the industry today.
Jemma: "There are still some unique challenges of being a female producer in areas that are traditionally managed by men. As you progress through the sport, sometimes you may face subtle issues with people not accepting your authority. For me, it's about challenging people's thought mechanisms and I'm lucky in that I always have Whisper's full support."
Carys: "It's great to see the increasing numbers of females enrolling for the sports broadcasting course at Cardiff Met, who we partner with. Also, how many females are invited to present, including female editors, directors, technical personnel and camera people, it's inspiring for those on the course. People are always surprised that I was a rugby editor.
"From the current course, two girls have set up the 'She Has a Goal in Mind' podcast, which focuses on women's sport. They've interviewed some amazing names, such as Prof Laura McAllsiter, Cath Pendleton and Corry McKenna."
Jemma: "Social media has given producers a platform to produce their own content and they no longer have to wait for the big guns to give them an opportunity. That said, female producers in football remain a minority, especially in more linear fields. Not enough are moving up as a producer, director, camera person or into technical roles. They're there, but I'd like to see more."
"I started working in TV production, because I loved sport and I'm sure we'll see a positive knock-on effect from the growth of women's sport on TV. Young people gravitate to real-life heroines and more girls will start to look for other ways into sport, beyond being a player."
Carys: "At Whisper, we're 50% female, with women holding key roles including chief operating officer, chief creative officer and head of broadcast operations. We're helping someone to retrain ahead of her maternity leave (to provide greater opportunities on her return) and our F1, football, cricket, rugby, NFL and W Series production teams feature a number of talented female creatives, which is important for us across the business.
"We have a responsibility to shout about women in sports broadcasting and make them as visible as possible, to match the increased TV coverage.
"If you can't see it, you can't be it. This remains true both for those on the field as well as those behind the camera. Together, we can continue to showcase great sport and do the jobs we love to help inspire the next generation."