Whisper produced the final between England and France last weekend, which was seen by 600,000 on BBC2.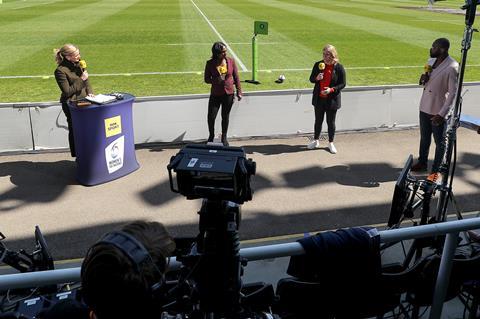 The Women's Six Nations was seen by 1.7 million last weekend, with 600,000 tuning in on BBC2 and 1.1m on France TV over the channel.
Whisper Cymru was in charge of production for the host broadcast and world feed, as well as creating a programme for BBC2 hosted by Gabby Logan. Danielle Waterman, Maggie Alphonsi and Ugo Monye featured alongside the presenter, giving analysis on England's 10-6
In addition, it facilitated France TV on site, which had sent an in-vision presenter and a small team to create its own presentation around the world feed.
Timeline TV was the technical partner for the production, with Harry Allen and Matt Roberts as executive producers. Onsite programme editor was Harry Allen, Ashleigh Wilmot was assistant producer and Jamie McIntosh was production manager.
Allen told Broadcast Sport: "Matt Roberts and the Whisper team had delivered the world feed during the pool stages and it was really exciting to make that step that up for the final, with much more broadcaster interest and many more eyeballs watching on. Thank you to the BBC for providing extra resources for the coverage which made it feel like a big event."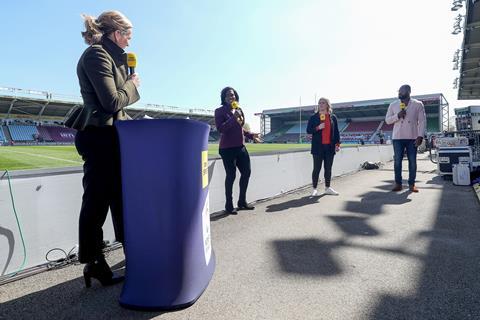 Whisper Cymru managing director, Carys Owens, added: "The Women's Six Nations Final felt like a big day for Whisper's growing rugby department. We are proud to have been host broadcaster for the first ever final and hope that the tournament benefits from having its own slot in the rugby calendar."
The BBC was also pleased with the results, with head of TV, BBC Sport, Phillip Bernie, saying: "From a broadcast perspective we couldn't have asked for a closer final with the result in doubt right up until the final few minutes. We're really pleased that the BBC was able to give UK viewers the opportunity to watch every match in this year's tournament live.
"The final was the first Women's Six Nations game to be shown live on BBC Network TV and our team's coverage, both in studio and commentary, really captured what was obviously a showpiece occasion for women's rugby."