Sport:80 works with over 50 governing bodies and sports organisations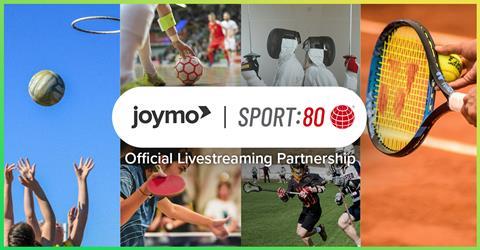 OTT platform Joymo and sports management service Sport:80 have entered a 'strategic alliance'.
Joymo becomes a partner of Sport:80, whose software-as-a-service platform is used by over 50 governing bodies and sports organisations - including Archery GB, British Fencing, British Weight Lifting, as well as, USA Archery, USA Shooting and US Pentathlon - to deliver sporting events.
Joymo targets its remote broadcasting capabilities at governing bodies, clubs, teams, and athletes in sport, which this partnership may open the door to a number of.
Mike Emery, CEO of Joymo, said: "Joymo and Sport:80 have a shared vision focused on the use of technology to unlock the power and value of sporting organisations' passionate fan communities. Given our complementary solutions and shared audience base, this strategic partnership will enable us to add even greater value to current and future relationships we have with sporting federations and national governing bodies.
"Partnering with Sport:80 is great validation for our platform and technology and a significant step in deepening and broadening our relationships with organisations across the global sport landscape."
Sport:80 chief executive Gary Hargreaves added: "We've spent several years creating a market-leading sport business management system with the aim of encouraging online engagement from sport organisations' members. We know that many of our clients are seeking ways to monetise their valuable content, create even more engagement opportunities and reach new audiences: Joymo bridges that gap.
"This is an exciting partnership for Sport:80 that enables us to build on our strong existing platform offer with Joymo's best-in-class direct-to-consumer video streaming capability. This combined proposition is a 360 solution that can unlock valuable data, insight and revenues that all sport organisations are striving to attain."