The partnership aims to maximise the potential of the Championship's social media platforms to build a young fanbase for the sport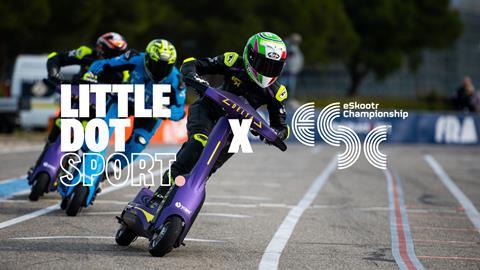 The eSkootr Championship (eSC) has appointed Little Dot Sport to maximise the reach and potential of the competition's social media content and engagement across all platforms.
Little Dot will work on original and re-versioned content for social media, to help build a fanbase for eSC and drive anticipation for the upcoming season.
Little Dot Sport will work with eSC's in-house social media team on Instagram, YouTube and TikTok content, as well as test and innovate on new and emerging platforms.
Hrag Sarkissian, eSkootr Championship co-founder and CEO, said: "As a global championship racing on different continents and with riders from all around the world, the opportunities for building an engaged international fan base through social media are incredibly exciting.
"Little Dot's record for delivering premium and ground-breaking digital entertainment with world-famous brands makes them the ideal expert partner for eSC's social media ambitions. Our shared vision for how we will reach, excite and educate to spread the word of eSC and the benefits of micro-mobility is extremely powerful, and Little Dot's pioneering and data-driven approach will ensure long-lasting growth."
Robbie Spargo, director of Little Dot Sport, added: "We're delighted to partner with the innovative and ambitious team at eSkootr Championship. Having seen the plans around the events, the broadcast product, and where the riders are coming from, we know we will be working at the cutting edge of sports entertainment content."