Vizrt commercial director for global sports, Sam Leadsom, makes his predictions for the future of sports production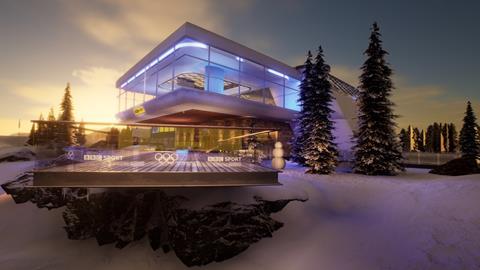 Sports fans are the most committed and resourceful consumers. Nothing gets in the way of their determination to be present, to watch their favourite players and teams. Sports fans will travel for days, queue overnight, go without sleep and empty their bank account just to be there! And if being there isn't possible, they'll stay up all night, use up their holiday, miss school plays, or maybe, a date to watch it on television! Fear of missing out (FOMO) in sport brings commitment, ingenuity, and the occasional argument.
The revolution in digital devices and telecommunications eased the burden of FOMO, but, as you'd expect from this community, they're never satisfied and, like true fanatics, have used the innovations to increase their demands; to dive deeper into events, spend more hours watching them, communicate with one another, and mine more information about their stars.
The commitment remains financially rewarding for the sports industry, and broadcasters, content creators and service providers have embraced the challenge and delivered more products and subscriptions to satisfy the demand. Every innovation meets a new market and provides more excellent choices, but fans know their worth. They are flexing their digital muscles, which is seeing a shift in balance over control of the product from provider to the consumer, making delivery of choice the new necessity in sports production.
Digital devices have completely changed how audiences consume and interact with live events through video. 45% of consumers use additional devices while watching TV, keeping across all the action in real-time, engaging with others online, betting, and sharing highlights on social media. Fans use these screens to enhance the overall viewing experience, not detract from it. For content creators, the ability to adapt broadcast enhancements, like graphics and data, needs to be cohesive across multiple formats.
Most broadcasters and OTT providers have apps to interact with a timeline that allows users to switch between vital in-game moments, viewable goal alerts, multi-cam replays, a detailed match engine, and more. BT Sport's app, Discovery+, and Sky Sport's mobile app are great examples of this. Discovery+ proved to be a big success during the 2022 Winter Olympics, with eight times more viewers streaming content on the service than the Pyeongchang Games in 2018.
Handing control to the fans
There's a balance between integrating all the bells and whistles to provide fans with unlimited choice against what will genuinely enhance their experiences. Still, the future of sports production, I believe, must hand the control of choice over to the viewer. Content creators must provide the resources for fans to interact with the content and data in a way they want to and, by doing so, benefit the broadcaster in the long term.
86% of sports fans expect streaming services to offer a different ad experience from a broadcaster in return for their subscription. 54% expect fewer adverts, and 29% want more personalized advertising and offers. Therefore, providers must understand each user, their needs, and expectations to keep them engaged and immerse them in a unique and customized manner, no matter where or how they tune in. OTT is an excellent platform to manage this.
Another fascinating challenge is to provide fans, wherever they are watching, with a product that they can follow with or without sound. Think about it – many people consume content silently; they'll watch a game in a bar with multiple matches, in a stadium at another event, on their commute with no headphones, or while they wait for their coffee. Alternatively, you can have the game on in the background, absorbing the events' sounds and listening to the commentary whilst doing other things, stopping only to watch the key moments.
Research by Verizon Media and Publicis shows 92% of consumers watch videos with the sound off. That makes visual tools such as high-quality graphics delivered instantly essential. Still, the fan is impatient for information and wants to access it immediately, so alongside Graphics, there is the demand for ever-greater speed-powered AI.
Fan engagement = excellent graphics and virtual experiences
'Capturing the eyeball' is a vital commercial metric for Sports companies. Graphics play an integral role in keeping fans engaged to the screen and communicating essential information in a visually stimulating way, but now they want more virtual experiences. The increasing demand for more immersive and virtual experiences that blend realities in broadcast have seen us leverage more and more of our augmented reality and virtual reality pedigree in sports settings.
From the introduction of the virtual presenter where we place the host on the pitch to analyse the play, through the boundary-breaking Virtual Stadium where we bring the entire stadium as a virtual model into the studio for presenters to interact with, to the inclusion of Unreal Engine into the Vizrt ecosystem so our customers can add gaming graphics to their broadcasts through our easy to use, professional broadcast graphics workflow; all of these contribute to the toolbox of VS and AR tools broadcasters have to excite and retain audiences.
The power of AI
In many ways, elevating graphics is the first step to augment the viewer experience on a broadcast. Adding AI improves speed, keying quality, and real-time data insights. AI will produce ground-breaking workflows and innovations in graphics previously unseen. Breaking boundaries within broadcast with these next-gen solutions is bound to increase fan engagement and enthusiasm – securing the future success of your sports production.
FOX Sports' use of Vizrt's Viz AI-powered Object Tracker for this year's Daytona 500 production was a lighthouse moment in the sports calendar. The solution tracked the cars over the incoming video feed. FOX Sports layered the feed with bold graphics to display which driver was in the lead or gaining position over competitors.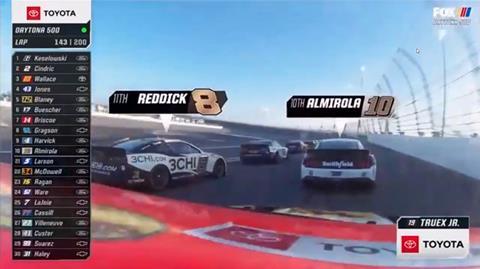 Also, Formula 1 partnered with AWS to leverage machine learning to analyze 65 years of historical race data and offers viewers insight and predictions for the in-race action. Utilizing this automated and ML technology has undoubtedly made watching F1 more engaging, immersive, and captivating.
Ultimate choice and control = the cloud
Savvy sports storytellers in this next era of sports production are looking for new ways to make the entire content viewing experience more captivating for audiences. With the right set of solutions, by working with the right partner, broadcasters and content creators can provide unlimited choice and control to bolster their offer, no matter what they want to do creatively.
While we don't exactly know what the future broadcast requirements will be, we made some educated guesses in doubling down on our offerings of software, IP, and the belief that content production and versioning would increase to keep pace with changing consumer habits. Undoubtedly, the industry has moved towards cloud-based solutions. Still, we cannot assume that broadcasters will adopt it immediately or move entirely away from on-prem and on-site.
For example, one of our customers was working with a major sports league to produce more than 20 games in pristine 4K UHD. However, COVID health and safety restrictions at the time mandated that only two crew members were allowed on-site, and the work setup would be limited to a 4x4-foot space. The partial production space and reduced crew meant they needed to find a creative solution to make prime-time quality productions despite the physical limitations.
The customer chose Viz Vectar Plus, a software-driven production solution. With aspect ratio, resolution, and frame rate independence, Viz Vectar Plus simultaneously delivered content for distribution to multiple destinations and supports various screen types so the customer was able to reach more audiences with flawless high-quality video resulting in a better fan experience no matter how fans were tuning in.