The pair will face each other for the second time on 20 August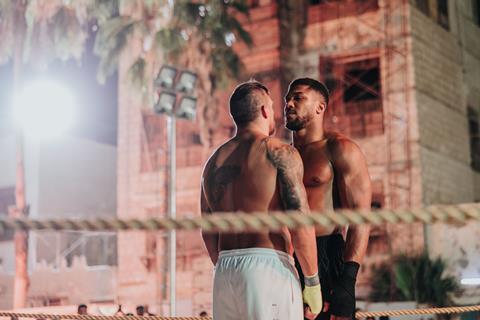 Whisper has produced a promotional film for the rematch between Anthony Joshua and Oleksandr Usyk later this month.
The pair face off for the second time on 20 August in Jeddah, Saudi Arabia, after Usyk comfortably won the first bout on points. The promo was produced by Whisper's branded entertainment team for Skill Challenge Entertainment and was shot over several locations in the UK and Jeddah.
It tells the story of each fighter's preparations, both in their homelands and then Jeddah. Its conclusion is set in the city's Al-Balad district located in its historic old town and features both fighters coming face-to-face with over 300 local men and women looking on.
Dominic O'Riordan directed, with Whisper leading a production crew of over 60, using Sony Venice cameras with Panavision B series anamorphic lenses.
O'Riordan said: "When I read the initial script, I was excited that we would see AJ and Usyk actually coming together for a face-off in the final scene. This is very rare in a boxing promo as you normally shoot the combatants separately. So, the chance to capture that moment in a very cinematic landscape was a really exciting opportunity."
Jemma Goba, head of branded and digital for Whisper, added: "It's an exciting time for the branded entertainment team at Whisper. We have had the chance to work on some amazing projects already this year and collaborate with incredibly talented people and it was fantastic to be able to bring together such a brilliant team for this film. We really aimed to capture both the drama and anticipation of the fight, alongside the historic and beautiful city of Jeddah, and I'm very proud of what we achieved."
You can watch the promo below.
Introducing our promo for Usyk v Joshua 2…
20 August. More: https://t.co/6NwChaK9P6#RageOnTheRedSea#UsykJoshua2 #MakeItHappen pic.twitter.com/xA31lWujK1

— Whisper (@WeAreWhisperTV) August 4, 2022