ITV head of technology Nick Haworth has spent three years developing a campaign management system capable of delivering promotional content to a vast array of platforms.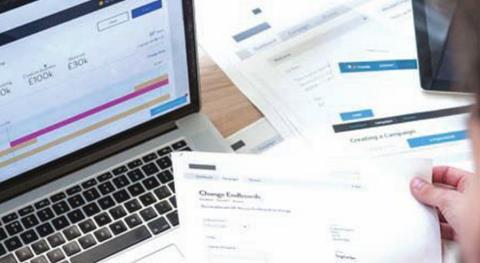 The rising number of social media channels on which a broadcaster needs to have a presence presented ITV with a problem: how best could it manage the vast number of promos for upcoming programmes that had to be distributed across so many different platforms.
The broadcaster's in-house department ITV Creative is responsible for creating campaigns that aim to inform tens of millions of viewers about its programmes. ITV's legacy campaign management system had been designed to handle on-air promos, but it was ill-equipped to cope with the demands of social media.
ITV head of technology Nick Haworth says the broadcaster decided three years ago that it needed to replace its legacy campaign management system.
He says: "The system was built principally for broadcast, as that was where all the promotions were delivered. When the legacy system was put in, a lot of the social media channels were not even around."
Legacy system
The legacy system was a bespoke set-up built in-house about 10 years ago. Because it was bespoke, it was "entirely static", says Haworth, with no product roadmap.
"This was an opportunity to create something bang up to date and give the group marketing department and ITV Creative the flexibility they needed to create promotions not just for broadcast, but digital, social and off-air."
ITV looked at off-the-shelf systems but none was capable of handling hundreds of campaign management assets each month across multiple platforms.
"We spent months talking to vendors to see if there was a single product available," says Haworth.
"Some did the broadcast side really well and others handled the digital marketing, but we could not find any that did both. There was nothing on the market that would fulfil our requirements."
ITV Phoenix
The new system, ITV Phoenix, aims to streamline the production and delivery of on-air and digital campaigns.
Delivered by ITV Technology and systems integrator NMR, it combines a custom-built media planning application for broadcast and digital media, with a media asset management system to keep track of video assets.
NMR's software partners included Vidispine and Cantemo, which provided the base products, while CodeMill carried out custom development work.
NMR chief executive Neil Anderson says: "Previously, campaign management would have been handled by two disparate pieces of software. Creatives would use glorified spreadsheets to deliver, quality control, approve and archive. "It would have been a largely manual process, because the two bits of software were not integrated, so there was a big effort to design software that dealt with both."
ITV selected the NMR-led system after seeing a similar system in operation on a smaller ITV project, and on the basis that it was also being used at The Guardian.
Haworth says: "That track record was important to us, as were the flexible application programming interfaces [APIs], which gave us the opportunity to build bespoke elements and then integrate them into ITV's existing systems.
"Phoenix is part of a much wider ecosystem at ITV."
The web-based system is integrated with ITV's marketing, creative and production teams, as well as affiliates and partners including UTV, STV and ITV Choice.
It also enables close working between ITV's programme scheduling system and Ericsson, which looks after ITV's playout and the Silvermouse music reporting platform.
Intuitive UI
To make the system as easy as possible to use, the ITV project team hired 100 Shapes, a London-based user-experience agency, to design an intuitive user interface.
100 Shapes, which had previously worked with ITV Online, worked alongside ITV's marketing and technology teams to develop a prototype that was then tested by media planners, marketing execs and creatives.
Haworth describes 100 Shapes' involvement as "a turning point" in the project.
He says: "We adopted an approach that is more common with consumer websites: we built clickable prototypes. It meant users could get hands-on before we started the build, so we could find out if we were moving in the right direction."
The feedback was used to tweak the system before the build of the custom application by CodeMill. Media asset management and portal software from Vidispine and Cantemo was licensed by ITV and over a 12-month period, working with NMR, the system was built and configured and integrated into the broadcaster's other apps and services.
Media planning data is integrated using the Vidispine API into ITV's channel scheduling systems to allow near-instant availability of promos for scheduling in the right airtime slots.
For ITV's marketing team, the priority was ready access to campaign data and an easy way to enter marketing briefs for specific campaigns.
After the pilot phase in July and August this year, the system went live in September.
As Broadcast TECH went to press, it had delivered about 900 promos to playout provider Ericsson. With some campaigns taking a few months from start to finish, the final promos will pass through the legacy system in early December, from which point all campaigns will use the new system.
The next phase of the project, which is due for rollout early next year, is to integrate an auto quality control process using tools from Vidcheck, and to combine the versioning process, which can be a laborious task when so many different versions of promos are required.
Pixel Power's Pixel Factory is used in a limited capacity at the moment for the assembly of different versions, but it is a process that relies on Excel spreadsheets for the management of tasks.
Second phase
When the second phase of the project is complete, Phoenix will be tied to Pixel Factory through its and Vidispine's APIs, largely automating the process by using the data entered by media planners, which will move through the Vidispine API to the graphics rendering engines supplied by Pixel Power.
Haworth says the delivery of this system completes the modernisation of ITV's marketing campaign management and production systems.
"The end result is a system that combines out-of-the box software with a highly intuitive, custom-built application, that makes it quick and easy to use.
"We've achieved resilience and scalability too by deploying much of the system in the cloud, a task made possible by ITV Technology's in-house Common Platform DevOps team. It's been a complex project with multiple internal and external suppliers.
"Working with NMR has made coordination with our external suppliers run smoothly throughout."