Seth MacFarlane's comedy series aired 33 times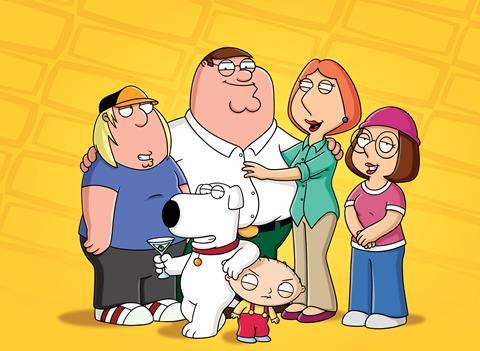 By now, The Xtra Factor, one of ITV2's original brand extensions, would usually be well into its stride, but 2016 proved to be its last run, averaging a consolidated 461,000/ 2% (56,000/4% for 16-24s and 122,000/3% for 16-34s).
With Love Island's summer run averaging 2.5 million/11%, 712,000/43% and 1.5 million/34% respectively, ITV2 won't be missing The Xtra Factor that much this year – and there's always Family Guy to keep the channel's hand in.
The finale of E4's Made In Chelsea: Ibiza on Monday at 9pm drew 590,000/3%, the best overnight of the series, which averaged 520,000/3% (61,000 for 16-24s and 196,000 for 16-34s).
Elsewhere on the channel, the best of Celebs Go Dating was Monday's opener with 530,000/4% at 10pm, exactly the same as 13 February's second series opener.
Out of ITV's 33 airings of various episodes of Family Guy this week, Wednesday at 11pm did best: 570,000/7% in overnights, including 126,000/24% for 16-24s and 317,000/24% for 16-34s.
| | Title | Day | Viewers (millions) | Share (%) | Channel |
| --- | --- | --- | --- | --- | --- |
| 1 | INSPECTOR MONTALBANO | SAT | 0.72 | 4.30 | BBC4 |
| 2 | HOLLYOAKS | MON | 0.70 | 4.20 | E4 |
| 2 | MIDSOMER MURDERS | TUE | 0.70 | 3.36 | ITV3 |
| 4 | LIVE STOKE CITY V MANCHESTER UTD | SAT | 0.68 | 4.49 | BT Sport 1 |
| 5 | LIVE: NISSAN SUPER SUNDAY | SUN | 0.67 | 5.33 | Sky Sports ME |
| 6 | MADE IN CHELSEA: IBIZA | MON | 0.59 | 2.97 | E4 |
| 7 | FAMILY GUY | WED | 0.57 | 6.50 | ITV2 |
| 7 | BREAKFAST | SUN | 0.57 | 10.85 | BBC News |
| 7 | LIVE: PREMIER LEAGUE | SAT | 0.57 | 7.43 | Sky Sports ME |
| 10 | BBC NEWS | SUN | 0.56 | 8.84 | BBC News |
| 10 | INSPECTOR GEORGE GENTLY | WED | 0.56 | 2.92 | Drama |
| 12 | FOYLE'S WAR | WED | 0.55 | 2.90 | ITV3 |
| 13 | BRITAIN'S OUTLAWS: HIGHWAYMEN, PIRATES… | THU | 0.54 | 2.74 | BBC4 |
| 14 | ANDREW MARR'S THE MAKING OF MODERN… | THU | 0.53 | 2.78 | BBC4 |
| 14 | CELEBS GO DATING | MON | 0.53 | 3.84 | E4 |
| 16 | THE BIG BANG THEORY | TUE | 0.52 | 3.25 | E4 |
| 17 | INDIA'S FRONTIER RAILWAYS | TUE | 0.48 | 2.25 | BBC4 |
| 17 | THE PAPERS | SUN | 0.48 | 6.92 | BBC News |
| 19 | THE NORMANS | MON | 0.47 | 2.36 | BBC4 |
| 20 | GLADIATOR | TUE | 0.44 | 3.19 | Film 4 |
| 20 | DON'T TELL THE BRIDE | WED | 0.44 | 2.33 | E4 |
| 20 | CYCLING: LA VUELTA A ESPANA HIGHLIGHTS | FRI | 0.44 | 2.51 | ITV4 |
| 20 | PETER RABBIT | WED | 0.44 | 4.80 | CBeebies |
| 24 | OBLIVION | THU | 0.42 | 2.79 | Film 4 |
| 20 | TATTOO FIXERS ON HOLIDAY | TUE | 0.42 | 2.01 | E4 |
| 20 | GO JETTERS | WED | 0.42 | 4.12 | CBeebies |
| 27 | NELLY & NORA | WED | 0.41 | 3.16 | CBeebies |
| 27 | OUTLANDER | THU | 0.41 | 2.25 | More 4 |
| 27 | DIPDAP | WED | 0.41 | 3.25 | CBeebies |
| 30 | MURDER, SHE WROTE | MON | 0.40 | 2.30 | ITV3 |