TUESDAY: Channel 4 dating format debuts with 760,000 but outperforms among 16-24s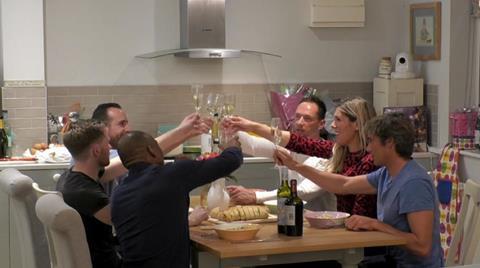 Label 1's 10-part dating format launched with just over half the 1.3m (7.8%) slot average and fell a similar way behind BBC2's 9pm offering.
However, it pulled C4's share of 16-24s up to 13.5%, from the 10.7% slot average. The demographic made up 10.5% of the show's audience, beating the usual 6%.
This was still below the opener of series two of The Circle, which aired in the same post-Bake Off slot in September with a 21% share of 16-24s and a total audience of 1.4m (8.6%).
Five Guys a Week's lead-in was the first of this year's run of Love Productions' The Great Celebrity Bake Off for Stand Up to Cancer, which averaged 3.3m (17.4%) over 75 minutes from 8pm.
The contest, between Louis Theroux, Jenny Éclair, Ovie Soko and Russell Howard, performed better than all of last year's run bar the second edition, which scored an overnight audience of 3.4m (16.8%).
On BBC2 at 9pm, the second and concluding part of Miriam's Big Fat Adventure delivered 1.4m (7.8%), slightly down on the 1.6m (8.4%) who tuned in the previous night for part one.
Margolyes proved a smaller draw than ITV's celebrity-fronted doc over the hour.
Joanna Lumley's Hidden Caribbean: Havana to Haiti launched with 2.7m (15.6%), putting the channel neck-and-neck with the penultimate episode of BBC1 drama The Split (2.73m / 15.8%).
The first of Burning Bright's two-part travelogue could not quite match the opening of her previous ITV travelogue, four-parter Joanna Lumley's Silk Road Adventure, which debuted with 3m (17.8%) in a Wednesday 9pm slot in September 2018.
Bringing up the rear at 9pm was the first of Blakeway's Channel 5 royal doc two-parter Elizabeth I and II: Britain's Golden Queens, which attracted 610,000 (3.5%), according to Barb data from overnights.tv