Drones, 360° cameras and patented LiveLineFx technology to deliver immersive broadcast experience for new sailing league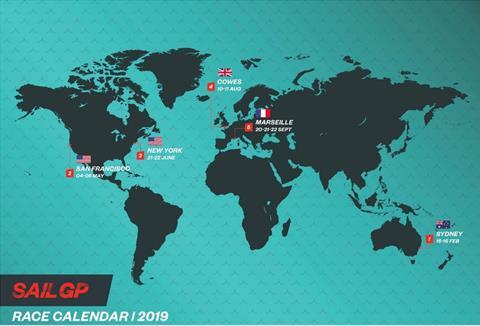 Sports producer Whisper Films has been appointed as the broadcast and production partner of new global sailing league, SailGP.
In a three year deal, Whisper Films has been briefed to broaden the sport's fanbase by delivering a multi-platform broadcast experience.
SailGP, which launched in London last week, sees national team crews race identical, supercharged F50 catamarans in iconic waterfront locations.
A core component of the SailGP broadcast will be proprietary LiveLineFx 'increased reality graphics' technology.
LiveLineFx integrates information and graphics with the live action feed, and enables an interactive second-screen experience using real-time athlete performance data and race information.
Combined with the use of drones and 360° cameras, SailGP and Whisper Films aim to make racing more vivid and easier for new fans to understand.
LiveLineFx can also increase the commercial inventory available, with sponsor branding superimposed on the water for broadcast viewers.
Sunil Patel, Whisper Films' managing director, said: "SailGP shares our philosophy of disruptive, high-tech innovation and uninhibited creativity."
"I've driven some amazing machines in my time, but SailGP's F50 catamarans are just an incredible feat of engineering. They're like spaceships out on the water at these astonishing speeds," said David Coulthard, director of Whisper Films.
Whisper Films' portfolio includes work with sports rights holders such as the NFL, Premier League, Formula One and Formula-E, and brands such as UBS, Ferrari and Hugo Boss.
SailGP CEO Russell Coutts said: "Whisper Films will help translate SailGP's dramatic live spectacle into a broadcast product that out-performs for both seasoned sailing aficionados and new fans around the world."