Scoops: Our scoop on black voter suppression highlights why the need for independent investigative journalism has never been stronger, says Ben de Pear
The last six months has undoubtedly been the toughest in ITN's history since the Iraq invasion of 2003 when we lost three beloved colleagues.
In my own experience of covering conflicts or disasters, there has always been the knowledge that even in the worst of situations there will be a return home to some sort of normality, no matter how wrenching the process of leaving.
However, the pandemic has made nowhere safe. We live it and we report it. While the demand for our product has never been greater or the praise more appreciated, it is tough seeing a second wave forming, especially when we know how tough the first one was. However, Channel 4 News' fantastic journalism and commitment to the story and public service, along with the care colleagues have shown for each other, has been deeply moving to experience.
"The morale of the newsroom has also been extraordinary, and a shield against the worst aspects of the pandemic"
Our coverage of the pandemic has been led by Victoria Macdonald and Gary Gibbon and their respective teams and bolstered by our nations and regions teams across the UK. Between them, their journalism has brought understanding of these unprecedented times and also many newspaper front pages across the UK.
The morale of the newsroom has also been extraordinary, and a shield against the worst aspects of the pandemic. It has been lifted by the challenge of the story but also by a continuing stream of awards.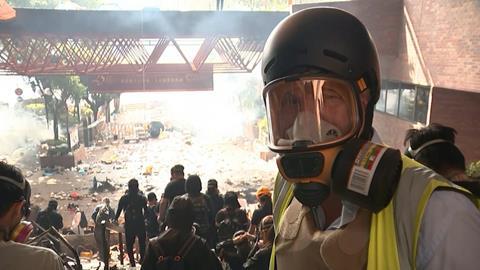 Most recently, our Hong Kong coverage, led by Matt Frei, produced by Chris Cunningham, Chermaine Lee Sheung Man, Vanesse Chan Wing Yan and filmed and edited by Stuart Webb garnered an unprecedented fifth International Emmy in eight years, the award considered the 'World Cup' of news.
It followed a still more gongs for For Sama, including a Peabody. It was champagne all round at a sensible social distance, but it helped garner the sense of purpose which has helped carry us through the first wave and will the second, as will the newsroom's sense of humour.
Which is why as I cycled home after our Trump data exclusive and a voice on the phone said: "Hi Ben, this is Carl Bernstein," my gut reaction was, "Yeah, right, and I'm Bob Woodward."
It was dark and I could imagine a gleeful Chris Shlemon, our long-running Washington editor, sitting in the bureau surrounded by a team holding their sides, but it was the Carl Bernstein – and he wanted to work with Channel 4 News.
"That was a great piece of journalism," he said. It was the best description of all the best things we do at Channel 4 News and the reason why I wanted to join ITN; it is after all the most important thing we do here. For those who can't remember or never knew who he was watch this – when Woodward meets Bernstein.
After I explained the noise on the line was me cycling, Mr Bernstein went into minute detail on every British bike he had ever owned, including a handmade one in bought in London for £280 in 1978. He wanted to know the make, gear set and wheels. Here was a man obsessed with detail; a man after our own investigative teams' hearts, with whom it turned out he wanted to work.
The full names of our investigative team cannot be released for reasons of national security, but Job Rabkin, Guy Basnett, Ed Howker, Heidi Plett, and Janet Eastham, as well as the teams who worked on it in the US are very much details people.
No quick chat ever takes less than an hour. A meeting can last a day. But it's worth it; and in between their work on great hits like Cambridge Analytica (CA) and the Trump data they also turned out investigations revealing the PPE crisis, the decision-making process at the start of the pandemic and even into the sourcing of the gloves.
Last year, Channel 4 News won a record breaking seven RTS awards for work on CA and we collected our fourth International Emmy, another Peabody and a BAFTA.
Fitting in
Carl would fit really well with these people, who work tirelessly day after day checking and rechecking, building sources and gathering and still learning all the time – new facts, data and even coding. When they geek out, they do it for real and Mr Bernstein could sit with them for a long time talking about spokes and gears. Watch this space and look out for a 1978 Ellsworth parked in the bike rack.
The Deterring Democracy investigation into the targeting of black Americans not to vote in 2016 by the Trump campaign was always going to be a major story, and there is still more to come.
The result of combing through a vast cache of data used by Donald Trump's 2016 Presidential campaign on almost 200 million American voters – combined with old-fashioned journalism, forensic data mining and on-the-ground reporting – led to what LBC's James O'Brien called an 'astonishing scoop'.
Prominent Americans shared the story, from filmmaker Ava Duvernay with her 2.7 million Twitter followers to President Obama, who released a minute-long video accusing Trump of cracking down on black voters from participating in the election, claiming "from the White House on down, folks are working to keep people from voting, especially communities of colour".
"The Deterring Democracy investigation on YouTube and Facebook was watched by half a million people plus at least half a million who read the article online"
Raymond Snoddy, wrote: "Channel 4 News unearthed perhaps the best American political story a British broadcaster has ever come up with," adding: "Broadcast award ceremonies are made for scoops like this." Simon Schama wrote: "Hello USA – Channel 4 in UK just dropped another huge Trump bombshell."
A short Channel 4 News video promoting the investigation around the world ahead of broadcast had over six million views, plus 150,000 tweets within the first 24 hours under the massively viral #DeterringDemoracy hashtag. The investigation on YouTube and Facebook was watched by half a million people plus at least half a million who read the article online.
In a tumultuous period dominated by a global pandemic, the most divisive and nasty election in living memory, and an economic crisis, the battle over the truth has hardened.
In its 65th year, ITN has never been more important. It has always been about the journalism, with standards set over decades and an environment borne out of regulation, which means our reporting is required to be held to the highest possible standards.
A requirement to report the news accurately and fairly, while all around the noise from social media unleashing emotions of fear and loathing and fake news and misinformation seeks to drown out the truth.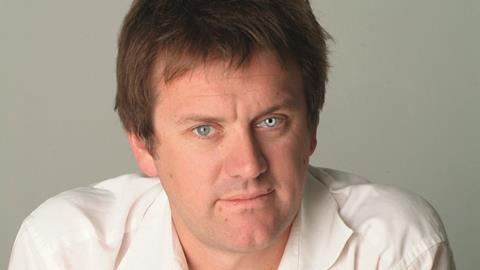 That people have returned in massive numbers to the most trusted form of news, TV news, especially amongst younger and black and minority demographics, is a heartening sign.
If we continue to focus on the journalism, the story telling, the holding to account, and the truth, then we will keep them. Without regulated TV news, the truth will have an even harder time coming out which those seeking to undermine it should know.
Ben de Pear is editor of Channel 4 News