Sex sells and Israeli producer and distributor Armoza Formats hopes that this will help shift its latest project, Sex Tape.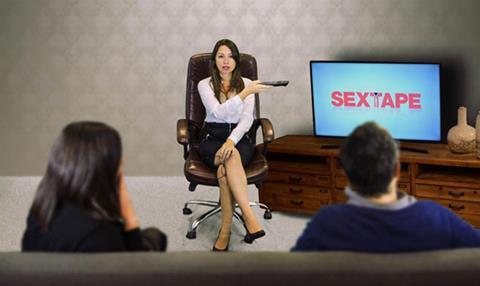 Sex Tape
Distributor Armoza Formats
Producer Armoza Formats
Length 60 minutes
Broadcaster TBC
In the social experiment format, three couples per episode are given sex therapy to help fix their relationship. Each couple films their sex life for a week and then the three couples meet up to watch their tapes together under the guidance of a top sex therapist. Think Sex Box-meets-Gogglebox.
The idea was initially pitched by Israeli sexologist Dr Shelly Varod at Armoza's annual formats competition. It didn't win the pitch battle, but the firm decided to put together a pilot.
Fresh perspective
Chief executive Avi Armoza says it is a "pretty powerful" format. "Sex is a key issue in relationships, but it's something that people don't often talk about and don't get much feedback on. This format is relatable and brings a fresh perspective."
Armoza launched the format on Valentine's Day, ahead of a full rollout at Mip TV. It has already struck its first deal, with German production company Tresor TV.
"We are not focusing on any one broadcaster in any one territory – our distribution platform is strong enough to show it to the world and then have creative dialogue with any partner that would like to move forward and make it happen," he says.
"We've already generated some interest in the UK, which is a relatively tough market for formats, and we think there is a place for a show like this in the US, where there is a variety of thematic channels. We're also aware of the strong sexual programming of shows in Scandinavia."
He is not worried about comparisons with British titles such as Sex Box, which was produced by ClearStory for Channel 4, and is unconcerned that the trend for noisy, controversial social experiments may be waning.
"There is never enough good storytelling. If a show stands out from the crowd, it doesn't matter what's been around before, there is always a need for the next generation of formats," he says.
Armoza recently found success in the UK with its Russian doll-themed gameshow Babushka – ITV has ordered a 20-part run of the studio show from STV Productions – while Wall to Wall previously optioned its shiny floor format I Can Do That, after it was picked up by US network NBC.
"We are looking to extend our presence in the UK through co-development deals and other co-operation with companies," Armoza says.
Elsewhere, the Israeli firm is looking to take on entertainment juggernauts such as The Voice and The X Factor with its latest primetime singing format The Final Four. In the first episode of the studio show, which was developed in-house, four finalists are chosen by a trio of judges.
While the singers live like superstars right through the process, they face competition from app-wielding rivals, who may be added to the show after performing online.
"Because of its unique structure, any viewer who thinks they're good enough to challenge one of the finalists can do so through the app at any time, involving the audience throughout the season," Armoza explains.