Grey's Anatomy and Scandal creator Shonda Rhimes has revealed that she is eager to create a show for the UK and is eyeing the possibility of tapping into
Disney's increasingly international production presence.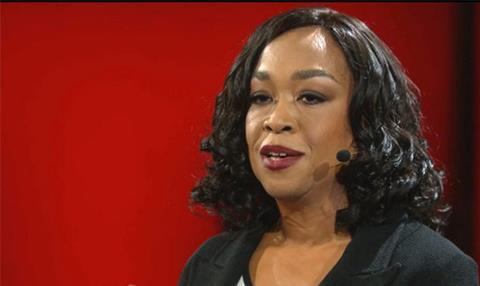 Speaking exclusively to Broadcast at Mipcom, Rhimes said that she had been inspired by her recent experience of working with British actors, writers and production talent. "It's a new day in television," she said. "Working outside of the States is something I have always wanted to do."
Rhimes' forthcoming US show, period drama Still Star-Crossed (w/t), is fronted by The 7.39's London-born star Lashana Lynch. The How To Get Away With Murder producer has also worked with British writer Kate Atkinson on crime procedural The Catch, and Call The Midwife producer Tara Cook on legal drama pilot Lawless.

Rhimes said it would be "exciting" to work outside of the US, where she has an exclusive agreement with ABC. "What's exciting is that [the global nature of TV] has really opened up possibilities and made us think we could do almost anything," she added.
Disney, which owns ABC, is the latest Hollywood studio to make production moves internationally.

The company has several active developments with UK broadcasters through ABC Studios International - the division run by former casting chief Keli Lee, who is now based in London. Its plans follow investment from Sony, which has partnered with Channel 4 to produce forthcoming Philip K Dick adaptation Electric Dreams.

ABC Studios International is currently co-producing Sky Atlantic's 1970s political drama Guerrilla, which stars Luther's Idris Elba and is written by 12 Years A Slave's John Ridley.

Rhimes, who is best known for character-led soapy dramas, added that she would like to diversify her output into wider genres. "I'm very interested in sci-fi - Doctor Who is my favourite show - and I also want to do an action show," she said. "I'd like to do something about girls with guns, a bit deeper than what's been done before, with an overly hot girl kicking someone's butt."
Rhimes added that her deal with ABC allows her to develop and produce for cable channels, something she is also exploring. "There are much smaller shows that I think are fascinating and I'd be interested in making," she said.

Rhimes would also like to direct feature films, highlighting When Willows Touch - a project she has worked on with Will Smith and his wife Jada Pinkett Smith. "In television, my vision always comes through, but if I was writing movies, they would have a different feel," she said.

Disney Media Distribution has sold Rhimes' shows in more than 200 territories, with The Catch being the latest to go global. "It's really beautiful to discover that something that feels universal and common in Ohio is also universal and common in India or London," she said. "It makes me feel that the world is a smaller place."