The creative community in and around Soho is bracing itself for widespread disruption in 2010 as construction work begins in earnest on two major transport infrastructure projects in the capital.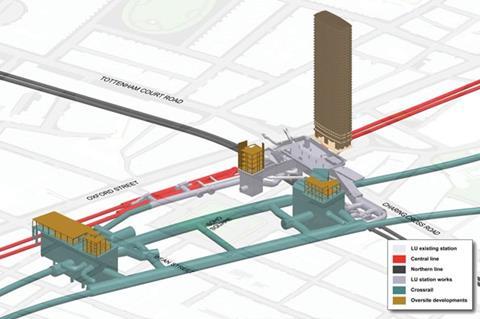 London Underground is currently rebuilding Tottenham Court Road station on Oxford Street while Crossrail is about to start main construction work on a ticket hall on Dean Street as well as preparing for the digging of new tunnels for its new east-west rail service.
Sound recording facilities and companies with film scanners are expected to be the worst affected as tunnelling work and lorries removing soil from Soho produce low-level noise and vibrations.
While key tunnelling and excavation work isn't due to begin until next year, the next twelve months will see transport disrupted as a section of Oxford Street is closed in order that utilities, including water and gas, can be improved.
A diversion starting Saturday16 January will affect bus routes, traffic and parking and delivery bays.
Mike Smith, the managing director of hire company Alias Smith and Singh, said: "We will struggle to stop our three vans for loading and unloading hire equipment so we have had to take on runners on a temporary basis to help our drivers as the only place for us to stop will be some distance away."
Several other companies have already felt the impact of the construction plans.
Post house Evolutions and design company BDA (Bruce Dunlop Associates) were both forced to relocate offices last year due to the Tottenham Court Road improvements.
While sound recoding company Grand Central Studios has been to parliament in order to get assurances on noise levels and changes to the type of track being laid for Crossrail.
Legal fees and associated costs paid out by Soho companies in their efforts to gain compensation or have changes made to building criteria already tops £300,000.
Power to the people
Ivor Taylor, technical and finance director of Grand Central Studios, has spent £150,000 of that on legal bills fighting Crossrail.
His company petitioned both the House of Commons and then the House of Lords in order to gain major noise reducing changes to the designs of Crossrail's tunnels and tracks and also significant alterations to their construction methods.
Among the concessions that have been made by Crossrail is an agreement to lay quieter, floating slab tracks across the Soho part of the line. This and other changes will significantly lower construction and running noise for the tunnels as they cross Soho.
Construction noise thresholds have also been agreed upon and any breach will result in Grand Central being given extra sound proofing at the expense of the secretary of state.
"We view it as an insurance policy," Taylor told Broadcast. "If they breach the noise criteria that we agreed on, they have to, at their cost, sound proof Grand Central to eliminate all noise due to Crossrail. The other big issue will be the above ground work. My concern for elsewhere in Soho is the amount of soil coming out and being carted off by a continuous stream of lorries."
His studios are, of course, already sound proofed but, at this stage, as he doesn't know the full extent of the noise that his company will face he cannot make any further adjustments.
"Despite Crossrail's assurances, it's mad to think you can sound proof for sound that isn't there," he said.
"Crossrail are being very helpful. They have a job to do. The contractor has a job to do. The Commons Select Committee has provided a commitment to cause minimum disruption to the Soho post community. But words are cheap."
Deeply affected
Grand Central is not the only company to have already been affected by Crossrail work.
Over the past year post house Evolutions and design company Bruce Dunlop and Associates (BDA) have both had to relocate offices after receiving Compulsory Purchase Orders (CPOs)
The former moved 25 suites from Oxford House to Great Pulteney Street but no compensation was forthcoming.
"TFL probably didn't realize the extent of the infrastructure of our building," said managing director Simon Kanjee. "I think they thought we were all shoe shops that could easily move our stock somewhere else."
BDA were in Falconberg Court for eight years before they were handed their CPO with the site earmarked to become a ticket office.
After a first meeting with Transport for London (TFL) in May 2008, the company engaged with the deputy mayor of London, a local MP and used both a legal team and a PR agency to help lobby on their behalf.
A move to a vastly improved 15,000 sq ft building on Carnaby Street was secured but not before compensation was agreed for the cost of ending their lease agreement early.
"It almost took us to our knees," explained group managing director Honor Bartlett. "The stress levels were intense and there were some teary meetings where we thought everything was under threat. But a year on I'm so pleased we're here."
Widespread impact
While BDA has successfully made a move to a better office as a result of the Crossrail project, Bartlett acknowledges that the impact of the work in Soho will be widespread.
"There is already a noticeable feeling of lorries in Soho," she said. "It grinds to a halt fairly regularly. But it is a price worth paying if it improves transports links to the East and West and helps companies to stay in Soho."
Kanjee agrees. "The build, when it begins, will probably be disruptive to every single part of Soho," he said. "We're all going to know about it. But you've got to get on with it and play with the cards you've been dealt."
Help is available
Early teething problems aside, London Underground and Crossrail have both been praised for the way they've handled the situation.
Drop-in information sessions have been held in London and updates on potential disruption are regularly added to websites.
Trade body UK Screen has also been preparing for the disruption by providing its members with frequent updates and inviting Crossrail and TFL in to discuss plans.
It also has a contact at Crossrail should members have any concerns.
Chief executive Gaynor Davenport suggests that her members need to be on their toes.
"The works schedule is incredibly complex," she said. "But it's thin on detail until a few months before a phase is due to go live, therefore we encourage our members to respond promptly to all 'localised information' and communications from Crossrail."
Going forward UK Screen plans to add up-to-date bulletins to its website that show maps of the affected areas along with estimated timescales.
It will also continue to hold further Crossrail briefings as required.
"Apathy is fast disappearing now that Crossrail is very much a reality for all businesses in Soho," continued Davenport. "Companies will also face an increase in business rates to help meet the funding shortfall of Crossrail. At the moment there is little visibility on the levels of any such increase but it is definitely on our radar"
More than a big hole
The Crossrail project will be completed sometime around 2017.
It will provide vastly improved transport links that will make getting to and from central London far easier than it is currently. Something that everyone agrees is a very good thing.
Quite what trouble people will have to go through in the meantime in order to get there though still remains to be seen.
"Crossrail have dug a 15 metre across and deep hole outside The Farm in Soho square," said Nicky Sargent, the joint managing director of The Farm Group.
"Apart from the view it hasn't really affected us yet but I guess there is the possibility our 17th century building could just disappear into a large hole one day!"
Companies encountering issues with Crossrail can call the Crossrail helpline on 0345 602 3813.