Production of Disney's musical comedy Galavant is underway at Bristol's Bottle Yard Studios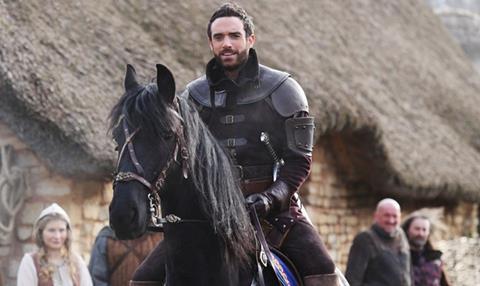 The arrival of Disney's Galavant at the Bottle Yard Studios in Bristol earlier this month was a significant moment for the bottling plant turned- production facility.
Having shot the pilot of the musical comedy there, ABC Studios has returned to the south-west site to shoot the 13-episode series from August until October – making Galavant one of the first US network shows to be based in the UK.
Since the 300,000 sq ft studio threw open its doors to TV and fi lm production in 2010, the facility has hosted shows including BBC2's Wolf Hall,
BBC1 drama Poldark and long-running Channel 4 gameshow Deal Or No Deal (see box). But for Bottle Yard managing director Fiona Francombe, the Galavant deal provides confirmation that the facility is now competing at the highest level.
It should also make for a more compelling case for further investment in the Bristol City Council and Homes and Community Agency co-owned facility. By the end of the year, the Bottle Yard will present a business plan to the council and Francombe is upbeat about the chances of securing funding.
She feels there is a desire within the council to continue to support the studio and says the past few years "couldn't have gone any better".
Improvements to the site, such as a new floor for some of its cavernous tank houses, have been made incrementally with funds from productions, but further investment could be used for more significant improvements, such as the removal of columns from the warehouses and sound proofing, both of which could open up the facility to a wider range of genres, including light entertainment.
Francombe hopes that over the next few years, the Bottle Yard's "proper, sound-proofed stages" will help it to become a hub for TV drama, creating a ripple effect of boosting employment, skills development and training that will benefit the wider region.
Facilities bosses in the region see the Bottle Yard as a force for good, but say it hasn't had a significant direct impact on the city's post scene. Films at 59, a stalwart of the Bristol post market, provided kit and post for Sky 1's Trollied, which has been based at the Bottle Yard since its first series, but not much else has filtered through to the post firms clustered around the city's Whiteladies Road.
Films at 59 is poised to take on other, unnamed projects that are considering shooting at the facility but managing director Gina Fucci says the majority of projects return to London to post because that is where the directorial talent is based. "But the Bottle Yard has created volume and mass, and that has to be a good thing," she says.
Specialist factual
The city is, of course, best known for its specialist factual output, a reputation that was strengthened when the BBC shifted around 80 factual staff and programmes such as Countryfile and Hairy Bikers from Birmingham to Bristol.
According to Pact's 2013 Out of London Report, there were 33 indies and four subsidiaries in the south-west, but the importance of the BBC can be seen in the credits of the post-production companies based in the city.
Big Bang Post, which has four sites in Bristol and recently celebrated its 10th birthday, has provided picture and sound work on the broadcaster's Natural World strand, and claims to post-produce most BBC4 content made in the city, such as The First Georgians: The German Kings Who Made Britain and the Timeshift series.
Colourist, online editor and Big Bang Post co-founder Tim Bolt says that although there are busy and quiet periods, the post market in Bristol is expanding rather than contracting.
Doghouse Post Production co-founder Julian Barton Hill estimates that 80% of his company's broadcast work comes from the BBC, but he is confident of further growth. Doghouse opened in 2005 with three suites, two editors and a runner, and has now grown to 15 staff, 12 edit suites, two grading suites and a dubbing theatre. In anticipation of an increase in work, Barton Hill intends to add another dubbing theatre and recently recruited Big Bang Post's Fred Tay as a colourist, heading up an expanding graphics division.
Just over a year ago, Soho post facility Evolutions spotted an opportunity for expansion and gave the region's production sector the ultimate vote of confidence when it opened a 30-suite facility on Whiteladies Road, nestled among the city's other post firms and near to the BBC.
It made the move with some key clients already on board, such as Dragonfly, producer of C4's One Born Every Minute, which is currently shot at a hospital in the city, and RDF. Indeed, Dragonfly has taken office space in Evolutions' Bristol building.
Evolutions' presence has caused a stir among the well-established post community, with some suggesting that the newcomer is undercutting other facilities in a bid to carve out market share.
Evolutions Bristol head of postproduction Gabriel Wetz insists that is not the case: "We totally refute any suggestion that we are undercutting other facilities; quite the opposite – we have found that others have used price to win clients from us. The market in Bristol has its own rate structure and we have found ourselves often to be the most expensive. We believe in the rates that we offer as we continue to invest in the best talent and facilities in Bristol."
Period of consolidation
Wetz says the past year has been spent consolidating, allowing new clients to familiarise themselves with the facility, and building an efficient workflow to allow production firms like RDF and Oxford Scientific to split work between Bristol and London. "We have been relatively full, working across commercials, non broadcast work, daytime programming, docs and Natural History Unit work, and we can see that autumn will be a busy time," he says.
As well as working with Tigress on inserts for The One Show, and on Seven Wonders Of The Commonwealth and Countryfile for the BBC, Evolutions has a four-series deal to post-produce the Natural History Unit's Wild strand.
Wetz says there is already a need for more offline suites. "We realise that the potential market here is strong enough and we are ambitious enough to grow as much as the market can sustain; additional offline support would help to deliver that growth."
Films at 59's Fucci adopts a cautiously optimistic tone when asked about the future of Bristol's post scene.
She points to wider industry changes, including the BBC's preparation for charter renewal and changes in ownership at Channel 5, as slowing the market down, but she is hopeful that commissioning will loosen up towards the end of the year.
She says: "When the BBC is not commissioning locally, there is a worry because we have quite a big post scene for a not very big production scene. I am optimistic, but it's not just about a quick buck, it's about sustainability."
GFX, VFX AND ANIMATION: LONDON COMES CALLING
London-based VFX firms Coffee & TV and Nineteentwenty both recently opened offices in Bristol, with their London offices acting as feeder facilities to these new larger – and more cost-effective – bases.
They also acknowledge a desire to tap into the pool of creative talent in the city and will join a cluster of GFX, VFX and animation firms that includes Oscar- and Bafta-winning Aardman Animation, the Giggle Group, which has created title sequences, VFX and in-programme graphics for the BBC and BSkyB, and animation and VFX outfit Hi-Sim Studios, which produced the end titles for The Wrong Mans.
Bristol-based creative agency Hello Charlie, which has designed and produced the graphics package for the Brit Awards, moved in the opposite direction to serve a growing roster of clients in the capital. It employs 15 people in Bristol and now plans to increase headcount in its London office from six to around 10.
Hello Charlie co-founder Jason Mullings says having a base in London helps it crew up with freelance staff: "Bristol has some of the best talent outside London, but London offers more. In Bristol, you may struggle to get the same volume of high-calibre creative."
DEAL OR NO DEAL: BOTTLE YARD RELOCATION
The production and post teams responsible for Deal Or No Deal are gearing up to start shooting the 11th series of the quiz show, which last year relocated from its Paintworks base in the city to the Bottle Yard.
BBC Studios and Post Production (S&PP) designed and built the 30,000 sq ft facility within-a-facility and provides technical services and crew for the Endemol show, while onsite postproduction is handled by Soho-headquartered The Farm, which operates nine edit suites in Bristol.