With CGI effects like an action movie, it was the release of a Hollywood blockbuster that really helped the Windfall Films project take off, says Carlo Massarella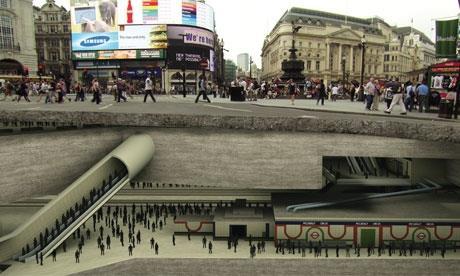 Strip The City
Production company Windfall Films
TX Tuesday 19 Feb, Discovery Quest
Executive producers Carlo Massarella, Alan Handel
Series producer Robert Hartel
Producer/directors Roeland Doust, Gwyn Williams, Oliver Twinch
Producers Andre Barro, Caroline Harvey
VFX and graphics Modus FX
Cameras Sony PDW F800
Summary Documentary that uses CGI to tear up roads and uproot buildings, revealing the hidden inventions and infrastructure that keep the world's biggest cities running.
Carlo Massarella: My tricks of the trade
Hire researchers and producers who are not afraid of using the phone. Rehashing information from the web is lazy; phone bashing is key to winning privileged access, sourcing standout talent and unearthing gems.
Create a guide narration audio file for each CGI sequence for animators to work with from the get-go. Locking timings early maximises the time you will have left to finesse sequences.
Make the ordinary extraordinary. Drill deep down into the detail of how things work to inspire the viewer with a sense of awe and wonder.
The proposition was simple: use CGI animation to rip the glass off skyscrapers, roll up tarmac and slice landscapes in half to reveal the ingenious inventions and infrastructure, normally hidden from sight, that keep the world's biggest cities running.
To pitch the idea, we created a taster animation with London-based VFX house Fluid Pictures. We filmed a series of iconic general views around London then manipulated the imagery, uprooting Canary Wharf Tower to show the huge concrete piles that stop it sinking into the boggy ground, and punching holes through streets to show London Underground trains snaking between sewer pipes, cables and road tunnels. On viewing the reel, one commissioning editor remarked that it was a bit like watching "God playing Lego".
But it wasn't until the Hollywood blockbuster Inception was released that the idea started to gain traction. One of the movie's show-stopping scenes, depicting a street in Paris magically lifting up and folding into the sky, was akin to the mind-warping visuals we were proposing.
The approach suddenly seemed current and we were able to put together a complex co-pro partnership between Discovery Canada, Science Channel US, Discovery Networks International, Australia's Channel Seven and France 5 to raise the funds needed to deliver what we had promised.
The 'stripping reveals' needed to have purpose. We chose cities in geographically extreme parts of the world whose very existence seemed to defy logic. What stops Dubai's super-tall skyscrapers, balanced on desert sand, from toppling over? How can San Francisco survive, sitting on the edge of a major earthquake fault?
By far the biggest challenge facing series producer Robert Hartel was managing the quality and quantity of CGI animation. There are around 130 minutes of CGI in total across the six part series and we wanted all 150 sequences to look and feel 'organic' and 'real time' – like 'living' cross-sections.
To boost the funding for the project, we set up the series as a Canadian co-pro in partnership with Montrealbased Handel Productions. This gave us access to Canadian tax credits, which were ploughed into the CGI produced by Modus FX, also based in Montreal.
The CGI sequences were fully scripted, timed and storyboarded prior to shooting. It took around 14 weeks per episode to research the detailed workings of the hidden widgets and gadgets, and then script out the narratives of the 'stripping reveals' so they were logical and clear.
To create each CGI sequence, our location directors needed to film up to five 'plate' shots of the icons being torn apart – general views that the animators could manipulate. We used Google Streetview to scout out suitable locations. But gaining access to the best vantage points, often rooftops and busy street corners, proved challenging in the field. We frequently had to scramble scissor lifts and cherry pickers to get the shots the animators needed.
To humanise the content, the teams also had to shoot immersive action sequences with engineers building or upgrading the structures. To make them as dynamic and visceral as possible, we planned these shoots to coincide with major events, such as the opening of San Francisco's newest earthquake proof bridge or the blast-washing of Dubai's most luxurious hotel.
The prospect of the CGI sequences being refined thousands of miles away in Montreal while we were editing in London was initially daunting. But a nifty piece of remote-viewing software called cineSync helped us review shots with the animators directly down the line, sketching out improvements onto them frame-by-frame in real time. The approach made the daily feedback sessions extra focused.
To add more detail to the shots, we undertook a day of shooting in a green-screen studio. Filming crowds of extras sat at desks and standing on plinths helped us populate our naked buildings and subway platforms, adding a sense of scale. The resulting films are a unique mash-up of engineering and geology. It's a bit like watching an autopsy on the grandest possible scale – one revealing the key organs that sustain life in a seemingly impossible metropolis.
Strip The City: Creating the wow factor
Valérie Clément, Modus FX
Over nine months, 40 VFX artists at Modus FX created visual effects for the six episodes of Strip The City, each producing more than 18 minutes of CGI content.
To successfully tackle an ambitious project like this, you need A1 planning skills, a lot of creativity to optimise the workflow and efficient communication – in this case, both in our studio in Montreal and with the production team in the UK.
At concept stage, the artists designed the look and style of all the stripping techniques, gathering a hoard of technical and visual references. The destinations were six iconic cities, each with specific architecture and weather conditions.
Once we understood the producers' vision, concepts were a solid starting point to create the 3D models. After the models were built and textured, the fun part began: making the shots.
Pre-vis was crucial for planning and choreographing the action, staging how lively cityscapes would be dismantled, how streets would be rolled back to discover their underground secrets, and how buildings would be disrobed to present their internal operations.
R&D was also needed to develop effective recipes for components such as wind, snowstorms, water, earthquakes, geological uncertainties, rain and fire.
Some had to be presented with a very graphical approach, while others had to blend seamlessly into their environment to enhance the clarity of each sequence. The artists were relentless in giving life to myriad shots and mastering the art of stripping down famous cities.
One of the key challenges was that accurate facts had to be showcased, keeping the viewers on the edge of their seats. Modus FX had to demonstrate a scientific meticulousness while pushing to keep wowing the viewers.