The Studer Micro Series, an "affordable digital mixing system for broadcast applications" is now available in the UK for the first time. It is being sold through pro audio distributor Sound Technology Ltd.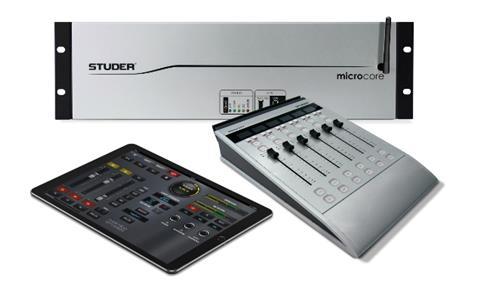 The Struder Micro Series is made up of the Micro core unit (a rugged, fan-less, rack-mountable chassis that houses the control system, processor and integrated I/O) and an optional fader controller surface. The device enables audio over IP (AoIP) and includes multi-effects processing and automatic mixing options for auto-mixing up to 12 inputs.
A LAN port and internal Wi-Fi router enable easy connection with computers and tablets, where all functions of the core unit can be controlled.
The optional 6-fader module, the Micro Fader Controller surface, provides streamlined controls for quick level adjustments and multitasking during live operation. Two controllers can be attached for a maximum of 12 faders.
The Studer Micro Series also includes automatic input gain level calibration on each mic input and an integrated stereo recorder, track player and jingle player.
The Studer Micro Core is available now for £2,299 + VAT, and the optional Studer Micro Fader Controller is £929 + VAT. To find out more, go to www.soundtech.co.uk/professional-audio