Innovation in live sports sound mixing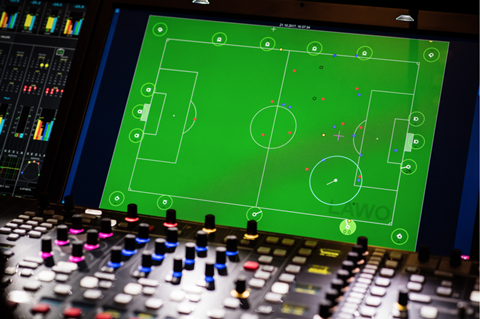 Germany's Bundesliga games are being broadcast using a "new sound experience" developed by Deutsche Football League (DFL) subsidiary Sportcast.
The audio system makes use of live tracking data on the players to set the correct input levels for the microphones used to record action on the field.
DFL believes this creates "an entirely new and realistic audio experience" for the viewer.
Product developer Lawo and data company ChyronHego worked with Sportcast on the sound system during a two-year development and testing phase.
Lawo's KICK software functions as the interface between the tracking data (generated by ChyronHego, and also used for match stats and graphics analysis) and the digital mixing consoles used to create the audio mix from the field.
Camera-based technology generates real-time data in the stadium, which locates the exact position of the 22 players, referees and the ball.
The audio system then determines which microphone is best placed to capture what is happening on the field at any given time and automatically sends the necessary commands to the mixing console.
According to DFL, the data-driven auto audio mix is "considerably better quality than manual audio mixing."
"The new audio production system supplies consistent results of a uniformly high quality, giving viewers an entirely new sound experience," said Tim Achberger, Head of Innovation & Technology Management at Sportcast.