Studios may be proving surprisingly resilient in the economic downturn, but conditions are still tough. Andy Stout finds out what producers want and how to gain a competitive edge.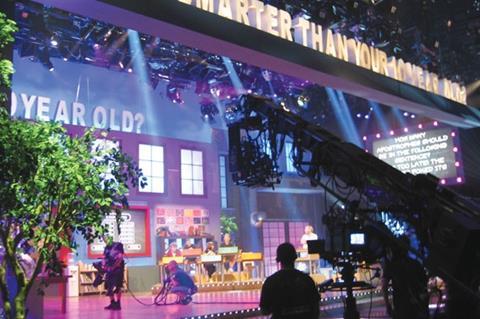 According to most studios, the summer has been a surprisingly good one, all things considered. It's traditionally a slack period for studio production, and the seasonal downturn in work doesn't seem to have been made that much worse by the wider economic problems.
Indeed, there is even some optimism for the coming months. "Our autumn is very busy, with a mix of returning series, some new programmes and a significantly increased number of pilots," says Debbie Hill, managing director of The London Studios.
However, the climate remains tough. As one head of bookings says: "It's a case at the moment of how low can you go." Treating the all-important issue of cost separately, here are the top factors producers currently look for when booking studios.
1 Location and accessibility
Location is, of course, the one thing studios cannot change. However, there is more to it than just where a studio is sited. With light entertainment (LE) still dominating the schedules, connectivity counts. "It's also a matter of where we sit on the transport infrastructure," says Craig White, head of operations at BBC Studios. "Productions need the ability to get talent and audiences both into and out of where we are situated."
For studios in central London, this usually means public transport, for the audiences and crew at least. Outside the centre, studios tend to see the number of parking spaces as a selling point - 3 Mills Studios in the East End has 300 parking spaces, for instance, while Maidstone Studios can offer 400 audience parking spaces.
2 The right size
The larger studio complexes tend to have a range of sizes that run the gamut from accommodating simple presenter/camera set-ups to the big Saturday night LE shows. Audiences can take up a lot of room, though The London Studios' Studio 1 shows what can be possible, accommodating 638 people in a relatively small 8,350sq ft by splitting seating between a cantilevered fixed balcony and a tiered, retractable floor structure. Lighting rig and sets all have to be accommodated too, though there is a trend for medium-budget productions to use smaller studio spaces than they might have done in previous years to save costs (a growing skill in making these spaces look bigger on screen).
More productions are looking at hosting spin-offs from big LE programmes in the same complex. BBC Studios runs Strictly Come Dancing in Studio 1 (last year, its set encompassed 13 separate steel-built mezzanine levels, 10 staircases and seating for 450) and hosts the Strictly spin-off, It Takes Two, in the 1,610sq ft Studio 11.
3 Ancillary rooms
Pushed by tabloid headlines and talent expectations, dressing rooms are becoming an increasingly big deal (see 'Housing The X Factor', above). Elstree's superstar rooms were designed by interior designer Kelly Hoppen, and Elstree's managing director Roger Morris says: "I am in the process of refurbishing some of our smaller dressing rooms to the same standard as the Kelly Hoppen ones to ensure that all our facilities will ultimately be top notch."
Sarah Joyce, Fountain Studios' client liaison and marketing director, says: "Clients are demanding more space, but not because of belligerence - it's need. There are more contributors now, more guests and more performers as productions try to put more value on screen."
Production offices are important, especially if a production will be in residence for a while, with proximity to the studio a distinct advantage. Flexibility of usage is useful as well. "Our rooms can be star rooms, holding rooms, green rooms, edit suites… we can do pretty much anything with them," adds Joyce.
4 Onsite facilities
Inevitably, the studios with the film heritage such as Pinewood and Elstree have the most to offer in terms of workshops, paint, carpentry, hire and so on, though others, such as The London Studios, also have onsite paint and carpentry.
The big change here is that interest in posting onsite is increasing, driven by headline figures such as Maidstone estimating that it can undercut Soho by nigh on 70% in its nine Symphony suites.
Paul Baker, head of sales at Pinewood Studios, estimates that TV post at Pinewood is "up somewhere in the region of 500%", and the studio is talking to a number of producers about its groundbreaking tapeless production service shooting straight onto an EVS server and then via Unity straight into post.
5 An audience
Getting audiences for established shows isn't usually a problem. Getting them along to new productions can be, although specialised audience providers can normally manage this, and some studios have taken an increasingly proactive approach. Pinewood, for instance, has established an audience club that now has more than 12,000 members on its books.
Managing that audience is another issue, with facilities at studios ranging from the basic (queue outside) to the salubrious (food and drink, depending on production budget).
Morris estimates that Elstree hosts 130,000 people during the average Big Brother run. "We try to ensure where possible that audiences are kept warm and dry, because a good, responsive, happy audience is a vital element in producing a good show," he says.
Security is part of this factor too, especially when it comes to separating mixed audiences (contestants, celebrities and the public, for instance) at the same venue.
6 Infrastructure
"The issues connected with the stages - height, lighting grids and so on - tend to come quite low down on the list. They can all be fairly easily sorted once the right stage is booked at the right price," comments 3 Mills Studios executive Derek Watts.
That said, according to Pinewood's Baker, "there is a constant demand for infrastructure expenditure".
Pinewood itself has just spent several hundred thousand pounds installing a new Elgood studio floor in TV2, and it has also invested in new Sony studio cameras and Vinten Quattro S camera pedestals for shooting in confined spaces, such as sitcom sets.
Inevitably, any studio upgrades are now in HD. The London Studios has just finished a summer-long upgrade of one of its studios on time and on budget, while 3Gbps infrastructure is also being put in place at new studio builds such as MediaCityUK and it will be considered vital when 3DTV production starts in earnest.
Estimates are that the sector spent £10m on HD upgrades in the past year, though by far the majority of programmes are still shot in SD.
"In reality, there has recently been a reduction in requests for HD due to the current budget constraints. However, HD is the format of the future," says The London Studios' Debbie Hills.
Underpinning everything: Cost
Once upon a time, location and studio size would be locked down first as a minimum before negotiations would start on pricing. Now it can be mentioned anywhere in the process, from opening gambit ("We have X amount, what can we do?") to final deal-breaker ("Our budget has been slashed by 10% so we have to pay you less") Costs permeate everything, and can see this list turned on its head for the right price.
It should be pointed out that there is plenty of room for negotiation, though. Being flexible with location, stepping down a size, block booking, dry hire (the minimum quote studios tend to have to compete against is for a dry hire plus OB truck solution) and using onsite facilities can all shave a significant percentage off a production budget. "Producers should be flexible with their dates," advises Elstree's Morris. "We are like a hotel - if they are prepared to fill gaps, or be 'out of season' they get great deals. They also get special deals if their offices are based at Elstree Studios. Back to back productions can, on occasion, also use the previous occupant's lighting grid - subject to lots of discussions and negotiation - but this can be a great money saver."
Housing: The X Factor
Shot in Fountain Studios' enormous 13,000sq ft Studio A+B in front of an audience of 600 people, it's the amount of room it takes up behind the scenes that really highlights the scale of The X Factor.
"The X Factor is growing year on year. This year it's using two star dressing rooms, 18 normal dressing rooms, we use our conference rooms for VIP hospitality, and the green room has been converted to Simon Cowell's own dressing room this year," says Fountain's Sarah Joyce. "Then we erect Portakabins and park Winnebagos in our car park for even more space, and park the wardrobe trailer in our service dock."