Deliver picture and sound post-production and visual effects for the BBC1 drama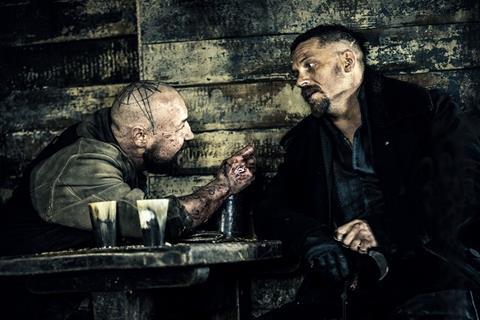 Picture post Goldcrest
Audio post Boom
VFX BlueBolt
Clients Scott Free London; Hardy Son & Baker
Brief Deliver picture and sound post-production and visual effects shots on an 8 x 60-minute period drama for BBC1.
Created by Steven Knight and starring Tom Hardy, Taboo tells the story of adventurer James Delaney as he returns to London from Africa and encounters conspiracy, murder and betrayal.
How it was done Goldcrest carried out the picture post-production work on the series.
Before the show went into production, senior colourist Adam Glasman, working with director of photography Mark Patten, created a series of bespoke Look Up Tables (LUTs) that were subsequently applied to the offline media as part of the dailies process.
Once filming was complete, Patten and Glasman then reconvened to work on a colour bible for Taboo.
Key scenes were fine graded and became the reference for the rest of the series. Glasman was asked to keep the colours natural, with low contrast and a filmic look.
For action scenes, darker areas were isolated to ensure as much colour information was retained as possible. Any sunny skies were removed or hidden.
Colourist Rob Pizzey also worked on the series, with Sinead Cronin doing the online. All work was completed using Blackmagic DaVinci Resolve.
Audio
Boom was responsible for audio post. Its brief was to create a full, rich and immersive atmosphere.
To reflect James Delaney's predator-like characteristics, the sounds of rattlesnakes, tigers and crocodiles were layered into the sound design.
The soundscape also highlights and interprets Delaney's alternative perception of events.
Work was completed using Avid Pro Tools 12, with pre-mixing done on an Avid D-Command surface.
The final mix was completed on an AMS Neve DFC and an Avid S3. Stuart Hilliker handled the dialogue and music with supervising sound editor Lee Walpole mixing the effects.
VFX
For the visual effects shots, the major task for BlueBolt was to create a vision of London and its docks as it would have appeared in the early 19th century.
Led by VFX supervisor Henry Badgett and VFX producer Tracy McCreary, the team delivered more than 550 shots in total, building their digital backdrops around the set build in Tilbury on the river Thames.
Large, sweeping vistas were recreated from scratch, while harbours were filled with period cargo ships.
Visual effects work was completed using a combination of Nuke, Maya, Photoshop and 3DEqualizer.
Watch it Saturdays, 9.15pm, BBC1