Dock10 explains how it has grown from its beginnings to the present day.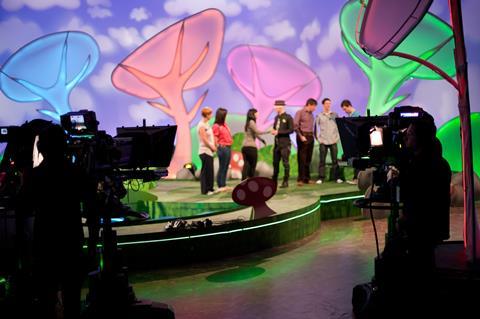 MediaCityUK – home to dock10 studios – started as a ghost town. MediaCity itself was a building site in the final stages of completion with no people or shops let alone any television or radio production, recalls dock10 CEO Mark Senior.
"We have come a long way," says Senior, who has been with dock10 since the beginning. "The site has become the major UK regional hub for television production."
Since the facility first opened its doors in January 2011 shows made at dock10's studios and post production facility include The Voice, Who Wants to be a Millionaire?, Blue Peter and Match of the Day through to live events such as Sport Relief and The ITV Election Debate.
The origins of dock10 lie in the BBC's plan to move key elements of its television operations outside London to Salford Quays in Greater Manchester, including BBC Children's and BBC Sport. Amid criticism that the BBC was too focused on producing content within the M25, then director general Mark Thompson was keen that the corporation should, in his words, "serve and represent the whole country, not just its capital." This ambition, however, required a major television facility that could support the creation of world-class content outside of London.
The first television programme made at dock10 was the BBC gameshow Don't Scare the Hare, presented by Jason Bradbury and featuring a four-foot animatronic robot hare, voiced by Sue Perkins.
Bradbury remembers MediaCity at that time "was lots of glass, lots of concrete, lots of building." A few offices were occupied, "but there was no television. There weren't camera people going around. There wasn't a hubbub in the cafes and so on. There was nothing outside."
Unfortunately, Don't Scare the Hare never quite took off with viewers. "It turned into this kind of Alice in Wonderland surreal nightmare format," says Bradbury. "But to be part of the first ever show at MediaCity was an honour!"
The Queen officially opened dock10 in March 2012 with the Duke of Edinburgh. Both were given a tour of the facility by the BBC's Mark Thompson and John Whittaker, the chairman of The Peel Group which developed MediaCityUK. The visit included watching rehearsals for Football Focus, meeting presenters in the suite of studios used for CBBC and a concert performed by the BBC Philharmonic in the purpose-built orchestral studio.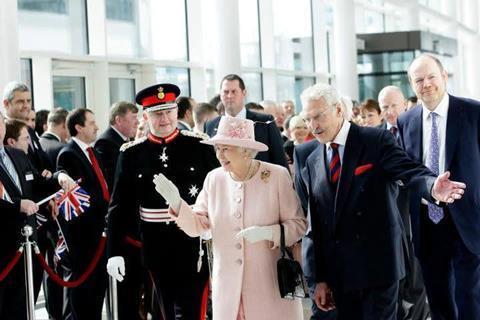 Since then, dock10 and MediaCity have quickly grown in stature. Thousands of people now work at MediaCity. "Since opening our studio doors, thousands of shows have been made here," says dock10 head of studios Andy Waters, who stresses that the studio's client base now includes the BBC, ITV, Channel 4, Channel 5 and streamers, as well as numerous UK and international indie producers.
dock10 has also invested in additional studio facilities and has expanded its post production capacity, most notably by building a boutique-feel post production hub, The Quay. "The Quay was specially designed to incorporate our new VFX capability and meet the growing demand for out-of-London services," says Ian Dodd, head of post production.
dock10's post-production credits include content that films in its studios, as well as dramas such as the Happy Valley for the BBC and The Stranger for Netflix through to commercials and social media content for agencies and brands.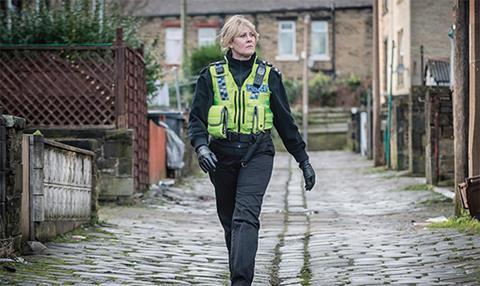 As a measure of the regard that post facility is now held in, Dodd points to dock10 winning the Best Post-Production House at the 2020 Broadcast Awards.
As for technical improvements, chief technical officer Paul Clennell points to the 2018 installation of a ground-breaking 200GBps network. This is smoothing the way for 4K UHD/HDR television and dock10's pioneering use of virtual studio technology with the capability to create otherwise impossible to build photorealistic sets.
More recently, dock10 has remained open throughout the Covid-19 pandemic, putting in place stringent safety procedures and using technology to facilitate remote working.
For example, dock10 offers remote post production across multiple genres, virtual studios to enable creative shoots, and remote galleries to make live sports more accessible. These solutions enabled BBC Sport to broadcast the 2020 FA Cup final live and supported the rapid rollout of BBC Bitesize Daily, which helped keep children learning during the lockdown.
Senior says that customers expect the latest technology innovation, but it is the dock10 team he is most proud of. "The feedback we get most from our customers is about our exceptionally high standard of service. We have not only built a world-class facility, we have also attracted world-class talent."