Several European broadcasters are testing 3D TV transmission but there is still a vast gap in production knowledge and a question mark over business models.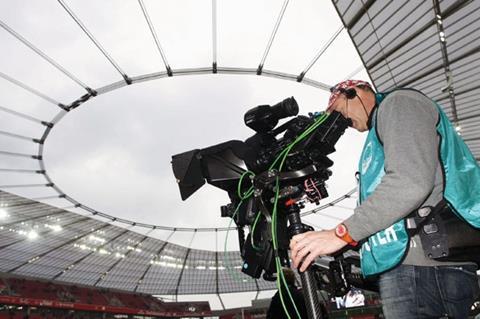 For a recession-hit industry, 3D heralds the dawn of a revolution in home entertainment, a means of pushing new consumer electronic equipment into homes. The success of 3D in the cinema - $1bn, or 12%, of total US box office revenues in 2009 were derived from 3D - proves there is an appetite for it, but at this stage the jury is out on whether 3D TV will go mainstream or remain niche.
By the end of the year, at least 10 3D channels will have launched worldwide, with the first being next month's premiere of Sky 3D in pubs. Many more broadcasters are trailing the technology.
No one really knows if people will take to wearing the glasses needed to watch 3D TV. A conscious decision to watch something in a darkened theatre, on a giant screen, rooted to one spot, with little interaction with neighbours, is very different to the way we move around a well-lit room, viewing ad hoc and wanting to engage with friends and family.
There are arguments to counter this. The stereo effect of 3D TV screens can be viewed from angles at 160 degrees, although the larger the screen the better, and anecdotal evidence from public screenings of live sports has been positive.
The truth is that 3D TV is a gamble, which is why Sky would never have pushed the go button if it had had to make wholesale changes to its infrastructure. The realisation that it could deliver 3D without ripping up any of the wiring of its current satellite to set-top box services - and therefore minimise capital investment - was key.
"If we hadn't been able to use existing Sky+ HD boxes then I think it would just be a novelty on our timeline - something that we might be doing in the future," says Brian Lenz, BSkyB director of product design and TV product development.
Sky is not pretending that subscriber numbers to its 3D channel will be anything other than tiny in its first year. The tremendous marketing kudos it gains by being seen to innovate in this area is far more valuable in these early days.
SKY 3D: HOW IT WORKS
Twin cameras capture footage at source, with the images halved in resolution for distribution over existing HD bandwidths. In the home, 3D TVs display the left camera's footage on the odd lines and the right camera's footage on even lines through a special, polarised screen.
The dual images are then filtered by active shutter glasses so that the left eye sees only the left camera footage and the right eye sees only the right camera footage.
This is one of several possible distribution methods. A front runner to eventually take over is 2D + Difference, which involves taking a traditional 2D picture and adding metadata that 'describes' the difference between left and right eye views. A single full HD 1080p stream could be transmitted, with TVs decoding the associated metadata to render the second eye view. The Blu-ray 3D disc specification operates a version of this.
HD infrastructure
As with HD, it is pay-TV operators that are taking the lead. Although the majority of European broadcasters have still to migrate their production facilities over to HD - the infrastructure for which is essential for 3D - the likes of ESPN, Sky and Canal+ can hope to recoup their investment because of the premiums they can charge customers.
Free-to-air broadcasters don't have that luxury, and while the BBC and ITV have dabbled in 3D trials, they will wait until HD has upgraded across their facilities, and there is a significant number of 3D TVs in homes.
"We know from the HD transition that the commercial imperative will be to manage 2D and 3D production simultaneously with as little additional equipment as possible," says Ray Baldock, CTO, Grass Valley. "The key challenge is not the technology but understanding how to apply technology to address the creative challenges of stereoscopic production."
3D production is expensive, ranging between 15-50% above HD budgets, and requires new techniques. Learning them will in turn bring down costs.
"It's about going back to basics and getting the most out of the resources available to you," says Lenz. "We want [producers] to plan so that what they are not doing is doubling up shooting days or adding in unnecessary cameras, because those elements add cost."
Funding promise
Similarly, standalone 3D productions will be rare, with producers having to make a decision about whether to make two different cuts for 2D and 3D. Sky will not accept more than 10% 2D HD in any 3D production.
Sky has pledged to fund the budget difference between 2D and 3D for the right production - but not at all costs. "We need that increment to go down and we hope producers take some responsibility to find the most economical way to deliver great 3D content," says Lenz.
As with HD, sports and movies will drive adoption. But to build a 3D market, networks are searching for other genres and new formats. In this experimental phase, what fits the bill is likely to be appointment-to-view content including one-off dramas, pop concerts, flagship arts programming and light-entertainment extravaganzas.
Brands will be keen to associate themselves with such 3D events, with advertisers including Cadbury's and O2 already backing 3D cinema campaigns.
Without attention to detail there is a real risk of turning the audience off the medium. 3D is an illusion in which the brain is fooled into believing there is depth. Anything that breaks the illusion is not a mere creative error but a cause of physical discomfort as the brain fails to adjust to what the eyes are seeing.
"Essentially, subtle, rather than 'theme-park', 3D is the best way to avoid viewer fatigue for long-form productions," advises Andy Millns, director, Inition.
"We need to educate the viewer about what to expect with 3D, not throw everything at them at once," says Peter Angell, head of production at HBS, which is producing 3D broadcasts of the FIFA World Cup. "As 3D becomes more familiar, directors will develop a new grammar for telling stories and the boundaries will be pushed."
The World Cup will be the first major global sporting event to be recognised as a vehicle for the potential of live 3D. As a result of this, and an increasingly bullish industry outlook on 3D, Screen Digest estimates that 13.6 million 3D TV sets will be installed in Europe by 2013.
"However, even the World Cup will be mostly utilised in a promotional context, and underlines the current lack of a viable business model for the long-term future of live 3D into cinemas and other media," observes Screen Digest senior analyst Charlotte Jones. Working out 3D content rights adds another layer of complexity.
Most European 3D TV launches, including Sky's, employ a form of distribution that squeezes the HD video by half and puts left and right channels adjacent within the same stream. As new compression algorithms and more sophisticated encoders arrive, the delivery of full HD (1080p) for both eyes becomes a possibility - which will arguably mean a better 3D image - although it is unlikely to happen within a decade.
In a report commissioned by Ofcom, consultants Zetacast suggest that, by 2020, 3D TV will have either matured to become a mainstream service or else been relegated to a niche market of little interest to broadcasters.
"What we all do in the next two years will dictate whether 3D is a gimmick or the next major technology transformation - like black-and-white to colour," says Lenz.
Global 3D
Channel launches
COUNTRY
BROADCASTER
DISTRIBUTION
STATUS
France
Canal+ France
Orange
Satellite
Cable
Launch December 2010
Extensive tests. Launch date pending
Portugal
Zon Multimedia
Cable, satellite
Test channel has launched. Full launch late 2010
Germany
Sky Deutschland
Satellite
Test shoots. Launch date pending
Spain
Canal+ Spain
Hispasat
Satellite
Satellite
First transmissions planned 2010
Tests only
Poland
Cyfra+ (Canal+)
Dialog
Satellite
IPTV
Planned launched end 2010
Trials over IP
Japan
Sky Perfect
Jcom
Satellite
Cable
Summer 2010
April 2010
Finland
Welho
Cable
Tests only
Brazil
TV Globo
NET Servicios
Satellite
Cable
Tests. Launch expected 2010
Tests. Launch expected 2010
US
DirecTV
ESPN Cable
Discovery Communications
Satellite
Cable
IMAX cinemas, cable, satellite
Three channels launching June
Launch June, beginning with FIFA World Cup
Summer 2010
Korea
CJ HelloVision
TU Media
Skylife
Cable
Mobile TV
Satellite
Date pending
Date pending
Trials conducted. Launch pending