The three shortlisted companies centre on second screen fan engagement; ambitious AR graphics; and multilingual video content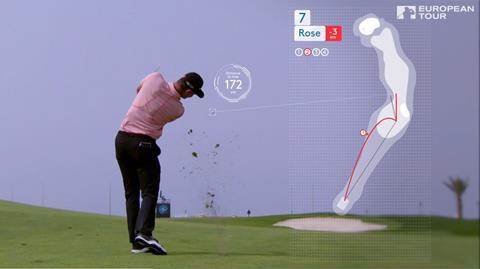 The European Tour has shortlisted three ideas to go through to the next stage of its European Tour Innovation Hub contest.
The competition, which launched in September, attempts to uncover concepts and products from start-ups that can help transform the game of golf. The European Tour has teamed up with its 'global connectivity supplier' Tata Communications to launch the Innovation Hub.
The three shortlisted ideas – two from Germany (Eyecandylab and Alugha) and one from Canada (Sparx Technology) – cover disparate areas, enabling second screen viewing using augmented reality (AR); efficient ways to create multilingual content for global audiences; and enhanced real-time engagement with TV audiences.
The shortlisted ideas
Eyecandylab (Germany)
With Eyecandylab's mobile AR technology, fans can watch live games with an interactive AR layer. By pointing their smartphone or tablet towards live action shown on TV, fans are able to access stats, player profiles and 3D green layouts in an interactive and visually enhancing way. It's also possible to engage with life-size holograms to bring the action from the golf course into the living room.
Sparx Technology (Canada)
This is a consumer engagement platform for enhancing broadcast streams. It enables real-time audience engagement through on-screen polling, trivia, predictive gaming, sports wagering and data collection. The Sparx platform can integrate directly with the live broadcast graphics system to connect viewers to the action happening on screen, creating a two-way communication channel between the broadcaster and viewers.
Alugha (Germany)
This helps overcome the complexities of managing multilingual video content for European Tour's audiences worldwide. It creates an interlocked toolkit for the complete process – from transcription over multi-audio-track voiceovers to video hosting and distribution. It is all about breaking through language barriers to enable more effective engagement with a global fan base.
All three companies will now work with the European Tour's business development team, venture capital firms and Tata Communications to investigate ways to turn their solutions from concept into reality.
Following this, the European Tour will hold a Dragon's Den-style pitch where the final winner will be chosen. The panel of judges includes European Tour CTO Michael Cole; Tata Communications global head of marketing Mehul Kapadia; European Tour chief content officer Rufus Hack; Tata Communications chief strategy officer Tri Pham; and professional golfer Oliver Wilson.
The winning project will be developed into something the European Tour can test in action at a European Tour event during the 2020 season.
Cole said: "We are delighted with the response to our Innovation Hub contest, which demonstrates the strong relationship that exists between golf, technology and innovation. The three shortlisted ideas caught our imagination because the businesses behind them understand the tremendous potential to enhance the game and the Tour for our increasingly mobile, digitally-savvy audiences worldwide."
Kapadia added: "We look forward to harnessing our expertise in the digital transformation of global sports to explore with the three shortlisted businesses how they could not only take the golf fan experience to the next level, but also identify untapped operational efficiencies or revenue streams for the European Tour ecosystem."