Two of Sky's programmes picked up a pair of gongs apiece at last night's Royal Television Society (RTS) Craft and Design Awards.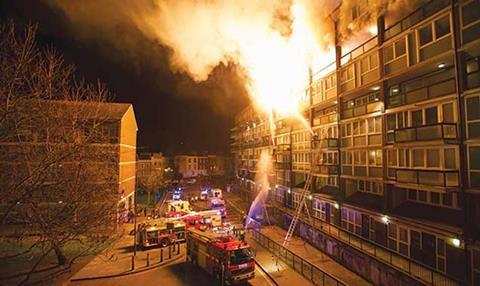 Kudos Film & Television's The Smoke for Sky 1 triumphed in the sound drama and special effects categories, while the Shine-owned indie's The Tunnel for Sky Atlantic picked up two awards for music.
BBC2's Peaky Blinders and C4's Utopia also received two awards each. In total, BBC programmes picked up 12 awards while Channel 4 shows scooped seven.
Stuntman Clive Curtis was honoured with the Lifetime Achievement Award.
The awards, which were chaired by CBBC controller Cheryl Taylor, recognise the skills and processes involved in programme production, from editing to lighting, and costume design to digital effects.
The awards ceremony took place last night in London and was hosted by Jennifer Saunders.
RTS Craft and Design Awards 2014: winners
Costume Design – Drama
Stephanie Collie
Peaky Blinders, Caryn Mandabach/Tiger Aspect for BBC Two
Costume Design – Entertainment & Non Drama
Annie Hardinge
Rev. – Series 3, Big Talk Productions for BBC Two
Effects – Digital
Tom Horton
Da Vinci's Demons – Series 2, Adjacent Productions/Phantom Four Films for Fox UK
Effects – Picture Enhancement
Enge Gray
Welcome To Rio, Clear Cut Pictures & Keo Films for BBC Two
Effects – Special
Colin Gorry
The Smoke, Kudos for Sky 1
Graphic Design – Programme Content Sequences
Sarah Cook, Julian Gibbs, Jason Devine & Chris White
Sochi Winter Olympics – Curling, Intro for BBC Sport
Graphic Design – Titles
Matt Cooper
Luxury Comedy 2 – Tales from Painted Hawaii, Secret Peter for E4
Graphic Design – Trails & Packaging
James Parry, John Sprott, Nick Farquhar & Olly Harnett
Rugby League World Cup, Red Bee Media for BBC Sport
Lighting for Multicamera
Chris Rigby
Alan Carr: Chatty Man – Series 11/12, Open Mike Productions for Channel 4
Multicamera Work
Chris Power
Ant and Dec's Saturday Night Takeaway, ITV Studios and Mitre Television co-production for ITV
Multicamera Work – Sport
Denise Large
Grand National 2014, IMG Productions for Channel 4
Make Up Design – Drama
Davy Jones
In The Flesh – Series 2, BBC Drama Production Salford co-produced with BBC America for BBC Three
Make Up Design – Entertainment & Non Drama
Lisa Armstrong
Strictly Come Dancing – Series 11, BBC Entertainment for BBC One
Music – Original Score
Adrian Johnston
The Tunnel, Kudos for Sky Atlantic & Canal+
Music – Original Title
Adrian Johnston & Dominik Moll
The Tunnel, Kudos for Sky Atlantic & Canal+
Production Design – Drama
Jennifer Kernke
Utopia – Series 2, Kudos for Channel 4
Production Design – Entertainment & Non Drama
Miranda Jones, Joanna Marshall & Gina Fields
Cardinal Burns – Series 2, Left Bank Pictures for Channel 4
Photography – Drama
Lol Crawley
Utopia – Series 2, Kudos for Channel 4
Photography – Documentary/Factual & Non Drama Productions
Marcus Robinson
Rebuilding the World Trade Center, Lion Television in association with Marcus Robinson for Channel 4
Sound – Drama
Stuart Hilliker, Jim Goddard, Jeff Richardson & Billy Quinn
The Smoke, Kudos for Sky1
Sound – Entertainment & Non Drama
Andy Payne
D-Day 70: The Heroes Return – Bayeux Cemetery, BBC Entertainment & Events for BBC One
Editing – Drama
Andrew McClelland
Line Of Duty – Series 2, World Productions for BBC Two
Editing – Documentary & Factual
Philip Kloss
Stop At Nothing: The Lance Armstrong Story, An ABC Production in association with Passion Pictures for BBC Four
Editing – Entertainment & Situation Comedy
Mark Davies and Mark Henson
Rev. – Series 3, Big Talk Productions for BBC Two
Editing – Sport
Tom Gent & Steve Williams
BBC Match of the Day – World Cup 2014 Closing Montage, BBC Sport for BBC One
Lifetime Achievement Award
Clive Curtis
Stunt performer and action director
Judges' Award
Peaky Blinders Production Team