Local partners, quality content, a multimedia approach and multiplatform distribution is the formula for success in new territories. David Del Valle reports from the Chello DMC debate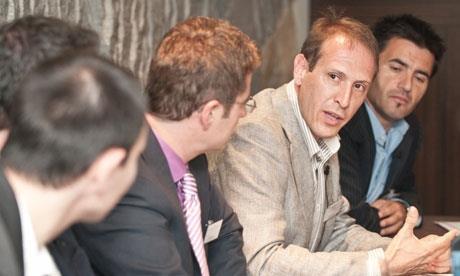 TV channels and content providers still have many opportunities to break into new territories – despite audience fragmentation and tough competition in the global market. This is the main conclusion of a debate organised by Chello DMC as part of its 'TV Without Boundaries' initiative, a year-long focus on international TV channel strategies.
Speaking at the debate, 'Delivering localised TV channels in an international market', in Madrid at the end of April, an expert panel agreed that the formula for success was to team up with local partners, source quality content, adopt a multimedia approach and ensure multiplatform distribution.
Rodolfo Garcia, chief technology officer at Chello Multicanal – which produces and distributes 20 pay-TV channels in Spain and Portugal – said that high-quality content and localisation were essential. "It is very important to localise the channel, bearing in mind the country and the region to be targeted. Alliance with local partners is crucial," he said.
"We aggregate high-quality content from the US, Europe and Spain, and we schedule it knowing the appetite and demand for content in every market. The Spanish pay-TV market has a penetration of around 20% – lower than the average of 40% in Europe – and we think it has great potential for growth, as does the Portuguese market."
For Gonzalo Rielo, technology chief at Spain's second-largest private TV company, Antena 3, quality content is the main driver of success at a local level. "Regardless of the platform, the audience is attracted by quality," he said. "It's this premise that was behind the launch 12 years ago of the inter-national version of Antena 3."
Antena 3 International is currently distributed via cable networks to all the American markets, except Brazil and Canada, and to France and Switzerland in Europe.
Antena 3 TV is in the process of merging with La Sexta to form a group with eight DTT channels in Spain and an average audience rating of 25%. "We want everyone to identify with what they are watching," said Rielo. "The best environment for launching new channels and products is one in which the audience looks for you, rather than you imposing your channels on them."
Pablo de la Cruz, head of TV operations at Spain's largest cable company, ONO, which has 923,000 TV subscribers, said localised channels are more successful with its subscribers. "In our EPG, localised channels are placed in a better position, while international channels and non-localised channels are in the outer reaches," he explained.
De la Cruz said that localisation should ideally go down to a personal level. "We should not talk only about localisation at a country or market level, but localisation focusing on the person, via set-top-box, where you are offering what they really want."
Meanwhile, Gorka Angulo, director of sales at online video store Wuaki.tv, a Spanish version of Netflix, pointed out that in his catalogue of 2,000 films and TV series, "local content is very significant and we take it into account".
In one and a half years, the company has amassed more than 200,000 users, who have access to its content from E0.99. It has reached agreements with the manufacturers to include its OTT service in smart-TV sets from Samsung, LG, Panasonic and Philips, as well as other devices from Siemens Gigaset and Vodafone.
Wuaki.tv will also be available on iPad, Android tablets and Microsoft's Xbox console by the summer. "Over the next few months, we will also launch a flat-fee service, focused on heavy users, with a monthly charge giving access to a large part of our catalogue – around 1,000 films," Angulo said.
For him, a strong multiplatform strategy is key – a view shared by the panel. Rielo highlighted the transformation of Antena 3 into a multimedia and multiplatform organisation. "We launched our 3.0 strategy three years ago, aimed at making all our content available to all devices, because digital media is changing the way we access TV," he explained.
"After YouTube, our web service is the largest provider of Spanish video clips, with 60 million videos uploaded a month." For Rielo, new media means new habits, with "people demanding what they want, when they want".
Enhanced content
Garcia focused on the fact that "digital media is a new way of localising content, because when we distribute content on these new platforms, we have to produce more enhanced content". For example, Chello Multi-canal is developing advanced applications such as video recipes from its cooking channel Canal Cocina for the iPhone, Nokia and Samsung – and recently launched children's channel Canal Panda for the iPad and iPhone.
Chello Multicanal is also jumping on the smart-TV bandwagon with several agreements with electronics manufacturers. "I don't think that digital media will hurt traditional, linear TV," said Garcia. "Quite the contrary; for example, VoD enriches our linear transmissions, improving the visual experience and increasing audience."
Rielo agreed: "When we promote a TV series and release it online, we increase our audience by 10-15% and improve loyalty to our productions. As for smart TV, this is a win-win business: electronics manufacturers sell more TV sets and we showcase what we can do on another platform."
De la Cruz added: "Each technology offers a new business opportunity. It isn't a threat; we have to benefit from it to exploit content on as many platforms as possible."
He highlighted added-value offerings such as ONO's TiVo service with HD, 3D and PVR, among other features. Available in several cities in Spain, TiVo expansion is on track to reach 80% of ONO's audiences by the summer.
The introduction of new digital media is also having a big impact on playout, according to the panellists. For De la Cruz, playout systems have to take into account new business models and multiplatform distribution. "It is necessary to adapt playout to the specific distribution platform," he said. For ONO, that means a focus on HD formats: "In our network, the product with the broadest demand is the HD channels".
Rielo underlined that while the whole market had to be ready for HD, playout must be available to all distribution platforms.
The main challenge now is agility in the delivery of content, according to Garcia: "We are now facing multiplatform management. We have left behind tape and are entering a world of file management. We need a centre where we can store all files and index them to be reused efficiently and quickly. We have capacity to deliver VoD, HDTV or SD products in a very agile way."
Wuaki.tv does not fear the entry of big digital companies such as Netflix. As Angulo said: "They will help us relaunch the concept of VoD and the online video store."
Indeed, according to the panellists, the growth of smart TV in 2012 will pave the way for new business opportunities in a highly competitive market.
International TV focus
Chello DMC's 'TV Without Boundaries' initiative will explore international TV channel strategies and
feature panel and networking events throughout the year. The Amsterdam-based playout provider, which also has broadcast hubs in Barcelona and Budapest, transmits more than 60 channels across the EMEA region. The next panel debate will take place in Budapest in October.
EXPERT VIEW
What role do Dubbing and subtitle services play in breaking new markets?
Rodolfo Garcia, chief technology officer, Chello Multicanal
"These services are essential. We are in a market that clearly demands dubbing as well as subtitling. Audiences are increasingly watching TV content in the original language with subtitles.
"But dubbing remains a key feature as Spanish audiences tend to watch the dubbed version first, including premieres, via both traditional, linear TV channels and VoD."
Gonzalo Rielo, technology chief, Antena 3
"The audience is increasingly demanding these services – above all, original content that uses subtitles effectively for multiplatform distribution. Subtitling and dubbing companies have to adapt to new digital media and provide us with a quick solution.
"Broadcasters have been driven by the need to invest in power-management systems to implement a faster and more efficient playout. Subtitling and dubbing companies should follow suit. These services should become more competitive."
Pablo de la Cruz, head of TV operations, ONO
"Translation and dubbing are vital. Our subscribers demand these services all the time – they are important in terms of how they use and enjoy ONO's offering.
"Our subscribers are interested in new ways of enjoying content, and they appreciate new technologies that enhance the visual experience."
Gorka Angulo, sales director, Wuaki.tv
"We offer subtitles on films and TV series we distribute through our online video store. Initially, we were considering two languages, Spanish and English, in which to subtitle the content, but we have decided to provide them just in Spanish, as this is our natural market.
"Our catalogue is 15% Spanish productions – the rest is largely from US majors. We are increasingly introducing Spanish subtitles for the US content as there is clear demand from the market."