True crime drama well ahead of BBC1 drama rival
As the winter schedule got its now customary dose of ITV true crime thriller and saw ratings go through the roof, the real-life grand felony is the apparent kidnapping of 2021 by 2020. Meanwhile, we were reminded this week how revered gameshow Bullseye helped trap a mullet-headed murderer and in a strong week for ITV drama, Sunday's newbie got viewers wondering who was behaving the most badly.
ITV's three-part true crime thriller The Pembrokeshire Murders opened on Monday with a strong 5.9 million/31% (399,000 +1). It was many miles ahead of BBC1's third episode of thriller Traces, which was first seen on BBC Studios-owned channel Alibi last year. The show mustered 1.9 million/10% for 40 minutes followed by Staged's 1.3 million/7%.
Tuesday's middle episode of The Pembrokeshire Murders fall to its lowest overnight, a still respectable 5.5 million/28%; 331,000 +1 that remained far too much for Traces (1.7 million/9%) and Staged (1.1 million/6%).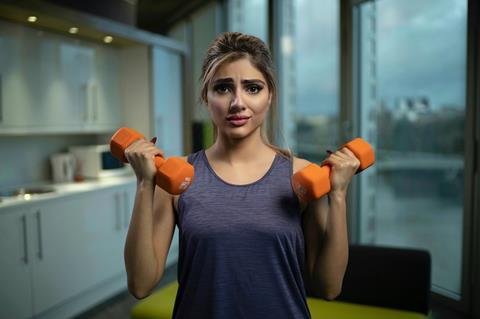 The true-crime drama saved its best for last with a very large 6.4 million/35%; 266,000 +1 on Wednesday – making it the slot winner by a distance ahead of Channel 4's Grand Designs (2 million/11%; 167,000 +1) and BBC1's The Truth About Getting Fit at Home (2 million/11%) – and the highest rating title of the week.
The Pembrokeshire Murders averaged 6.3 million/33% over its three nights, which is the best of ITV's recent spate of true crime dramas. Last year's big hit Des averaged 5.1 million/29% in overnight for three nights from 14 September and it rose to 8.9 million/36% after seven days' catch-up on TV.
Pembrokeshire Murders also beat the high rating Manhunt, which averaged 6 million/28% for three nights from 6 January 2019, rising to 8.8 million/32%. Pembrokeshire's 3.2 million/34% for ABC1 adults was more than Des' 2.6 million/30% in overnights and Manhunt's 3 million/28%.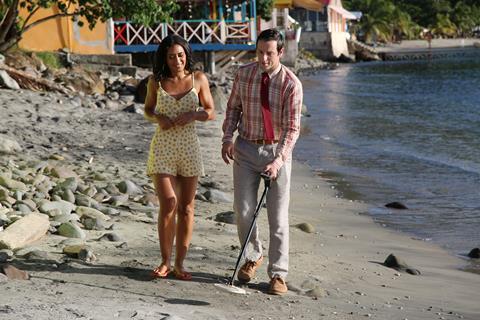 The second episode of BBC1's latest Death in Paradise run achieved a muscular, slot-winning 5.6 million/29%, 600,000 shy of last week's opener (6.5 million/32%). It defeated ITV's documentary The Pembrokeshire Murders: Catching the Gameshow Killer (3.3 million/17%; 232,000 +1).
ITV's companion doc just ahead of last autumn's The Real 'Des': The Dennis Nilsen Story, which complemented Des and achieved 2.9 million/19%; 172,000 +1 on Thursday 17 September at 9pm.
The fourth series of Dancing on Ice since its ITV return in 2018 opened with 4.9 million/24%; 273,000 +1 at 6pm on Sunday. It sneaked past BBC1's Countryfile from 6pm (5.2 million/25%), but slipped behind Antiques Roadshow at 7pm (5.9 million/29%).
Of its four runs, the launch ep on 7 January 2018 remains the strongest overnight rating of all episodes (7.6 million/34%).
At 9pm on Sunday, ITV's new drama series Finding Alice, which was co-written by Men Behaving Badly's Simon Nye, opened robustly with 5.1 million/28%; 305,000 +1 – well ahead of BBC1's third episode of its own true crime thriller, The Serpent (2.3 million/13%). The series are available in their entirety on ITV Hub and the BBC iPlayer, respectively.
Top 100 Network Programmes - 11 - 17 January

| | Title | Day | Start | Viewers (m) (all homes) | Share (%) | Broadcaster/producer |
| --- | --- | --- | --- | --- | --- | --- |
| 1 | THE PEMBROKESHIRE MURDERS | Wed | 21.00 | 6.65 | 35.96 | ITV/World Productions |
| 2 | BBC NEWS AT SIX | Mon | 18.00 | 6.45 | 34.26 | BBC1 |
| 3 | THE PEMBROKESHIRE MURDERS | Mon | 21.00 | 6.32 | 33.11 | ITV/World Productions |
| 4 | BBC NEWS AT SIX | Tue | 18.00 | 6.10 | 32.95 | BBC1 |
| 5 | BBC NEWS AT SIX | Fri | 18.00 | 6.05 | 33.77 | BBC1 |
| 6 | THE MASKED SINGER | Sat | 19.00 | 6.03 | 30.30 | ITV/Bandicoot |
| 7 | ANTIQUES ROADSHOW | Sun | 19.00 | 5.90 | 28.84 | BBC1 |
| 8 | THE PEMBROKESHIRE MURDERS | Tue | 21.00 | 5.84 | 30.13 | ITV/World Productions |
| 9 | BBC NEWS AT SIX | Thu | 18.00 | 5.81 | 31.83 | BBC1 |
| 10 | BBC NEWS AT SIX | Wed | 18.00 | 5.77 | 31.52 | BBC1 |
| 11 | CORONATION STREET | Fri | 19.30 | 5.70 | 31.03 | ITV |
| 12 | CORONATION STREET | Mon | 19.30 | 5.61 | 29.15 | ITV |
| 13 | DEATH IN PARADISE | Thu | 21.00 | 5.60 | 28.90 | BBC1/Red Planet Pictures |
| 14 | CORONATION STREET | Wed | 19.30 | 5.44 | 28.78 | ITV |
| 15 | FINDING ALICE | Sun | 21.00 | 5.43 | 29.68 | ITV/Buddy Club/Genial/Red |
| 16 | CORONATION STREET | Mon | 20.30 | 5.27 | 26.64 | ITV |
| 17 | DANCING ON ICE | Sun | 18.00 | 5.22 | 25.38 | ITV |
| 18 | COUNTRYFILE | Sun | 18.00 | 5.18 | 25.11 | BBC1 |
| 19 | EMMERDALE | Wed | 19.00 | 5.11 | 27.78 | ITV |
| 20 | EMMERDALE | Thu | 19.00 | 4.99 | 28.05 | ITV |
| 21 | EMMERDALE | Mon | 19.00 | 4.94 | 26.12 | ITV |
| 22 | EMMERDALE | Fri | 19.00 | 4.88 | 28.18 | ITV |
| 23 | A PERFECT PLANET | Sun | 20.00 | 4.85 | 23.85 | BBC1 |
| 24 | CATCHPHRASE CELEBRITY SPECIAL | Sat | 18.00 | 4.81 | 27.15 | ITV/STV Studios |
| 25 | THE CHASE | Thu | 17.00 | 4.78 | 32.16 | ITV/Potato |
| 26 | BRADLEY WALSH & SON: BREAKING DAD | Mon | 20.00 | 4.74 | 23.31 | ITV/Hungry Bear Media |
| 26 | EMMERDALE | Tue | 19.00 | 4.74 | 25.54 | ITV |
| 28 | CORONATION STREET | Wed | 20.30 | 4.73 | 23.97 | ITV |
| 29 | THE CHASE | Wed | 17.00 | 4.68 | 31.79 | ITV/Potato |
| 30 | THE CHASE | Tue | 17.00 | 4.59 | 29.74 | ITV/Potato |
| 31 | EMMERDALE | Thu | 20.00 | 4.50 | 24.68 | ITV |
| 32 | THE CHASE | Mon | 17.00 | 4.26 | 26.17 | ITV/Potato |
| 33 | THE REPAIR SHOP | Wed | 20.00 | 4.25 | 22.24 | BBC1/Ricochet |
| 34 | ITV EVENING NEWS | Wed | 18.30 | 4.20 | 23.16 | ITV/ITN |
| 34 | BBC NEWS AT ONE | Mon | 13.00 | 4.20 | 44.83 | BBC1 |
| 36 | THE VOICE UK | Sat | 20.30 | 4.19 | 22.88 | ITV |
| 37 | BBC NEWS AT ONE | Thu | 13.00 | 4.18 | 44.94 | BBC1 |
| 38 | THE CHASE | Fri | 17.00 | 4.17 | 26.08 | ITV/Potato |
| 39 | ITV EVENING NEWS | Thu | 18.30 | 4.15 | 22.54 | ITV/ITN |
| 40 | ITV EVENING NEWS | Mon | 18.30 | 4.13 | 22.10 | ITV/ITN |
| 41 | EASTENDERS | Thu | 19.35 | 4.09 | 22.92 | BBC1 |
| 42 | EASTENDERS | Tue | 19.30 | 4.06 | 21.25 | BBC1 |
| 43 | BBC NEWS AT ONE | Wed | 13.00 | 4.02 | 43.77 | BBC1 |
| 44 | CORONAVIRUS UPDATE: BBC NEWS SPECIAL | Mon | 16.30 | 4.01 | 26.74 | BBC1 |
| 45 | WHO WANTS TO BE A MILLIONAIRE? | Sun | 20.00 | 4.00 | 19.67 | ITV/Stellify Media |
| 45 | ITV EVENING NEWS | Tue | 18.30 | 4.00 | 21.42 | ITV/ITN |
| 47 | BBC NEWS AT TEN | Wed | 22.00 | 3.99 | 26.51 | BBC1 |
| 48 | MICHAEL MCINTYRE'S THE WHEEL | Sat | 20.30 | 3.97 | 21.16 | BBC1/Hungry McBear |
| 49 | THE ONE SHOW | Thu | 19.00 | 3.95 | 22.32 | BBC1 |
| 50 | ITV EVENING NEWS | Fri | 18.30 | 3.94 | 22.11 | ITV/ITN |
| 51 | BBC NEWS AT TEN | Thu | 22.00 | 3.93 | 26.79 | BBC1 |
| 52 | BBC NEWS | Sun | 22.00 | 3.90 | 25.11 | BBC1 |
| 53 | WOULD I LIE TO YOU? | Fri | 21.00 | 3.81 | 21.84 | BBC1/Zeppotron |
| 54 | BBC NEWS AT ONE | Fri | 13.00 | 3.78 | 42.72 | BBC1 |
| 55 | BBC NEWS AT ONE | Tue | 13.00 | 3.74 | 45.08 | BBC1 |
| 56 | BBC NEWS | Sat | 22.00 | 3.72 | 23.25 | BBC1 |
| 57 | POINTLESS CELEBRITIES | Sat | 19.00 | 3.68 | 18.49 | BBC1/Remarkable Television |
| 58 | THE ONE SHOW | Tue | 19.00 | 3.65 | 19.65 | BBC1 |
| 59 | BBC NEWS | Sun | 17.35 | 3.63 | 19.43 | BBC1 |
| 60 | THE ONE SHOW | Mon | 19.00 | 3.62 | 19.07 | BBC1 |
| 61 | THE ONE SHOW | Fri | 19.00 | 3.61 | 20.61 | BBC1 |
| 62 | ITV NEWS AT TEN | Wed | 22.00 | 3.55 | 23.85 | ITV/ITN |
| 63 | THE PEMBROKESHIRE MURDERS: CATCHING THE GAME SHOW KILLER | Thu | 21.00 | 3.54 | 18.25 | ITV |
| 64 | BBC NEWS AT TEN | Fri | 22.00 | 3.51 | 23.04 | BBC1 |
| 65 | THE ONE SHOW | Wed | 19.00 | 3.48 | 18.92 | BBC1 |
| 66 | CASUALTY | Sat | 19.50 | 3.42 | 17.12 | BBC1 |
| 66 | CORONAVIRUS UPDATE: BBC NEWS SPECIAL | Fri | 16.30 | 3.42 | 23.39 | BBC1 |
| 68 | EASTENDERS | Fri | 20.40 | 3.40 | 18.90 | BBC1 |
| 69 | BBC NEWS AT TEN | Tue | 22.00 | 3.37 | 22.02 | BBC1 |
| 70 | CORNWALL AND DEVON WALKS WITH JULIA BRADBURY | Wed | 20.00 | 3.35 | 18.07 | ITV |
| 71 | EASTENDERS | Mon | 20.05 | 3.31 | 16.20 | BBC1 |
| 72 | ITV NEWS AT TEN | Mon | 22.00 | 3.26 | 21.84 | ITV/ITN |
| 73 | TIPPING POINT | Tue | 16.00 | 3.22 | 30.10 | ITV/Fizz |
| 74 | NOT GOING OUT | Fri | 21.30 | 3.21 | 19.09 | BBC1/Avalon Television |
| 75 | BBC NEWS AT TEN | Mon | 22.00 | 3.19 | 21.71 | BBC1 |
| 76 | TIPPING POINT | Mon | 16.00 | 3.13 | 26.97 | ITV/Fizz |
| 77 | ITV NEWS AT TEN | Tue | 22.00 | 3.11 | 20.72 | ITV/ITN |
| 78 | TIPPING POINT | Thu | 16.00 | 3.08 | 27.63 | ITV/Fizz |
| 79 | TIPPING POINT | Wed | 16.00 | 3.05 | 28.07 | ITV/Fizz |
| 79 | CELEBRITY MASTERMIND | Sat | 18.00 | 3.05 | 17.62 | BBC1 |
| 81 | TIPPING POINT | Fri | 16.00 | 2.94 | 26.79 | ITV/Fizz |
| 81 | ITV NEWS | Sun | 22.00 | 2.94 | 18.59 | ITV/ITN |
| 83 | POINTLESS | Thu | 17.15 | 2.91 | 18.94 | BBC1/Remarkable Television |
| 84 | TONIGHT | Thu | 19.30 | 2.90 | 16.36 | ITV |
| 84 | POINTLESS | Tue | 17.15 | 2.90 | 18.25 | BBC1/Remarkable Television |
| 86 | BBC NEWS | Sat | 17.40 | 2.85 | 17.96 | BBC1 |
| 87 | A QUESTION OF SPORT | Fri | 20.10 | 2.83 | 15.32 | BBC1 |
| 88 | THE MARTIN LEWIS MONEY SHOW LIVE | Thu | 20.30 | 2.81 | 15.24 | ITV/MultiStory Media |
| 89 | ITV EVENING NEWS | Sat | 17.30 | 2.76 | 17.91 | ITV/ITN |
| 89 | POINTLESS | Wed | 17.15 | 2.76 | 18.10 | BBC1/Remarkable Television |
| 91 | ONLY CONNECT | Mon | 20.00 | 2.75 | 13.51 | BBC2/Parasol Media |
| 92 | HOLBY CITY | Tue | 19.50 | 2.74 | 14.82 | BBC1 |
| 93 | PANORAMA: THE VIRUS VS THE VACCINE | Mon | 19.35 | 2.68 | 13.89 | BBC1 |
| 94 | MOTD: FA CUP FOURTH-ROUND DRAW | Mon | 19.00 | 2.66 | 14.06 | BBC2 |
| 94 | UNIVERSITY CHALLENGE | Mon | 20.30 | 2.66 | 13.44 | BBC2/ITV Studios |
| 96 | THE CHASE CELEBRITY SPECIAL | Sun | 17.00 | 2.64 | 14.87 | ITV/Potato |
| 97 | GARDEN RESCUE | Fri | 19.40 | 2.56 | 14.11 | BBC1/Spun Gold |
| 98 | MARTIN CLUNES ISLANDS OF AUSTRALIA | Tue | 20.00 | 2.53 | 13.44 | ITV/Prospero Productions |
| 99 | BARGAIN HUNT | Wed | 12.15 | 2.52 | 31.47 | BBC1 |
| 100 | BARGAIN HUNT | Thu | 12.15 | 2.51 | 31.83 | BBC1 |