Dave scored the second-biggest audience of the year for its re-runs of Would I Lie To You? on Saturday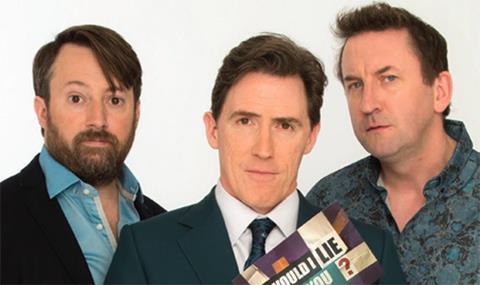 The best place to avoid the week's blizzard of yuletide football, darts and cricket from enviously sunny climes was, apparently, a storage unit packed with celebrities. Or, if you fancied those sunny climes but not the men in flannels wandering around a field and chasing a ball, then Hawaii might be the place.
The best non-football rating of the week was Dave's Storage Hunters UK Celebrity Special, which on Tuesday at 8pm achieved 728,000/3%. UKTV stablemate Drama's best was Judge John Deed, which aired on Wednesday at 8pm to 390,000/2%.
Sky 1's best was the US imported and rebooted Hawaii Five-0 with 485,000/2%. The channel's own three-part adaptation of Raymond Briggs' Fungus The Bogeyman slipped from Sunday's 748,000/ 4% opener to 265,000/1% over 90 minutes from 6.30pm on Monday, before wrapping up with a 60-minute episode on Tuesday that drew 272,000/1% at 6.30pm.
Sky Living's sixth episode of US import Blindspot achieved 292,000/1% on Tuesday at 9pm, 30,000 more than last week.
BT Sports' coverage of Manchester United v Chelsea on Monday at 5pm averaged 1.2 million/6%, second only to Sky Sports 1's Sunday 3.30pm showing of Everton v Spurs, which drew 1.4 million/8%.