UEFA.tv will show European games from the archive, plus youth, women's and futsal competitions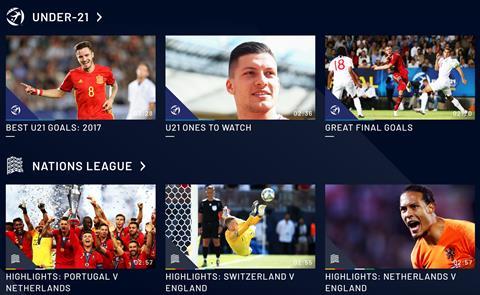 UEFA has unveiled its new streaming platform UEFA.tv, a first for a football governing body.
The service will initially offer original programming based on 60 years of European football archive.
UEFA.tv will also become the home of UEFA's youth, women's and futsal competitions.
It is also designed to promote all UEFA competitions, offering behind the scenes content, interviews and a range of additional content.
All the video content is free-to-view.
UEFA has also struck a partnership deal with the Deutsche Fußball Liga (DFL) for a separate channel on the streaming platform with videos from the Bundesliga in addition to European competitions.
This service will include Monday highlights of weekend matches and shows such as the "Bundesliga Special" for international fans. Archives of past Bundesliga matches and UEFA Champions League matches involving German teams will also be available.
The Bundesliga content on UEFA.tv will be available in European markets such as the UK, Italy, Poland, Russia, Spain and Turkey as well as the Middle East and Africa from the start.
"The digital landscape is evolving and we need to be in a position where we can anticipate and respond to these changes," said UEFA president Aleksander Čeferin.
"Media use is changing constantly," said DFL CEO Christian Seifert. "UEFA's new streaming service is a very timely step to reach football fans around the world, especially younger target groups."