The GTC has handed its annual Television Cameraman's Award (TiCA) for 2010 to Bill Vinten, the youngest son of William Vinten the founder of the camera-support manufacturing company.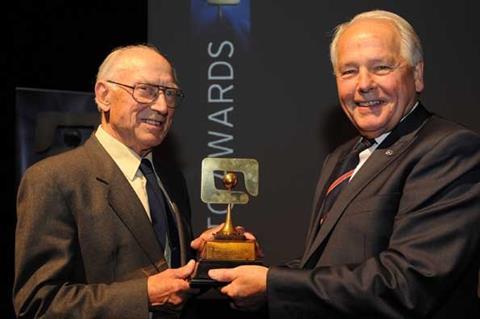 The award is given for fostering and improving the art and craft of the professional television cameraman.
GTC chairman, Graeme McAlpine said: "The TICA award is the Guild's biggest accolade. Vinten's innovative products have undoubtedly changed the world of broadcasting. The family and the company have provided cameras and cameramen with 100 fantastic years of support".
Vinten himself dedicated the TiCA to all of the company's employees for their hard work over the years, and their contribution to the company's success.
Other GTC award winners on the night included steadicam and camera operator John Hembrough who was recognised for his work on the BBC drama Desperate Romantics.
The full list of 2010 GTC Award winners:
Awards for Excellence in Drama: John Hembrough for Desperate Romantics.
Awards for Excellence in Entertainment: Mic Waugh for OK Go: This Too Shall Pass.
Awards for Excellence in Natural History: Rod Clarke for his camerawork on the monarch butterfly in Life.
Awards for Excellence in Multi-Camera: Vince Spooner and crew for their work on 2009 BBC Proms – A Celebration of MGM Film Musicals.
Awards for Excellence in Factual: Will Edwards for Art and Sea in Pictures.
Awards for Excellence in Extreme Conditions: Andrew Thompson for Mugabe and the White African.
Mike Baldock Award: John Tye for his camerawork with the Dreamflight charity.
The 37th annual Guild of Television Cameramen Awards event was held at the British Film Institute, London, on 28 September 2010.