Broadcast explores the rapidly emerging storytelling potential offered by virtual reality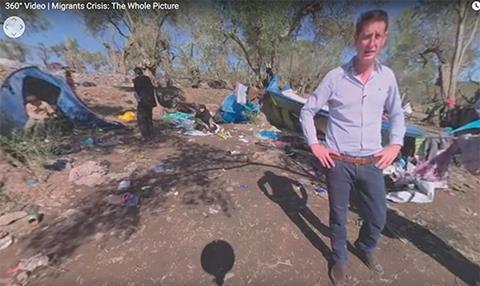 A raft of 360-degree viewing experiences began to emerge over the past 12 months, and broadcasters are planning to take viewers beyond traditional flat-screen viewing and tell stories in increasingly immersive ways in 2016.
BSkyB's bold move to invest in Los Angeles-based virtual reality (VR) start-up Jaunt in 2013 helped bring the format to the attention of the TV industry, while Facebook sought space in the area with its eye-watering $2bn (£1.35bn) investment in the headset manufacturer-cum-platform provider Oculus.
Sky has since conducted a series of closed trials using Jaunt's futuristic camera, and rolled out its first live experience two months ago. Sky News' four-minute report from a Syrian refugee camp, Migrants Crisis – The Whole Picture, created by journalist Alistair Bunkall with cameraman Adam Murch and Jaunt's Kenny Voelker, was made available to view via YouTube and has notched up almost 20,000 views.
Sky News executive editor John McAndrew said experimenting with VR was a natural step for the innovative broadcaster. "I have commissioned and watched hundreds of VTs around migrants and they are very powerful, but the perspective that VR offers is different," he explained. "You get a real feel for how it is for hundreds of people to have to live in tents without any possessions."
McAndrew selected a visually rich story that would transfer the viewer to an unfamiliar world and is weighing up plans to commission future experiences about climate change, or large-scale events such as a royal occasion or the state opening of Parliament.
"We shouldn't go out and make a conventional news report in 360," he said. "It gives viewers the opportunity to stand somewhere they wouldn't usually be able to."
McAndrew said Sky is also grappling with understanding how best to feature its reporters in a story in which the viewer is free to look wherever they want.
"We will have to learn to tell stories differently. There is a question about the role of the correspondent as guide, and whether we should cut the films differently."
McAndrew, who will have constant access to a Jaunt camera from January, also has one eye on using it for breaking news stories – and live broadcasting too, once it becomes possible.
Along with VR news, which has also been trialled by rival organisations including Al-Jazeera English and the BBC, the 360- degree experience has been largely driven by factual content.
Brands such as The North Face and GoPro are among those to have released experiences via dedicated apps and YouTube, while BBC Natural History launched a series of underwater videos to support its recent Big Blue Live event.
Simon Robinson, cofounder of VFX firm The Foundry, said an increasing number of his broadcast clients are dabbling in VR, with factual programming offering the easiest entry point.
"The most effective and compelling examples are documentaries," he said. "People are familiar with the unscripted format and the idea of being immersed in a story that brings to life a location where they wouldn't typically go.
"They are also prepared to forgive a lot of technical issues because they can see that often the film-maker is struggling as part of a large crowd, or in an inhospitable area of the world."
New skills
Robinson flagged the "vast" level of complexity surrounding VR, due to the sheer volume of cameras – often up to 12 on a single rig – along with the additional data generated.
He said format demands include the need for someone to stitch together the footage into a coherent, seamless picture, along with the supporting colour grading and visual effects.
"We aren't used to having images all around us, so none of the infrastructure is there to make the process easy," he added. "It requires a massive extension in the skill sets of traditional TV producers and presents huge technical challenges."
If 360 is to progress beyond factual programming, Robinson said broadcasters will most likely tie in the experiences created with existing shows to drive awareness.
"It will give broadcasters the ability to direct viewers to an online experience that adds to that show," he said. "That approach will fit well with the short-form nature of VR."
This is a strategy the BBC has adopted with entertainment juggernaut Strictly Come Dancing.
BBC innovation manager Christopher Nundy partnered with Rewind FX's Matt Vernon-Clinch to capture a set piece, featuring all of the professional dancers, that aired as part of the show and was also offered on-demand as a VR experience.
Nundy said the BBC has never been afraid to experiment with its flagship format to super-serve viewers. "We wanted to give our viewers something new and different, and the VR trial was something that the fans were never expecting."
Entertainment lends itself well to VR, according to Nundy, due to the level of visual activity and the studio environment, which allows producers to retain control.
"We didn't want just to put the camera on the sidelines of this piece. but to make it feel as if you were at the centre of the dancefloor with action going on all around," he said. "Choreographer Jason Gilkison really bought into this idea and created lots of different points of interest within the routine. It's all there to make a very visually stimulating piece."
Vernon-Clinch said that involving Gilkison early in the process helped to ensure the best footage was captured. He flagged areas such as where to position the camera to remain inconspicuous but get the best stitch and line of sight, and the length of time required to set up the camera, as critical to achieving the production standards demanded by the BBC. "Performers also needed to be aware that they were in shot at all times," he said.
Writers' block
Perhaps VR's biggest challenge – and where it remains most unproven – is in scripted programming. While Sky has conducted closed trials on the sets of Fortitude, Critical and Trollied, no experiences have yet been released.
Daniel J Harris, a specialist 360 camera operator for creative agency Atticus Digital, said storytelling in a virtual world is tough: "With traditional story telling, you point the camera at what the director wants the audience to focus on; with VR, the biggest challenge is that the audience can miss things.
"If you want the audience to see a clue or character and they miss it, they are unlikely to understand what's happening."
The trick is to manoeuvre the audience around subtly while still offering them complete freedom, he said. Directional sound or lighting can be used to draw viewers' attention – while actors can also be used as guides.
"Having a character within the world to guide you and give instructions feels more authentic than following on-screen arrows," he added. "We are relearning how to tell stories."
It's a view supported by Robinson, who is "fascinated" to see how the genre progresses.
"There is no grammar for how you tell a story in an immersive environment," he said. "We have established techniques for film and TV, but the emergence of VR has confused scriptwriters, directors and producers no end."
While audiences and producers both appear to have an appetite for VR, it is hard not to draw parallels with 3D – another broadcasting innovation that required the viewer to don hardware – which flopped.
And while no one yet has claimed all the answers as to how to make the experience a success, Robinson is confident that none of the time spent will be wasted.
"We were heavily involved in stereoscopic 3D, and the step from there to VR is part of a journey towards somewhere we have not yet reached," he said.
VR HEADSETS
While specially manufactured headsets developed by the likes of Samsung, Razer and Oculus are dropping in price (typically now £200), Google Cardboard offers a low-cost solution at around £20.
The internet giant has a range of 'self-assembly' headsets, into which users slot their mobile phone, having downloaded a free VR app. The Cardboard app, along with a dedicated YouTube channel, aggregates an array of VR films to experience.
Next year, the sector is likely to receive a shot in the arm from the gaming world following the launch of VR headset accessories for Sony Play Station 4 and Microsoft Xbox games consoles.