Fleabag creator honoured alongside Norma Percy and Sandi Toksvig at annual event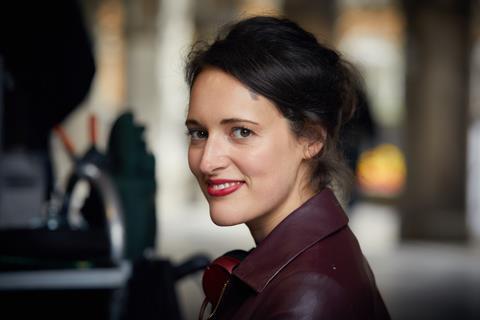 Fleabag creator Phoebe Waller-Bridge, QI host Sandi Toksvig and documentary director Norma Percy are among the winners of this year's Women in Film and TV Awards.
Waller-Bridge will be awarded the ScreenSkills Writing award today for her body of work, which includes BBC2's Fleabag, Channel 4's Crashing and BBC America's Killing Eve. Judges said the writer/performer "strives to create characters who defy feminine stereotypes in TV, and in the process has made global audiences fall in love with them".
Isles takes home the ENVY Producer Award at today's lunchtime ceremony, while Toksvig's EIKON Presenter Award recognises the broadcaster's work from QI to The Great British Bake Off.
Meanwhile, US-born documentary film-maker and producer, Norma Percy will receive the Argonon Contribution to the Medium Award for her TV series, which include Inside Obama's White House, The Iraq War, Putin, Russia and the West and Iran and the West.
Other winners at this year's awards include Howards End director Hettie McDonald; Detectorists producer Gill Isles; Arabella Gilbert, production manager of The Night Manager; Selina MacArthur, who edited Black Mirror episode USS Callister; and Lucy Ainsworth Taylor and Angela Barson, co-founders of VFX house BlueBolt, which recently worked on BBC1's Little Drummer Girl.
The BBC News and Factual Award goes to Deeyah Khan, the documentary film-maker who founded Fuuse, a media and arts company that puts women, people from minorities, and third-culture children at the heart of telling their own stories.
Women in Film and TV Awards: Winners in full
The Barclays Business Award
Lucy Ainsworth Taylor and Angela Barson, Blue Bolt
The Technicolor Creative Technology Award
Selina MacArthur
The Panalux Craft Award
Eunice Huthart
The ENVY Producer Award
Gill Isles
The EIKON Presenter Award
Sandi Toksvig
The Film Finances Project Management Award
Arabella Gilbert
The Netflix New Talent Award
Rungano Nyoni (I Am Not a Witch)
The ITV Studios Achievement of the Year Award
Jameela Jamil
The Deluxe Director Award
Hettie Macdonald
The Screen Skills Writing Award
Phoebe Waller-Bridge
The Pinewood Studios Best Performance Award
Nicola Walker
The BBC News and Factual Award
Deeyah Khan
The Argonon Contribution to the Medium Award
Norma Percy
The EON Productions Lifetime Achievement Award
Juliet Stevenson`