SUNDAY: BBC1's flagship period drama War and Peace reeled in over 6m viewers, twice as many as ITV's Beowulf – as Channel 4's German-language thriller Deutschland 83 started confidently in a busy night for drama.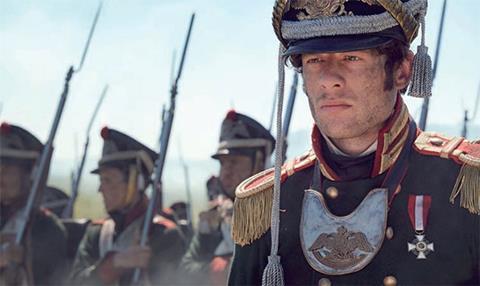 War and Peace (BBC1) 9pm-10pm
6.3m (25%)
BBC in-house's ambitious Tolstoy adaptation comfortably won the 9pm slot and beat the channel's 4.5m (19.9%) slot average.
However it was unable to match the broadcaster's last big period drama, Poldark, which opened with 6.9m (29%) in March.
Opposite, Channel 4's Deutschland 83 became the second most-watched foreign-language drama since 2002 after 1.5m (6%) tuned in.
The German spy thriller, which launched the broadcaster's foreign-language drama service Walter Presents, narrowly failed to outperform The Returned (Les Revenants), which opened with 1.54m (7.2%) in June 2013.
Across the hour on BBC2, My Mediterranean with Adrian Chiles launched with 1m (4.1%), in line with the channel's 1m (4.1%) slot average.
Beowulf: Return To The Shieldlands (ITV) 7pm-8pm
2.6m (11.1%)
Earlier in the evening, ITV Studios' family drama was well down on the channel's previous tea-time series, Jekyll & Hyde, which opened with 3.5m (16.1%) on Sunday 25 October in a 6:30pm slot.
The 13-part adventure series was in line with the channel slot average of 2.6m (11.1%).
Endeavour (ITV) 8pm-9pm
4.8m (19%)
Mammoth Screen's Inspector Morse prequel returned for a third series with 1m fewer viewers than its last run, which opened with 5.9m (26%) in March 2014.
It was beaten by Antiques Roadshow, which scored 5.2m (20.4%) on BBC1, while 2.5m (9.7%) invested in BBC2's Dragon's Den, 2m (7.7%) watched C4's Walking The Himalayas and 1.3m (5.1%) tuned in to see movie Legally Blonde on C5 between 8pm and 10pm.