Michael Burns finds out what the studio sector is doing to maximise its offering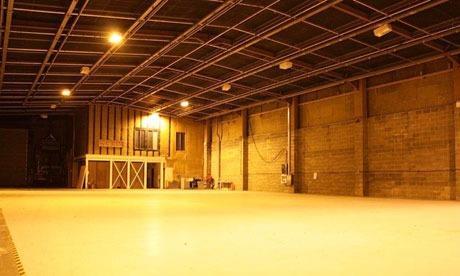 With a boom in homegrown and incoming high-end TV productions, plus Television Centre in White City undergoing redevelopment, UK studio space is at a premium. Yet at the same time, thanks to broadcasters' squeezed budgets, studios are finding ways of offering more cost-effective solutions.
James Hanford, acquisitions manager for London-based location agency The Collective, notes several demands on space: Sky making a significant impact on the London studio landscape; US TV studios supplementing an already constant stream of enquiries from UK drama and comedy; plus ongoing feature films.
"In terms of TV production, the key issue is that £1m-plus per episode drama is being outmuscled by the feature film budgets, as they are competing for similar size space. Sub- £1m-per-episode drama and comedy productions are being marginalised more and more, and considering alternative studio space," says Hanford.
"The fear for us is that we cannot find viable homes for the US TV drama, and homes are found elsewhere in the UK, or even overseas, which would be a disaster. Feature film productions can last nine months, whereas the next Game Of Thrones (below) needs a home for six years. It's a far more appealing project in terms of employment and economic contribution to the local areas they select to set up their base."
Such demand has driven major investment in two vacant sound-stage properties with production facilities represented by The Collective: the 28,000 sq ft HDS Studios in Hayes, Middlesex, and the 70,000 sq ft space at Ealing's London Metropolitan Studios.
Space issues
Similar demand for space in an already busy facility prompted Riverside TV Studios to invest up to £500,000 in a second broadcast studio in Hammersmith.
"The 4,400 sq ft studio was originally opened by the BBC but closed in 1968 when work at Television Centre was completed," says technical director Duncan Stewart.
Due to open in early September 2013, it will be equipped with five HXC-100 HD Sony cameras – although it can accommodate eight – and will have a new dedicated gallery suite and sound control room, featuring an Avid VENUE Profile mixing desk.
The new studio will also have access to Riverside's existing facilities in the 6,000 sq ft Studio 1, including transmission lines to BT Tower.
Former White City tenant BBC Studios and Post Production has also been investing and has just completed a new gallery suite at the George Lucas stages at Elstree Film Studios to support large-scale TV productions.
It's part of the relocation of the London studios business to Elstree, which, as head of studios and post-production services John O'Callaghan explains, is making full use of existing assets.
"The new galleries are equipped with the latest HD technology redeployed from BBC Television Centre, as well as new technology and a series of upgrades," he says.
High-speed connectivity is at the forefront of the build, with a mixture of fibreoptic and copper cabling installed throughout. A new sound gallery has been fitted with an upgraded Studer Vista 8 digital live production console and a Studer OnAir 3000 digital mixing console transferred from Studio 1. Adjacent is a new production gallery, fitted with a Sony MVS-7000X vision mixer console, transferred from Studio 3.
"The room also has facilities for EVS and graphics operations, while the monitor stack layout is built around the trusted set-up from Television Centre," says O'Callaghan.
Elsewhere at Elstree Film Studios, Stages 8 and 9, both of which are 7,500 sq ft HD studios, have been kitted out with permanent HD galleries and new floors. The dressing rooms have been renovated, while at BBC Elstree, the gallery at Studio D has been upgraded.
"Building the galleries at the George Lucas stages was initially driven by Strictly Come Dancing moving in for the 2013 series in the autumn," says O'Callaghan. "However, installing permanent galleries enables us to provide services to other big productions that use the stages."
High demand is not the only issue facing the studio sector. "Broadcasters are seeking more for less and pushing indies, studios and crew to the limits of what is possible," says Mark Hackett, sales director for television at Pinewood Studios Group.
"Pinewood is committed to driving new and efficient workflows and improving scheduling to help clients think big creatively while keeping their budgets down."
Pinewood recently invested in two 9,000 sq ft studios (TV1 and TV2) and the purpose-built Richard Attenborough Stage, home to the live finals of The Voice UK.
"We were confident that a significant investment in Pinewood'sTV business was the right decision," says Hackett. "Recent demand for our facilities has helped demonstrate this."
Pinewood was one of the beneficiaries from the TVC redevelopment. "We have seen a number of producers move to Pinewood seeking a new home for established shows such as 10 O'Clock Live," says Hackett.
"We are also currently building TV3, a 3,000 sq ft studio with full HD 5.1 gallery and accommodation space that will open in September. Construction is advanced on a new 30,000 sq ft stage, suitable for both TV and fi lm, which will be ready later this year."
Investment projects
Studio investment is not just happening in the south-east. Recent further investment by Dock10 in Manchester includes additional galleries, cameras and post facilities. The expansion was financed through equity funding and external asset funding, including using Fineline Media Finance.
"There are several high-profile studio projects currently in development," says Fineline area sales manager Sam Arlow. "Other areas for investment for studios are in improving their general efficiency and the cost-effectiveness of their infrastructure and MCRs, increasing the storage and sharing of data files, the addition of post facilities, replacing and upgrading camera channels and production gear, as well as upgrades to lighting infrastructure that take advantage of LED technology to greatly reduce power costs."
"We made lots of investments to reflect our different customers," says Dock10 head of studios Andy Waters. "For example, The Voice UK and ITV's relocation from Quay Street to Dock10 have both benefited from investment projects. We'll soon announce our intention to convert our largest studio, HQ1, into a fast-turnaround space by fitting lighting and scenic hoists over the summer.
"There is a realisation within the industry that there is a real alternative to working in London. Having the latest technology enables productions to use new ways of working, helping them manage their ever-shrinking budgets while providing the very best in creativity."
Heslington Studios - Out-Of-London Opportunity
As a fully commercial enterprise that is situated within, and wholly owned by, the University of York, a £30m spend has allowed Heslington Studios to boast two HD broadcast TV studios, a 140- seat preview cinema and a multipurpose sound stage, as well as professional sound and picture post-production facilities.
According to commercial director Carole Dove, the remit for the new studios was to offer cost-effective professional facilities for film and television, and support to production companies. It also provides the university's students with an environment in which they can work alongside industry.
Dove believes the Heslington model provides a studio solution for out-of-London production companies. "We have about 320 small creative businesses around the York region," she explains. "They benefit from being situated near us, and we benefit from having partnerships with them. Our income is gift-aided back to the university, and ploughed back into developing new facilities for the future.
But it's not all just tiny creatives – we've done projects with Al Jazeera, The Other Planet Media, Digital Fiction Factory and the BBC. We've also just finished a feature fi lm, The Knife That Killed Me, by Green Screen Productions, with Universal Pictures UK taking the rights. It was posted at Heslington and shot nearby at our partner studios at Bubwith."