Caves, castles, forests and port cities make Belgium very appealing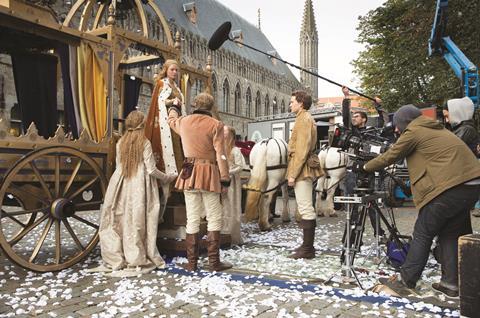 Belgium's film industry has benefitted hugely over the past decade from its tax shelter system, which generates at least $200m a year of investment into the film industry.
Many high-profile international films have made use of the tax shelter, including Cannes opener Grace Of Monaco, Saul Dibb's Suite Francaise, Bill Condon's The Fifth Estate and Michel Hazanavicius's The Artist. International TV dramas including BBC TV's Parade's End and The White Queen have also shot in Belgium, doubling for France and the UK respectively.
Belgium has a wide range of urban and rural landscapes and location opportunities, strong transport infrastructure and a busy post-production sector. The country benefits from being at the heart of Europe and offers every kind of location from caves to medieval towns, from 18th and 19th century villas and castles to industrial parks, as well as forests, mountains and port cities. Both Flemish and Wallonian communities are united in wanting to bring international film and TV projects to the country and work together closely.
The Belgium government is now modifying the tax shelter system so investors will no longer take rights in a project. A producer spending a certain amount of money in Belgium will receive a certificate that can then be sold on to investors. This certificate will give the investors an immediate fiscal advantage – but this will not be linked to the exploitation of the film. These proposed changes would extend the reach of the tax shelter yet further to include territories with which Belgium has a bilateral agreement, among them China and Canada.
A PRODUCER SAYS
"We did a bit of Brussels and a bit of Bruges to get some of that European architecture and scale. We shot scenes set in Germany and scenes set in Scotland. The crew were incredibly enthusiastic and skilled."
David Parfitt, Trademark Films, producer of BBC/HBO TV series Parade's End
LOWDOWN
Are there any further financial incentives available?
There is a network of regional film funds.
Is there a minimum spend requirement?
Yes, the tax shelter requires the audiovisual work incurred in Belgium to amount to at least 90% of the total tax shelter investment (loan part + equity).
Is it easy to combine with incentives in other territories?
Yes — Saul Dibb's Suite Francaise (the UK), for example.
Can incoming TV productions and commercials access the incentives?
TV productions can, but not commercials.
What are the major studios?
No major studios but plenty of smaller facilities.
Do incoming productions need to bring their own crew?
No, but do bring heads of department.
First point of contact
Wallimage: info@wallimage.be
Screen Flanders: screenflanders.be
AND FINALLY
The key to working in Belgium is to find a Belgian co-producer.