Iceland's dramatic landscapes, experienced crews and generous tax breaks give international film-makers a range  of unique shooting opportunities.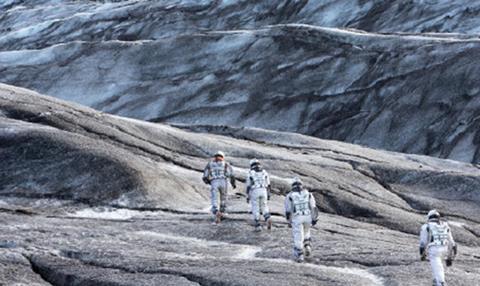 Iceland's otherworldly landscape, a 20% tax rebate, as well as low production costs, skilled, hard-working crews and accessible locations, make the territory a favourite for some of the world's leading film-makers. Darren Aronofsky came to shoot Noah, Christopher Nolan made use of the glaciers for Interstellar (having shot Batman Begins on the island), Ben Stiller recreated the Himalayas, Greenland and Afghanistan for The Secret Life Of Walter Mitty and Clint Eastwood found the perfect stand-in for the black sands of Iwo Jima in Flags Of Our Fathers. Nikon and Mercedes have shot commercials in Iceland, and big scale TV series including HBO's Game Of Thrones and Tiger Aspect/Sky Atlantic's Fortitude have both chosen to shoot in the country.
Good to know
Local production services will provide four-wheel drives, or for more remote locations, helicopters. And mountain guides are a must for shoots in difficult terrain and in harsh weather conditions.
The Lowdown
Financial incentives
Iceland offers a 20% tax rebate to film and television productions shooting in the country — but not to commercials, for which there are no incentives. The rebate is available on eligible costs incurred in Iceland, with applications made to the Ministry of Industries and Innovation. The rebate is secure until at least 2016, when the government will carry out its five-yearly review. Further information www.filminiceland.com
Infrastructure
Iceland has English-speaking crews with experience on large-scale international productions. Incoming shoots tend to bring heads of department. The largest studio facility is Atlantic Studios, complete with a 2,220 square metre sound stage. Local production services companies include Truenorth, Pegasus Pictures and Sagafilm, which will process and fund the tax rebate. When it comes to production costs, Iceland is cheaper than the Scandinavian countries.
Locations
Iceland has doubled for Siberia, Minnesota and Scandinavia — and post-apocalyptic vistas — among many other landscapes. Sci-fi features are well served thanks to the geothermal glaciers, lava fields, lagoons with floating icebergs, snow-clad mountains, active smoking volcanoes and black sands. The country also has beaches, small towns, majestic waterfalls and lakes as well as the modern city of Reykjavik, the most northerly capital in the world.
Where to stay
When the cast and crew of Fortitude descended on the small town of Reydarfjordur, they took over the two main hotels and a number of apartments for six months, boosting the population by 20% in the process. Reykjavik has a good range of hotels and luxury apartments. Hotels that are popular with film crews include the boutique 101 Hotel, Hotel Borg and the Radisson.
Be part of the cool crowd
From mid-May to mid-August, the sun sets for only three hours, allowing directors long shooting days. Crews can ski or take part in the local tradition of an early morning dip in the hot tub. Reykjavik is bursting with art galleries, hip cafés and bars, and provides a good base to strike out for the rest of the country, which is considered one of the safest in the world. Regular direct flights from Europe take two to three hours, and about five to six hours from the US east coast.
Size matters
Diverse its locations may be but far away from each other they are not, making Iceland a surprisingly accessible place to shoot. Atlantic Studios is just five minutes from Keflavik International Airport and 45 minutes from central Reykjavik. Roads are good, with the main one being Route 1, an 832-mile ring road that takes in the entire circuit of the island.
Matthew Bird, Fifty Fathoms, producer, Fortitude
"We looked at Greenland, but we would have had to use helicopters to get everywhere. Iceland was a really good choice. We shot for 11 or 12 weeks out on the east fjords, which doesn't get much filming. But the infrastructure is brilliant. We picked up a lot of crew locally and we had great support from Pegasus Pictures."
Would they return?
"Yes, it was a great experience."
What could be improved?
A boost to the 20% rebate would make Iceland even more competitive (locals are hoping for 25%), as would a studio facility in Reykjavik.
First person to call
Einar Hansen Tomasson, film commissioner, Film In Iceland