Varied locations and hard-working local crews are putting Mexico on the map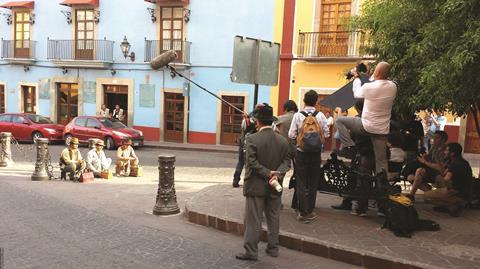 The reality of shooting on location in Mexico is far from the edgy on-screen depiction of the country often favoured by its arthouse film-makers. Instead, Mexico is a location with strong studio facilities, generous incentives and highly trained crews who can cope with everything from huge Hollywood movies such as Neill Blomkamp's Elysiumto low-budget features from European auteurs such as Peter Greenaway's Eisenstein In Guanajuato, which shot in Guanajuato earlier this year.
Mexico City is the hub of the film and TV industry and Mexico City's Film Commission has become increasingly active in processing applications for TV dramas, commercials, documentaries and feature-length films.
A PRODUCER SAYS
"Shooting in Mexico was a positive experience. We had a local co-producer and the local crews were amazing, enthusiastic, professional and willing to work hard. We had a mixed crew, Mexican and Dutch."
Femke Wolting, producer, Eisenstein In Guanajuato
LOWDOWN
What financial incentives are aimed at international producers?
The ProAudiovisual Fund (ProAV) incentive gives a 7.5% cash rebate of all expenses incurred in Mexico and, combined with relief on VAT, it can reach up to 17.5% of the production budget. There are various government funds, including Eficine 226, Fidecinem and Foprocine, aimed at stimulating the local industry that international producers can access if they work with a Mexican co-producer.
Is there a minimum spend requirement?
Yes. To access ProAV, productions must spent at least $3.05m (peso40m) during production and $760,000 (peso10m) during post-production in Mexico.
Are the financial incentives easy to combine with those in other territories?
Yes. Greenaway's Eisenstein In Guanajuato was shot in Mexico using Eficine but was still able to access tax-shelter financing in Belgium.
Are TV productions and commercials eligible for the financial incentives?
Yes, TV productions can access ProAv and the VAT rebate. Commercials can apply for ProAV. All international production companies must register their projects through a Mexican production company.
Which international features have shot recently in Mexico?
JC Chandor's All Is Lost, starring Robert Redford, which shot partly in Baja California, and Diego Luna's biopic Cesar Chavez, for Participant Media, Imagenation Abu Dhabi and Lionsgate.
Which international TV projects have shot recently in Mexico?
A&E's Texas Rising, Sony Pictures Television's El Mariachi.
What are Mexico's key physical and geographical locations?
Everything from empty desert landscapes to crowded urban sprawl, from colonial-era ranches and palaces to skyscrapers. Film-makers can find all types of ecosystems, architecture, ancient ruins, magical towns, jungle, deserts, forests and beaches, in this hugely varied territory.
What are the major film studios?
Mexico has two major studios: Churubusco — Azteca Studios in Mexico City and Baja Film Studios in Rosarito, Baja California, which housed All Is Lost. Guanajuato International Film Festival plans to build a $16m facility in San Miguel de Allende called Fabrica GIFF, which will offer production studios, workshops and post-production facilities and will be open to foreign producers.
Do incoming productions need to bring their own crew?
No, Mexico's bi-lingual Spanish and English-language crews have a long tradition in film production.
First point of contact