Poland is making up for lost time. For many years, the country has languished behind neighbouring Hungary and the Czech Republic when it comes to courting international film productions.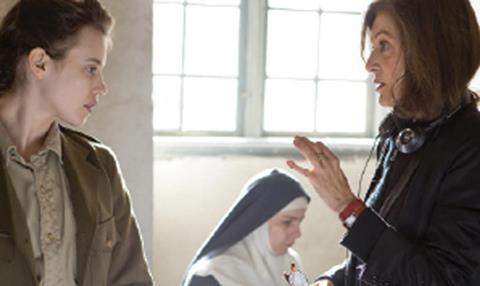 Poland is far bigger than many other eastern European territories and has a huge range of locations. It is also a prolific and proficient co-producer, with the ability to board projects as a minority partner. Recent films to have shot in Poland include Anne Fontaine's 1945-set Innocent (formerly Agnus Dei), Danish director Mads Matthiesen's Model and Agnieszka Holland's Game Count. A new six-episode thriller series from HBO called The Pact will begin shooting there shortly. Steven Spielberg and Tom Hanks were in Wroclaw last year to shoot Bridge Of Spies for DreamWorks and the country also played host to a new biopic about Marie Curie.
The Lowdown
Financial incentives
That's the hitch — there's not yet a tax incentive system but the industry is lobbying the government to introduce one, with a decision possibly set to be made as soon as autumn 2015. International projects set up as Polish co-productions can access financing from the Polish Film Institute and from the nine regional film funds, although this is not automatic. Polish producers work closely with German partners through the Polish-German Co-Development Fund, a collaboration between the Polish Film Institute, Mitteldeutsche Medienförderung (MDM) and Medienboard Berlin-Brandenburg. These bodies are partners in a new $338,000 (€300,000) Polish-German Film Fund, launched in September.
Infrastructure
Many of the country's most beautiful old buildings are state-owned and easily accessible. Thanks to Lodz Film School, the industry boasts outstanding crews with high levels of craftsmanship. There are several modern studios in Poland, including Alvernia Studios in Krakow, and ATM Studio and WFDIF Studio in Warsaw.
Locations
Castles, baroque architecture, cities that can stand in for Paris and Milan. Wroclaw has been used as Berlin on several international movies including Bridge Of Spies. With 13 airports, the transport links are improving and it takes less than an hour to cross the country by plane.
Where to stay
Tom Hanks and Steven Spielberg stayed at Hotel Monopol in Wroclaw. There are also plenty of Intercontinental hotels and luxury boutique hotels.
Phillipe Carcassonne, producer, The Innocent
"The experience was good overall."
First person to call
Tomasz Dabrowski, film commissioner, Film Commission Poland: dabrowski@filmcommissionpoland.pl
Lodz: ready to compete
The Polish city of Lodz boasts world-class technicians, a thriving cultural scene and an innovative film commission, as well as pristine locations and untouched architecture. No wonder it's a location on the rise
The city of Lodz lies in the heart of Poland, a country bordered by Germany, Czech Republic, Slovakia, Belarus, Ukraine and Russia. Mirroring its location, Lodz (pronounced 'Woodge') plays a central role in the country's film and TV production activities as well as a vital part in developing Polish ambitions to lure international film-makers to set up shop despite several challenges.
While having to overcome an enormous fiscal disadvantage — Poland offers no national or local government backed financial incentives for film and TV unlike almost all of its European neighbours — Lodz is on the map for reasons both current and historical.
Poland's third largest city, after Warsaw and Krakow, boasts its own film commission, various annual cultural festivals and is also home to the prestigious Lodz Film School. The school opened its doors in 1948 just after the end of the Second World War and famous alumni — many of whom jetted off to Hollywood and beyond to ply their trade — include Oscar-winning film-maker Roman Polanski (The Pianist) and Oscar honouree Andrzej Wajda, along with a who's who of celebrated DoPs including Andrzej Bartkowiak (Speed, Falling Down) and Adam Holender (Midnight Cowboy).
Leading the charm offensive locally and internationally is the relatively youthful Lodz Film Commission (LFC), a city-backed organisation set up in 2009 and a member of global umbrella organisation the Association of Film Commissioners International. But with no big-ticket financial incentives to rival the draw of its cross-border neighbours, LFC is hoping a strategy of reputation building and the offer of help from the city will pay off in the long run. From small acorns, giant oaks can grow.
Plan of action
"We are trying to find other solutions to help us compete to attract international productions," says Lodz film commissioner Monika Glowacka. "We are trying to create a dedicated fund for co-productions, which would be paid for directly by the city for next year [2016]."
The city has created a series of small, local incentives for film and documentary makers. These include a 90% reduction in the price of the permit required to mount a shoot on the city's roads and highways. And it will also discount city permits by 85% for film-makers taking cameras into its city parks and public squares during the shoot. It means producers pay just $10.70 (€10) for every $107 (€100) demanded by the permit cover price to close down the city's main drag Piotrkowska Street — which boasts a Hollywood-style star walk of fame. Lodz has a road layout that mirrors New York City, while its film school and walk of fame has helped the city earn the nickname HollyWoodge.
LFC can lay claim to growing the business for the city since its set up and offers a small local film fund for Polish productions. "When we started the film commission in 2009 we had three projects. Now we've got 20 different projects from feature films, TV series, TV programmes, documentaries and advertising and the numbers are growing," Glowacka says.
LFC also works with the city's film school to help second-year students find suitable projects and receive invaluable on-the-job training during their studies.
Recent international projects to have shot in the city include Pawel Pawlikowski's Oscar-winning Ida, Cellin Gluck's debut feature Persona Non Grata and Agnieszka Holland's In Darkness to TV shows such as Great Continental Railway Journeys for the BBC and a Snoop Lion project that coupled Polish singer Iza Lach with rapper Snoop Dogg's reggae incarnation. Lodz has also been the go-to location for a host of high-profile Polish projects such as Jan Komasa's Warsaw 44, about the 1944 uprising.
Natural selection
The city is home to Opus Film Studios, which includes an 800 square metre sound stage, equipped with lighting catwalks, winches, an artificial horizon and full back-up facilities with everything from make-up rooms and costumes to set-building workshops.
Post-production outfit Toya Sound Studios is also located in what was one of only two Polish towns, along with Krakow, not to have been razed to the ground during the Second World War.
As a result of avoiding the destruction, Lodz and the region of which it is the capital offer a heady mix of old and new, with palace complexes such as Biedermann, medieval castle towns, Second World War bunkers, 19th-century mills and 12th-century churches. And the region also boasts forests, a cave system, peat bogs and marshes as well as a brown coal open-cast mine so large it is visible from space.
Polish, Jewish, German and Russian communities all arrived to build fortunes, shape the city and influence Lodz's present-day look and feel. It emerged in the 19th century as a textile industry centre for which it became known as the Manchester of the Russian empire, referencing the northern English town's wealth-creating industry. After the war the film school stayed in Lodz after initial plans to move it to Warsaw were shelved, boosting the city's cultural and film influence.
Pawlikowski described Lodz as a "melancholy place but with a great beauty" in an interview for US publication The Jewish Week, before noting it was a relatively inexpensive place to make a movie.
Lodz is just over 100km southwest of the Polish capital Warsaw, which boasts an international airport with direct flights to and from Chicago and New York as well as hops from Germany, Italy, France and the Netherlands among others. Direct flights to Lodz land from the Netherlands, the UK, Ireland and Norway.
Visiting international talent can take in the view of the city from the roof terrace of the four-star Andel's Hotel, a renovated former red-brick textile factory. And on rest days events include Triennale of Textiles, a nod to the city's heritage as the world's oldest event dedicated to the art of textiles, a biannual fashion festival, an international festival of photography, Lodz Design Festival and Tansman International Festival of Music Personalities.
Quirkier annual events include the International Festival of Pleasant and Unpleasant Plays, the Urban Forms Festival, celebrating street art, and — since 1991 — comic-book creators and enthusiasts have visited the International Festival of Comics and Games. Lodz is ready to compete.