Scandinavia is renowned for its locations, highly trained crews, generous local film funds and efficient film commissions.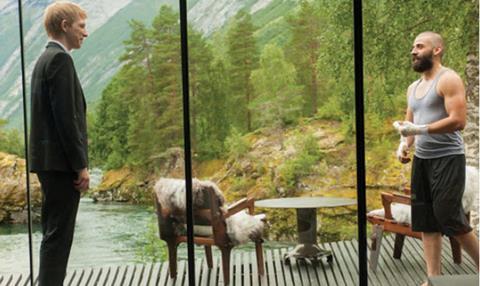 What the Scandinavian countries of Denmark, Finland, Sweden and Norway lack in tax incentives they more than make up for as prolific and popular international co-production partners. Denmark's capital, Copenhagen, hosted Working Title Films' The Danish Girl, starring Eddie Redmayne and Alicia Vikander, thanks in part to the city's $5m (DKK35m) film fund — due to be extended in 2016. The fund has also backed Mexican director Amat Escalante's The Untamed, which is being co-produced by Danish company Adomeit Film.
Sweden's capital, Stockholm, has welcomed a number of international productions including Greg Poehler's NBC TV series Welcome To Sweden and the city has just launched its first film fund, worth $3m.
Alex Garland's UK-US sci-fi drama ExMachina filmed at Norway's stunning Juvet Landscape Hotel last year and the entire region regularly attracts big international commercials. Volvo and Renault just shot their new adverts in Sweden.
Good to know
The paparazzi is virtually non-existent in the Nordic region, which makes it a great draw for big stars looking for privacy while shooting.
The Lowdown
Financial incentives
Of the plethora of film funds across the region, the most prominent is Film i Vast in Trollhattan, west Sweden. It has an annual investment budget of around $11m. International film-makers are eligible for support from the region's state funds if they work with local partners. In Denmark, key funds include the West Danish Film Fund, the Copenhagen Film Fund and FilmFyn. The Danish Film Institute backs between five and nine minority co-productions every year.
Infrastructure
Highly trained English-speaking crews are well versed in working on large international productions. Crew rates may be slightly more expensive than across the rest of Europe, but they tend to work in smaller teams, so overall, prices remain competitive. Sweden's Film i Vast houses big productions in its studio and office complex in Trollhattan, with credits including Force Majeure and Thomas Vinterberg's The Hunt. HanWay Films' Kon-Tiki was shot partly at Storm Studios in Norway, which also offers the Filmparken studio, located just outside Oslo. Stockholm has four studios.
Locations
The region boasts stunning locations that cannot be found anywhere else including volcanoes, fjords, mountains and forests. Within a small area, productions can shoot in modern cities, rural villages, arctic wildernesses and archipelagos. The region's main cities are well kept and unspoilt, such as Copenhagen's completely intact historic centre. Rural locations are all a short distance away.
Where to stay
Scandinavia offers an excellent selection of four and five-star hotels, although hotel rooms can be more expensive and smaller than elsewhere in Europe. Still, there are plenty of apartments to rent in cool neighbourhoods such as Sodermalm in Stockholm, popular with film crews thanks to its bohemian bars and proximity to the old town.
Live like a Scandi
From its noir thrillers to its design and architecture, Scandinavia is one of the coolest destinations on the planet. It also boasts world-class restaurants and a liberal approach to life, which manifests itself in a lack of red tape and quick decisions when it comes to closing roads and clearing locations.
"It's one phone call to the power," according to Sweden's film commissioner, Ingrid Rudefors. Long daylight hours in summer are welcomed by directors and short days in winter enable 'night' shoots to be carried out during the day. The Scandinavian countries are well connected to the rest of Europe, with Los Angeles an 11-hour, direct flight away.
Size matters
Travelling by car is easy and safe and unpopulated wildernesses are just 30 minutes from modern cities.
First person to call
Sweden Ingrid Rudefors, film commissioner, Stockholm ingrid.rudefors@frsm.se
Denmark Noemi Ferrer Schwenk, head of international, Danish Film Institute noemis@dfi.dk
Norway Truls Kontny, head of commission, Film Commission Norway truls.kontny@nfi.no
Finland Tiina Laasonen, film commissioner, Finland Film Commission info@filmfinland.fi