Though they often come to the state for specific kinds of locations — notably jungle and beaches — film and TV productions sometimes find ways to get other looks in the island state of Hawaii, alleviating the need for long trips back to the US mainland.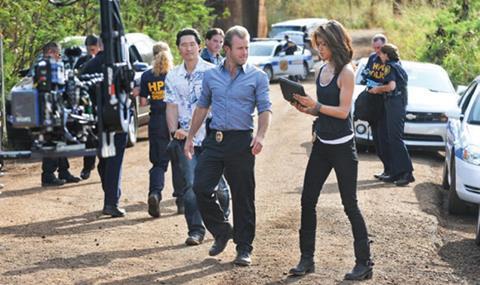 The state's refundable tax credit is also a lure, especially since it was increased nearly two years ago to make Hawaii more competitive with other tropical locations. Major films shot recently in Hawaii include The SpongeBob Movie: Sponge Out Of Water, Jurassic World, Aloha and the remake of Point Break. TV series Hawaii Five-O has been based in the state for the past five years. Production has increased since the state introduced its incentive a decade ago, but spending dipped slightly in 2014 to $223m, down from $229m in 2013.
Good to know
A common tradition in Hawaii is to have a blessing performed by a kahu, or priest, on the first day of shooting at a particular location. Also, when shooting in a place that's as green as Hawaii, you will inevitably find rain.
The Lowdown
Financial Incentives
A refundable tax credit on Hawaii expenditures on qualified film, TV, commercial or digital media projects. The credit is 20% on Oahu, the most populous of the state's islands, and 25% on the neighbouring islands, with a per- project cap of $15m.
Further information filmoffice.hawaii.gov/incentives-tax-credits
Infrastructure
The workforce is three crews deep and the state has several local chapters of the major film labour unions. The state-owned Hawaii Film Studio in Honolulu, Oahu, is mostly occupied by TV series Hawaii Five-O. Lokahi Studios is in development on the Big Island, but the future of the planned Aloha Film Studios on Maui is unclear.
Locations
Beaches, jungle, volcanoes (extinct and active), the scenic Kualoa Ranch and historic Pearl Harbor. Urban cityscapes are difficult to find.
Where to stay
Turtle Bay Resort on Oahu, the Four Seasons Hualalai on the Big Island and Grand Wailea Resort on Maui.
Hawaii five-oooh
The natural beauty, the Pacific regional cuisine and the fact that even the most remote locations are within an hour of a five-star hotel.
Size matters
Hawaii's 132 islands stretch 1,500 miles across the North Pacific Ocean. Honolulu International Airport, on Oahu, is 30 minutes from Hawaii Film Studio and about five hours by air from Los Angeles. There are also large airports on Maui and the Big Island.
Patrick Crowley, producer, Jurassic World
"We were able to find all the exterior locations that we needed. The incentive was important, but there was a certain point at which we didn't have much choice. Puerto Rico doesn't really have the amount of jungle that we would be interested in and Mexico is still a difficult place to film in."
Would they return?
"I would definitely come back. You could shoot Hawaii for lots of places with jungle."
What could be improved?
"They're trying to address stage space. To shoot in a place that's as green as you need Hawaii to be, you're inevitably going to run into rain. And you need to be able to go somewhere to cover yourself until the rain goes away," says Crowley.
First person to call
Donne Dawson, state film commissioner, Hawaii Film Office