Chris Curtis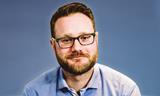 Chris Curtis is editor of Broadcast.
https://twitter.com/ChrisMCurtis
Contact Info
Chris Curtis
Editor
ITV has ended its interest in a deal to buy the TV arm of The Weinstein Company (TWC).

Fuji Creative Corporation has sold Dara O Briain's School of Hard Sums to SBS2 in Australia.

ITV has taken a major step into the post-Downton era by ordering three high-end dramas that it hopes will ease the departure of the country house smash.