Chris Curtis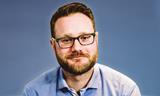 Chris Curtis is editor of Broadcast.
https://twitter.com/ChrisMCurtis
Contact Info
Chris Curtis
Editor
Some BBC3 shows will play in the heart of peaktime on BBC1 after the youth-skewing channel moves online, as part of a push to better serve young viewers.

Industry issues, policy debates and producer relations were at the heart of David Abraham's MacTaggart lecture.

Renegade Pictures is to use a fixed rig to capture life in an Ethiopian tribe in a 4 x 60-minute series for Channel 4.