Chris Curtis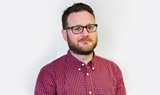 Chris Curtis is editor of Broadcast.
https://twitter.com/ChrisMCurtis
Contact Info
Chris Curtis
Editor
The digital world moves at breakneck speed. One minute Candace Payne was out shopping in Texas, the next she's appearing on James Corden's The Late Late Show.

BBC can take a few more risks after escaping white paper disaster

Kevin Lygo wants to ramp up ITV's entertainment factor and identify schedule-building hits that can give the channel a clearer identity.