Chris Curtis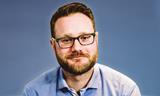 Chris Curtis is editor of Broadcast.
https://twitter.com/ChrisMCurtis
Contact Info
Chris Curtis
Editor
Did the festival come too soon for C4 to really make its mark?

Some BBC3 shows will play in the heart of peaktime on BBC1 after the youth-skewing channel moves online, as part of a push to better serve young viewers.

Industry issues, policy debates and producer relations were at the heart of David Abraham's MacTaggart lecture.