Chris Curtis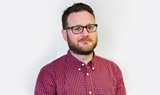 Chris Curtis is editor of Broadcast.
https://twitter.com/ChrisMCurtis
Contact Info
Chris Curtis
Editor
Channel 4 execs weren't the only ones who were surprised.

The privatisation of Channel 4 appears to be a live issue after a photo emerged of official government documents on the subject.

Transatlantic relations were a hot topic at the RTS Cambridge Convention as some of the industry's power players debated the complicated relationship between consolidation and creativity.