Chris Curtis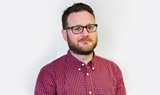 Chris Curtis is editor of Broadcast.
https://twitter.com/ChrisMCurtis
Contact Info
Chris Curtis
Editor
The key players shaping the debate around the BBC's future have emerged, as the government has come under pressure over its handling of charter renewal.

What a year. 2015 may have seen the end of Never Mind The Buzzcocks, Peep Show and Downton Abbey, but there were more than enough reasons to celebrate as a new wave of outstanding shows emerged.

The BBC and Discovery are eyeing future sports partnerships after striking an Olympics rights deal this week that was hugely important for both parties.