Jake Kanter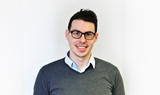 Jake joined Broadcast as a reporter in March 2010 from Supply Management magazine, rising to become news editor in 2014.
https://twitter.com/Jake_Kanter
Contact Info
Jake Kanter
News Editor
Bold entertainment formats made a splash at Mipcom this week, despite drama being expected to dominate.

Mipcom rallied after being struck by floods on Saturday night, according to Jake Kanter, with buyers' appetites remaining strong.

BBC Worldwide is preparing to launch the revamped Top Gear to the international market at Mipcom tonight, as rumours about Chris Evans' ambition to add live elements to the show gather pace.