Jake Kanter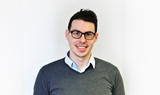 Jake joined Broadcast as a reporter in March 2010 from Supply Management magazine, rising to become news editor in 2014.
https://twitter.com/Jake_Kanter
Contact Info
Jake Kanter
News Editor
Talking TV unpicks some of the hot topics that might appear in the white paper on charter renewal and analyses a tumultuous couple of weeks for BBC Studios.

Tony Hall has poured cold water on speculation that he will reorganise the BBC around its Reithian values and made clear that strong channel brands remain central to his plans.

Strictly Come Dancing and Top Gear boss Katie Taylor has become the third senior BBC Studios executive to announce their departure in less than a week.