Jake Kanter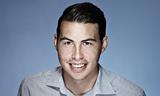 Jake joined Broadcast as a reporter in March 2010 from Supply Management magazine, rising to become news editor in 2014.
https://twitter.com/Jake_Kanter
Contact Info
Jake Kanter
News Editor
Talking TV invites award-winning filmmaker Vanessa Engle into the studio to discuss her BBC2 series Inside Harley Street, while Katie Hopkins' potential new TLC chat show is on the news agenda.

Poldark indie Mammoth Screen is courting potential buyers as the gold rush for UK drama production companies continues.

The Green Party has reiterated its desire to scrap the licence fee and fund the BBC through a special tax that will be linked to inflation.