Jake Kanter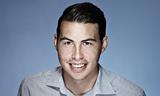 Jake joined Broadcast as a reporter in March 2010 from Supply Management magazine, rising to become news editor in 2014.
https://twitter.com/Jake_Kanter
Contact Info
Jake Kanter
News Editor
The latest episode of Talking TV gets the inside track on Channel 5's ambitious new social experiment 10,000 BC and ponders commissioning changes at the BBC.

Tern TV has hired Andrew Snowball, the creative director of Lion Scotland, to the newly created role of director of features and popular factual.

The BBC will keep hold of Premier League football until 2019 and launch a mid-week Match of the Day on BBC2 as part of a £204m deal.