Jake Kanter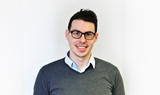 Jake joined Broadcast as a reporter in March 2010 from Supply Management magazine, rising to become news editor in 2014.
https://twitter.com/Jake_Kanter
Contact Info
Jake Kanter
News Editor
Growing audience appreciation, lucrative commercial returns and the threat of "hyper-inflation" have all played a part in the BBC's decision to shelter drama from spending cuts.

John Whittingdale will respond directly to Armando Iannucci's MacTaggart lecture by hosting a series of face-to-face talks on the future of the BBC with TV producers and writers.

BBC2 will celebrate the best of the Jeremy Clarkson Top Gear years with a two-part "extravaganza" this Christmas.