Jake Kanter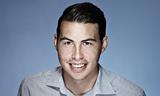 Jake joined Broadcast as a reporter in March 2010 from Supply Management magazine, rising to become news editor in 2014.
https://twitter.com/Jake_Kanter
Contact Info
Jake Kanter
News Editor
Lime Pictures is to delve into the world of clairvoyants for Channel 4 and Nan is to return for a two-part series on BBC1. Click for the rest of today's news round-up.

Sunset+Vine has clinched a three-year contract to produce Channel 5's 9pm Football League highlights show.

Fallout from the general election is top of the agenda on Talking TV this week.