Jake Kanter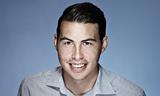 Jake joined Broadcast as a reporter in March 2010 from Supply Management magazine. As senior reporter at Broadcast, he covers the BBC and overnight ratings.
https://twitter.com/Jake_Kanter
Contact Info
Jake Kanter
Reporter
Bectu has threatened to derail production on dramas including Call the Midwife and Doctor Who if a long-running pay dispute is not resolved.

Channel 4 has teamed up with Waitrose to create an ad-funded programming (AFP) Saturday morning live cookery show fronted by Steve Jones and Lisa Snowdon.

Channel 4 is to go behind the scenes at Britain's "prestigious" Shed of the Year competition for a three-part series.