Jake Kanter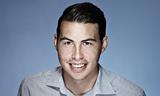 Jake joined Broadcast as a reporter in March 2010 from Supply Management magazine, rising to become news editor in 2014.
https://twitter.com/Jake_Kanter
Contact Info
Jake Kanter
News Editor
Ofcom has rejected London Live's widely criticised proposals to radically reduce its commitments to local content.

Ofcom has admitted that it is "very unlikely" that all local television stations will survive after the Birmingham operator went bust last month.

Films of Record founder Roger Graef has formally stepped back from the day-to-day running of the company to become an advisor to Ten Alps chairman Peter Bertram.