Jake Kanter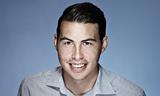 Jake joined Broadcast as a reporter in March 2010 from Supply Management magazine, rising to become news editor in 2014.
https://twitter.com/Jake_Kanter
Contact Info
Jake Kanter
News Editor
Neighbours, Catfish: The TV Show, Gotham and Celebrity Big Brother are among the high-profile shows set to benefit from Viacom International Media Networks' purchase of Channel 5.

DCD Media's revenue fell by almost 20% in the first half of the year, but the production group still managed to cut its losses.

SATURDAY: Strictly Come Dancing got the better of The X Factor over the weekend – but the BBC1 format lost around a million viewers year on year.