Jake Kanter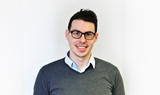 Jake joined Broadcast as a reporter in March 2010 from Supply Management magazine, rising to become news editor in 2014.
https://twitter.com/Jake_Kanter
Contact Info
Jake Kanter
News Editor
Channel 4's new chairman Charles Gurassa has extolled the virtues of the broadcaster's unique public service remit in his first message to staff.

Kevin Lygo is expected to rip up ITV's traditional commissioning structure and blur the boundaries between genres as he aims to breathe new life into factual and entertainment.

The Valleys producer True North is working with MTV on a second attempt to bring Catfish: The TV Show to British audiences.