Jake Kanter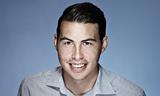 Jake joined Broadcast as a reporter in March 2010 from Supply Management magazine, rising to become news editor in 2014.
https://twitter.com/Jake_Kanter
Contact Info
Jake Kanter
News Editor
Newly-installed BBC Trust chairman Rona Fairhead has argued that the licence fee is "not a problem that needs to be fixed" as the government prepares to consider all options for the corporation's future funding during charter renewal.

SATURDAY: Strictly Come Dancing waltzed off with a series high, beating The X Factor by 1.5m viewers.

The latest instalment of Talking TV rounds up all the biggest news from Mipcom and hears from BBC Productions' science boss Andrew Cohen.