Jake Kanter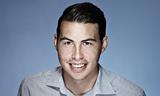 Jake joined Broadcast as a reporter in March 2010 from Supply Management magazine. As senior reporter at Broadcast, he covers the BBC and overnight ratings.
https://twitter.com/Jake_Kanter
Contact Info
Jake Kanter
Reporter
BBC2's latest documentary on the London Underground picked up a sizeable audience on Thursday evening – as Murder on the Home Front lost nearly 900k viewers.

BBC drama boss Ben Stephenson has ruled himself out of the race to become the next BBC1 controller.

Simon Crawford Collins is to produce a Cold War spy thriller for BBC2 – his first commission through indie Slim Film + Television since leaving Kudos in 2011.