Black Mirror, Channel 4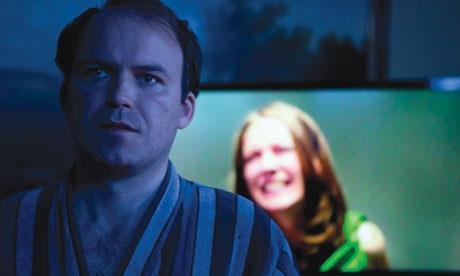 Producing three Twilight Zone-esque dramas in Charlie Brooker's mini-series at the same time was daunting but exhilarating, writes Barney Reisz.
Credits
Black Mirror
Production company Zeppotron
TX From 4 December, Channel 4
Executive producers Annabel Jones, Charlie Brooker
Producer Barney Reisz
Commissioning editor Shane Allen
Post-house Molinare


Episode 1 The National Anthem: written by Charlie Brooker; directed by Otto Bathurst
Episode 2 15 Million Merits: written by Charlie Brooker and Kanak Huq; directed by Euros Lyn
Episode 3 In Memoriam (w/t): written by Jesse Armstrong; directed by Brian Welsh
Summary Black Mirror taps into the collective unease about our modern world with three standalone satirical tales with a techno-paranoia bent.
Barney Reisz
Producer
Although we were calling it a series, Black Mirror was always going to be three standalone single dramas. Charlie Brooker's model was the original Twilight Zone TV series: a new 'what if ' story every week, a refreshing weekly challenge for viewers to look forward to, with questions posed about the technological world in which we live.
I wondered why this format had not been attempted recently – the last good example being Tales Of The Unexpected in the 1980s. But I soon realised why: money. Making one single drama can be interesting but expensive; trying to make three unrelated, back-to-back 60-minute shows with three separate directors and casts, with only two weeks between each two-week shoot, was going to be a juggling act and a proper challenge.
At the start of our eight weeks of pre-production, I looked ahead with trepidation in the knowledge that at some point I would be shooting one show, picture-locking another and casting the third, all on the same day.
With three directors wanting help and input, I would to have to spread myself pretty thinly at times; a harsh reality for someone who really only feels happy when he knows everything about everything at all times.
What I really don't know much about is anything technical, though I failed to tell executive producer Annabel Jones. I wouldn't know a terabyte of memory if it hit me in the face and the number of pixels difference between one camera and another holds no interest.
But I did know that on this show I would need inspired, resilient, self-sufficient directors and a production team who would stay calm under pressure. We let each director choose their own DP, editor and first AD, but all the other HoDs and many other crew would straddle all three shows, and many would be on the production before the directors even started.
Our second show was heavy with motion graphics and images playing on screens on all the sets in a futuristic, dystopian world. We took the big, brave decision to create all of our on-screen images beforehand and shoot the whole thing in camera.
I had met with Joel Collins, who designed the Hitchhikers Guide To The Galaxy movie, and he seemed like a nice guy. I had some worries that he might not understand about small TV budgets, but I also worried that I didn't know too much about motion graphics. So when on day one he insisted on immediately hiring six techy folks for a lot longer than I had budgeted I knew I was in good hands.
I had found an old semi-derelict university campus in Buckinghamshire that could accommodate offices, edit suites, costume, a props store and make-up rooms. It was a little ramshackle and there was a rare breed of squirrel living in the ceiling, but we made it our home for six months.
There was an old manor house that I hoped could work for the Downing Street interior in our first episode and a gymnasium where we could build our episode two sets. A small auditorium would do for our talent show scenes, and maybe I could persuade one of my three directors to shoot their car night scenes using the 'poor man's process' technique, which I love, in another big interior space.
In fact, we did this for our third episode, with fantastic results. There was an old student union building, which I tried to persuade each director was perfect for an airport lounge or night club scene, but somehow none of them was convinced. Clearly, the more we shot on the campus, the longer our shooting day could be and the less we would waste in travel time and location fees, parking and all that nonsense.
The famous day arrived. All three films were at critical stages and I actually laughed because it was so exhilarating. As I finished viewing a fine cut of episode one, with Rory Kinnear and Lindsay Duncan, I diverted past the art department busily putting the final touches to their set dressing plans for the third show, before rushing to the episode two set to watch Rupert Everett and Julia Davis in the Hot Shot talent show we had created.
I felt like the puppet master in a rather haphazard show. All good fun.
My tricks of the trade
Always be very wary of people who use phrases like 'it should be fine'
Most actors are terrified, so try to make them feel as welcome and comfy as possible
If anyone ever says to you 'normally on proper productions, we do it like this', just tell them to piss off and go and get a job on a 'proper' production
Never forget how hard everyone is working and make sure they know that you know it
Design, Graphics and VFX
Joel Collins
Production designer
The first unusual challenge was not to start work on episode one but two. With a visual effects shot in almost every frame, 15 Million Merits was every designer and producer's nightmare. Our decision early on was not to 'leave it to post' but grab a hold of the problem. So with the first film bubbling away, we set to work on the next's concept designs and motion graphics.
We rapidly designed the sets knowing that this wasn't our biggest challenge. The graphics needed to be created, animated and graded prior to the shoot.
We also had to pre-shoot shows to appear on screens and were charged with the task of designing and creating an avatar for every actor, plus thousands of CG individuals for the audience of the show-within-the-show, Hot Shot.
As the script slowly developed and characters were added, the workload increased.
Added to this layer of stress, we realised that once we had created the graphics, we would need them to play out live on every screen. We were going to need technology that was beyond us all.
We met with screen company YSLV, which had some of the latest screens and playout technology to hand.
Our team was now maxed out, every computer groaning with the demands heaped upon them. To add to this, I was driving between our offices in Richmond and the unit base in Buckinghamshire to keep a handle on episode one.
As the dust settled on films one and two, the intricacies of the third and final film set in, with yet more visual effects and set design challenges. As I write these words, we are still grist to the mill with the handover of final shots just days away.