Walking Dead broadcaster AMC has boarded Keshet UK and Hillbilly Television's Entourage-style comedy drama Loaded for Channel 4.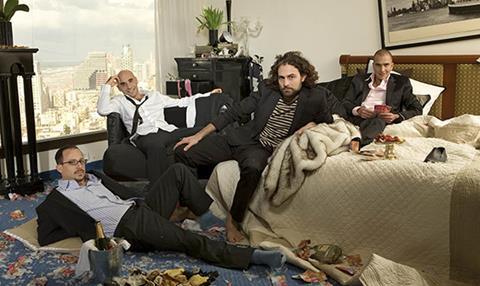 The 8 x 45-minute series, set to air on C4 and AMC in 2017, is a remake of Keshet's 2007 series Mesudarim [pictured], which follows four tech entrepreneurs and childhood friends who become overnight multi-millionaires after selling their videogame start-up.
British writer Jon Brown (Fresh Meat, Veep) is to pen and executive produce the programme, which stars Mary McCormack (The West Wing), Samuel Anderson (Doctor Who) and Jim Howick (The Aliens).
Loaded is intended as C4's successor to Objective Productions' coming-of-age comedy-drama Fresh Meat, which concluded in March after four series.
AMC previously teamed with C4 for robot thriller Humans, now in its second series. The two broadcasters are also developing Tom Moran-penned sci-fi mystery drama White Rabbit.
Executive producers on Loaded for Hillbilly are Kate Norrish and Polly Leys, while Howard Burch, Avi Nir, Muli Segev and Assaf Harel are executive producing for Keshet. Charlie Leech is producing.
Hillbilly's Norrish and Leys describe Loaded as "Downton Abbey with nerds" while AMC and Sundance TV president of programming Joel Stillerman said the show is a "smart and somewhat light-hearted look at all of the things that can go wrong when you're suddenly very, very rich and very, very young."
Phil Clarke, head of scripted at Channel 4, added: "Jon Brown is one of the most talented young British writers around, demonstrated by his ability to turn the dream of instant riches into the worst nightmare imaginable."
Keshet International will hold worldwide distribution rights to the finished programme.